Trump's Fourth Of July Parade Details Revealed: 'Will Have A Different Look'
KEY POINTS
Planes from the major service branches of the U.S. Armed Forces will take to the sky on the Fourth of July
Many of them will be seen in the skies over Washington D.C.
There will be no tanks or armored vehicles on display at the capital
Military aircraft from the United States Air Force, the U.S. Navy, the U.S. Army and the U.S. Coast Guard, as well as heritage aircraft from the past, will star in this year's Fourth of July celebrations in Washington D.C. and around the country.
There will be no displays of tanks and other armored vehicles, however, to cut costs. This will be the second year a military parade will be held in Washington D.C. under the Trump presidency.
This year's Fourth of July celebration -- called the 2020 "Salute to America" -- will focus on the U.S. military airpower, which is the world's most powerful.
Apart from displays of military muscle, the 224th anniversary of the declaration of American independence will also see musical and ceremonial events, said Pentagon spokesperson Army Lt. Col. Chris Mitchell. More than 1,700 armed forces service members will support the celebrations.
Col. Mitchell said this year's events will include a flyover of Mount Rushmore by the Navy's Blue Angels flight demonstration squadron flying Northrop Grumman F/A-18 Hornets on July 3. He also said there will be an "aerial salute" to cities that played roles in the American Revolution: Boston, New York City, Philadelphia and Baltimore.
There will be flyovers by the USAF Air Demonstration Squadron ("Thunderbirds") flying General Dynamics F-16 C/D Fighting Falcons. This Fourth of July will be the first time the Thunderbirds will participate in an aerial show during Trump's presidency. Only the Blue Angels flew in the 2019 Salute To America celebrations.
Most of the planes will fly over Washington D.C., however. To be seen over the skies of the national capital will be the Lockheed Martin F-35 Lightning II stealth jet, the Lockheed Martin F-22 Raptor single-seat, twin-engine, stealth tactical fighter, the Northrop Grumman B-2 Spirit Stealth Bomber and the Bell Boeing V-22 Osprey multi-mission, tilt rotor military aircraft flown by the U.S. Army.
Also set to fly above DC are the Boeing CH-47 Chinook twin-engine, heavy-lift helicopters and Boeing AH-64 Apache attack helicopters. Coast Guard aircraft and a presidential aircraft (either Air Force One or Marine One) will also fly on the Fourth of July.
Salute to America "will have a different look than 2019 to ensure the health and safety of those attending," said the White House in a statement.
In an eye-opening bit of trivia, the U.S. has been at war in 225 out of the 244 years since 1776. This means the U.S. has had only 19 full years of peace over the past two centuries.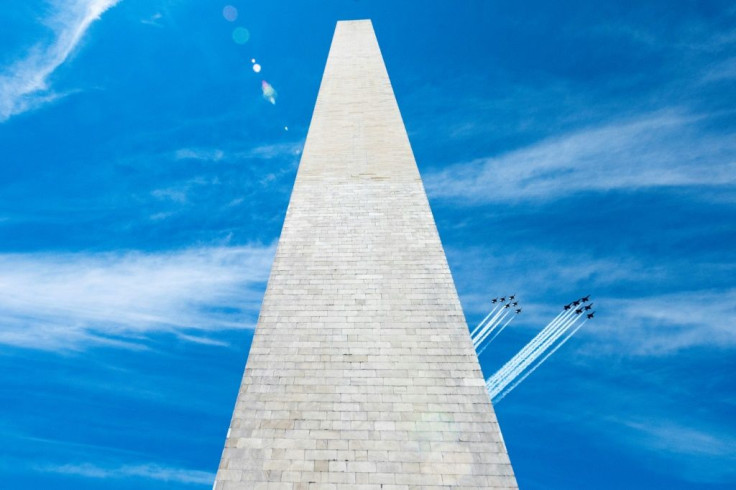 © Copyright IBTimes 2023. All rights reserved.
FOLLOW MORE IBT NEWS ON THE BELOW CHANNELS