Trump's Golf Trips: President Uses Outings For Professional Bonding With World Leaders, Eric Trump Says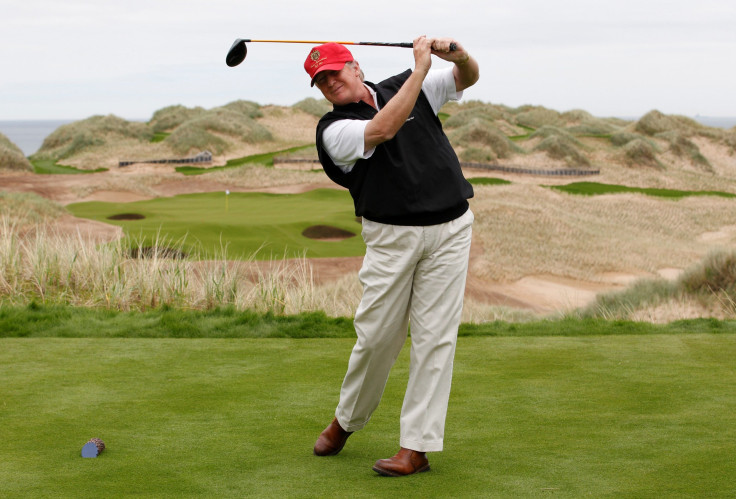 Donald Trump's son Eric Trump defended the president's golf trips saying his father uses the outings for professional bonding. Donald Trump made his 16th visit to his golfing properties earlier this month since assuming office amid criticism over his travel costs.
"You can sit with somebody in a golf cart where there might be cultural differences and language barriers and have a good time and build a friendship with somebody in a way you could never do sitting across an office table from someone," Eric Trump told the Irish Independent on Monday.
The 33-year-old also said Donald Trump hosts guests at his exclusive club Mar-a-Lago in Palm Beach, Florida, like former President George W. Bush invited people at his Texas ranch.
"Crawford was George W Bush's ranch and Bush brought foreign leaders from all over the world [there]. He would go down to the ranch and they would drive a truck around and they would have fun and they would eat and that was his way of bonding," Eric Trump explained.
"Mar-a-Lago is an amazing estate that has been a very effective tool for [my father] to go down and get to know somebody while not sitting - no different to you wanting to sit next to me on this couch today - not sitting across a wooden partition, which instantly makes a relationship more strenuous," Eric Trump said.
Last week, CBS News reported that the Secret Service has paid over $35,000 for golf cart rentals for Donald Trump's security since his inauguration in January. The president had publicly criticized his predecessor Barack Obama for his golfing trips and said Obama focused more on golf instead of taking important decision for the country.
"You know what – and I love golf – but if I were in the White House, I don't think I'd ever see Turnberry [in Scotland] again. I don't think I'd ever see Doral again – I own Doral, in Miami. I don't think I'd ever see many of the places that I have," Donald Trump said last year.
"I don't ever think that I'd see anything," he said at the time. "I just wanna stay in the White House and work my ass off, make great deals, right? Who's gonna leave? I mean, who's gonna leave?"
© Copyright IBTimes 2023. All rights reserved.