Trump's North Korea Tweets: Intercontinental Missile "Won't Happen," No Thanks To China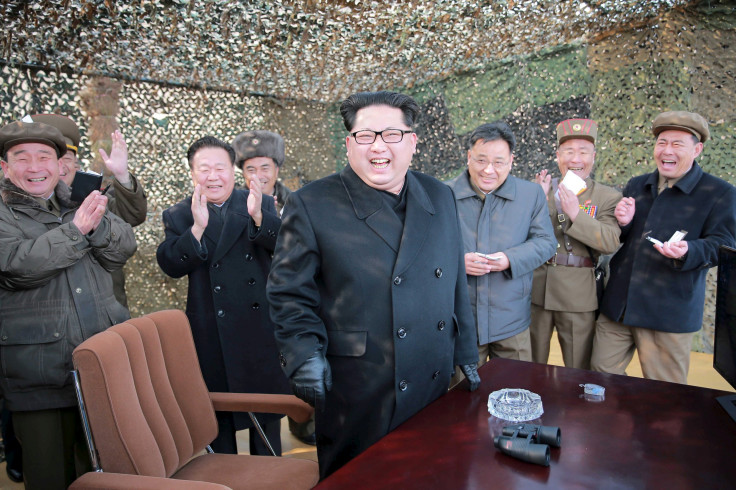 U.S. President-elect Donald Trump on Monday used Twitter to dismiss the claims made by North Korean leader Kim Jong Un during his annual New Year's Day speech Sunday. In the speech, referring to the military strides made by the country, Kim reportedly called North Korea a "military power of the East that cannot be touched by even the strongest enemy."
"We are in the final stages of test-launching the intercontinental ballistic missile," Kim said, according to the Guardian, adding that Washington must make a "resolute decision to withdraw its anachronistic hostile North Korea policy," words seemingly aimed at the Trump administration.
In response, Trump said North Korea won't attain the capabilities to launch long-range ballistic missiles. In the first of two tweets reacting to Kim's comments, the real estate mogul wrote Monday: "North Korea just stated that it is in the final stages of developing a nuclear weapon capable of reaching parts of the US. It won't happen!"
And in another tweet, Trump reignited his verbal spat with China, claiming Beijing did not do enough to stop Pyongyang. Less than an hour after the first tweet, Trump wrote: "China has been taking out massive amounts of money & wealth from the US in totally one-sided trade, but won't help with North Korea. Nice!"
Unlike his messages on Russian leadership — mostly praise and admiration — Trump is usually critical of China.
It was unclear how Trump would actually prevent North Korea from developing the missiles, something the reclusive country has continued working out despite numerous international sanctions. Perhaps he doubts the technological prowess that North Korea possesses in developing functioning ICBMs or maybe he meant the United States would prevent Kim by enhancing sanctions or through military intervention. Or maybe Trump is planning to persuade the North Korean leader of abandoning his nuclear ambitions by following through on a suggestion he made in June 2015, when he said he may invite Kim to Washington for a talk over hamburgers.
But Trump's words were received favorably by South Korea which considered his response an indication of the new administration taking a serious view of the threat from the North.
"Because of our active outreach, President-elect Trump and U.S. officials are clearly aware of the gravity and urgency of the North Korean nuclear threat… They are maintaining an unwavering stance on the need for sanctions on North Korea and for close cooperation between South Korea and the U.S.," South Korea's foreign ministry spokesman Cho June-hyuck told a briefing, according to Reuters.
For years now, the United States has continued the policy of isolationism with North Korea and ignored calls for talks by insisting the latter disarm first. However, with Trump taking the office Jan. 20, it is unclear whether the country will deviate from its current foreign policy.
In the time after the North Korean leader's statements were made and before Trump's reaction, Sen. Cory Gardner (R-Col) wrote in an op-ed published by CNN on Monday the Trump administration must follow the policies of the past, albeit more aggressively.
After slamming outgoing President Barack Obama's administration for its "strategic patience" with North Korea, Gardner suggested: "Through a policy of strength, the incoming Trump administration should seize the immediate opportunity to communicate with action to Kim Jong Un as well as our allies that the United States remains committed to standing up to tyrants and ensuring peace and stability around the globe."
"Our message must be clear: if you do business with Pyongyang, you will face the full wrath of the U.S. economic sanctions regime," he wrote.
© Copyright IBTimes 2023. All rights reserved.