Tulsi Gabbard Net Worth: Cryptocurrency-investing Hawaii Rep. Is A Half-Millionaire
KEY POINTS
Tulsi Gabbard remains in the race for Democratic presidential nominee
She has invested in cryptocurries in 2017
Gabbard's net worth to be around $500,000
Tulsi Gabbard is among the last ones standing. Despite low turnouts in previous primaries, the Hawaii representative remains in the race for the Democratic presidential nominee. People closely following the U.S. election might be wondering how much Gabbard's net worth is, considering she has investments in cryptocurrency.
Gabbard has invested in litecoin and ethereum in 2017, Forbes reported. Despite what seemed like good investments at that time, she has since declared the value of both investments as zero. The Hawaii representative also has other notable investments in real estate. She took out a loan of $612,000 for a house in Washington, D.C. that she rents out and collects $20,000 annually from it.
Forbes estimates Gabbard's net worth to be around $500,000, making her a half-millionaire. Before getting elected as Hawaii representative, Gabbard served as major in the Hawaii Army National Guard. She also made history as the youngest ever elected to the Hawaii State Legislature and the first Hindu to make it in the U.S. House of Representatives.
The 38-year-old is still in the Democratic presidential race despite the withdrawals of other high profile candidates such as Indiana mayor Pete Buttigieg, Minnesota Senator Amy Klobuchar, former mayor Michael Bloomberg and billionaire Tom Steyer. Gabbard remains in contention against Elizabeth Warren, Joe Biden and Bernie Sanders.
Gabbard is not quitting. The crypto investor's resilience might have stemmed from her experience as an Iraq war veteran.
The presidential hopeful was recently engaged in a legal battle against Google. Tulsi Gabbard claimed the tech giant suspended her campaign's ad account in June 2019. She says the timing was vital to her campaign and the suspension echoed silencing of free speech, TechCrunch reported. Google, on the other hand, admitted its mistake after suspending her account based on unusual activity which it later rectified. A California Central District Court judge has since rejected her case.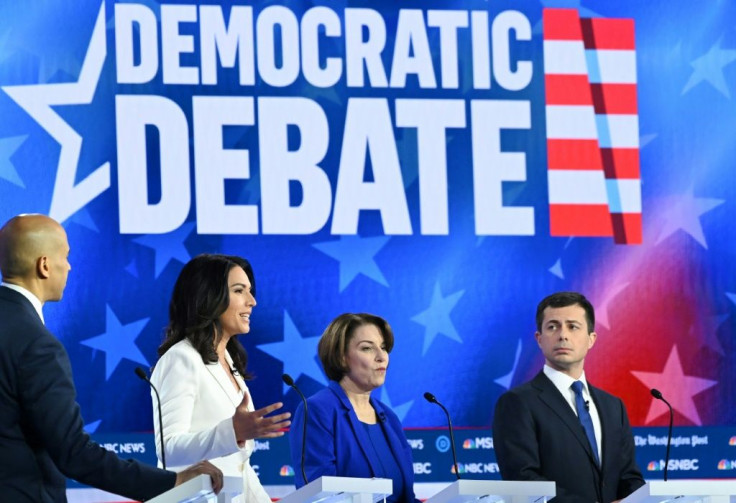 © Copyright IBTimes 2023. All rights reserved.