Tupac Hologram Rocks Coachella: How Digital Geniuses Resurrected The Legendary Rapper [PHOTOS, VIDEO]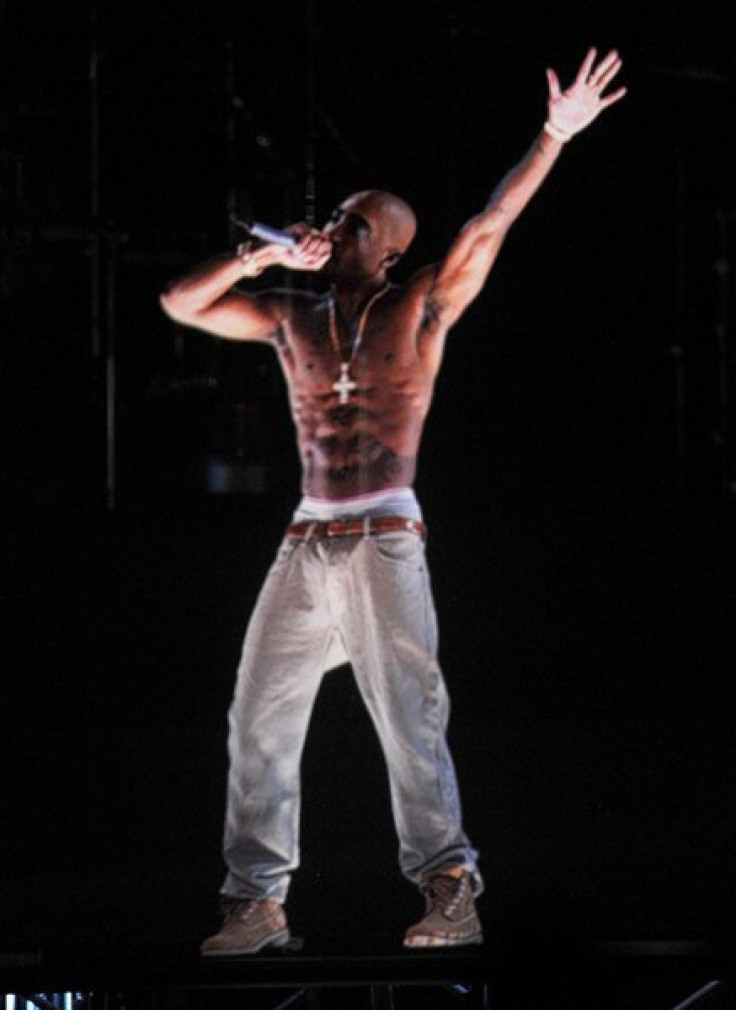 The last thing Coachella attendees likely expected to happen during the opening weekend of the California music festival was a resurrection; but that is exactly what they got. On Sunday night, a ghostly figure of legendary rapper Tupac Shakur, who was murdered in September 1996, took to the Coachella stage to perform with Snoop Dogg. Snoop later performed with Dr. Dre, Eminem, 50 Cent, Wiz Kahlifa and Warren G.
No, Coachella 2012 was not the site of a miracle. Tupac was resurrected with the use of digital technology.
The hologram shocked the crowd. Coachella concert-goers stood in awe as the Tupac hologram yelled, What up, Coachella? before performing. His lifelike form -- with chiseled abs and tattoos -- had some convinced.
With all the weed and ecstasy throbbing through Coachella, there were probably a good number of fans who thought they were actually witnessing a reincarnation, wrote Gizmodo's Sam Biddle.
I think I might have cried when I saw Tupac. #coachella tweeted pop star Katy Perry. Just now seeing this Tupac hologram at Coachella!!! OMG dopest thing ever!!! Wish I was there to see it in person! tweeted Kim Kardashian. Video of the performance quickly went viral on the Internet as viewers near to and far from Coachella marveled at the astounding technology.
The Tupac hologram has become so popular that it already has its own Twitter handle, @HologramTupac, and boasts over 21,000 followers.
But how exactly was the Tupac hologram created?
MTV News' Gil Kaufman caught up with Nick Smith, president of AV Concepts, the company that projected and staged the hologram at the Coachella Music and Arts Festival in the Mojave Desert. AV Concepts was behind Madonna's 2006 Grammy performance featuring holographic members of Gorillaz as well as holograms used in concert by the Black Eyed Peas and Celine Dion.
We worked with Dr. Dre on this and it was Dre's vision to bring this back to life, Smith told MTV News. It was his idea from the very beginning and we worked with him and his camp to utilize the technology to make it come to life.
A spokesperson for Dr. Dre reported to MTV News that the Tupac hologram was created by Hollywood special effects studio, Digital Domain. The Oscar-winning CGI company was behind the lifelike silver-screen creations of Brad Pitt in The Curious Case of Benjamin Button, Jeff Bridges in TRON: Legacy, Kevin Bacon in X-Men: First Class and Rooney Mara in The Girl with the Dragon Tattoo. MTV News reported that the Tupac hologram was the vision of Dr. Dre.
Nick Smith told MTV News that he could not discuss the creative particulars behind the Tupac hologram, including how the hologram was able to seemingly perform the set in sync with Snoop and whether all the vocals were 'Pac's. However, he did say that AV Concepts has the ability to recreate deceased individuals in the studio.
You can take their likenesses and voice and ... take people that haven't done concerts before or perform music they haven't sung and digitally recreate it, he said.
Gizmodo's Biddle offered some further detail as to exactly how the Tupac hologram could have been projected onto the Coachella stage.
It calls him a hologram, but hologram he is not: it's a fancy reflection technique called Pepper's Ghost, named after a mid-19th century optics researcher John Pepper. Yep! 19th century, wrote Biddle. The trick is based on the fact that glass is both transparent and reflective, meaning it's possible, with the right angles, to bounce a picture off of it that appears to be floating in air. It's an impressive show when done on a Coachella scale, but it's not Princess Leia action.
According to MTV News, the Tupac hologram required several months of planning and four months to create in the studio. The exact cost was not revealed, however Smith said that a comparable version could cost anywhere between $100,000 to over $400,000.
I can't say how much that event cost, but I can say it's affordable in the sense that if we had to bring entertainers around world and create concerts across the country, we could put [artists] in every venue in the country, he said.
IBTimes reporter Roxanne Palmer created an infographic displaying how Musion Systems Ltd.'s Musion Eyeliner (based on a technique called Pepper's ghost) projection system works. Check it out here.
© Copyright IBTimes 2023. All rights reserved.