Twitter Defends Charles Payne, Fox Business Network Host Suspended Over Sexual Harassment Claims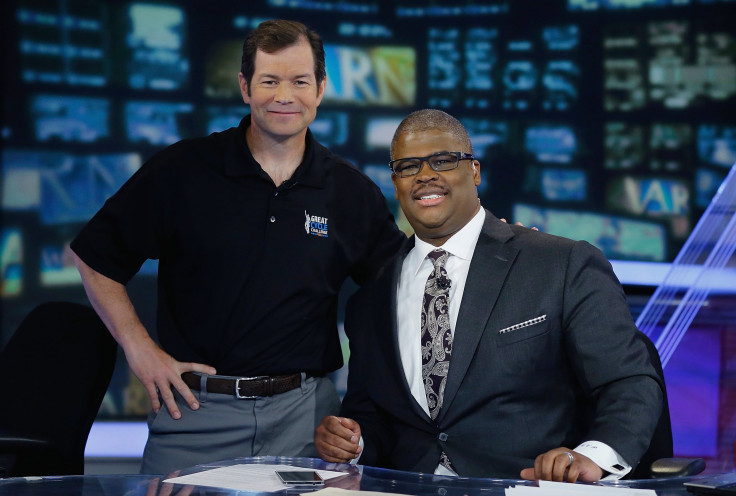 Fox Business Network host Charles Payne was suspended amid an ongoing investigation into sexual harassment allegations against him, the company said in a statement Thursday night. The 21st Century Fox began an investigation in June after a woman contacted Fox's external law firm Paul, Weiss to report an alleged sexual misconduct, the Los Angeles Times reports.
"We take issues of this nature extremely seriously and have a zero-tolerance policy for any professional misconduct," a Fox Business Network representative said in a statement. "This matter is being thoroughly investigated and we are taking all of the appropriate steps to reach a resolution in a timely manner."
Read: As Fox Sports Fires Jamie Horowitz, A Look At Recent Sexual Harassment Scandals Surrounding The Network
Payne, who hosts "Making Money" on the network, admitted Wednesday he had a three-year romantic relationship with a married female political analyst who worked for CNN and made frequent appearances on Fox Business Network and Fox News Channel between 2013 and 2016. The woman has now claimed the network blackmailed her after she ended the affair in 2015.
In her complaint, the woman, who was not been named, also said the frequency of her appearance on the show reduced after the extramarital affair with Payne. The woman accused both the network and Payne of sexual misconduct. The woman told her lawyer she made several unsuccessful attempts to report the matter to former Fox News executive Bill Shine, who was head of programming till May 1, the L.A. Times reported.
Neal Korval, an attorney representing Payne, said the 58-year-old denied committing any acts of sexual harassment against the woman. While Paul, Weiss, Rifkind, Wharton & Garrison — the same firm that probed the network's parent company in previous sexual harassment claims — investigate the alleged sexual harassment case, the woman is discussing with her lawyer about filing a lawsuit against the network and Payne.
As the investigation continues, Payne received support from Twitter. Here are some reactions from the microblogging site.
Fox News' parent company has seen a string of sexual harassment cases over the last year. Former host Gretchen Carlson sued Fox News head Roger Ailes — ultimately leading to his firing in July 2016 — after allegations of persistent sexual harassment last year.
Read: Uber Fires 20 Employees Over Sexual Harassment
The latest incident came on the one-year anniversary of Carlson's lawsuit.
Tamara Holder, a former Fox News contributor, received a settlement from the company after alleging she was sexually assaulted by an executive, Francisco Cortes, who oversaw the network's Spanish language operation. Holder never reported the incident to legal authorities, but Cortes was fired.
In April, the network fired its longtime host Bill O'Reilly after several harassment claims, some dating back years, surfaced online. Earlier this week, Fox Sports National President Jamie Horowitz came under the axe amid a sexual harassment probe.
© Copyright IBTimes 2023. All rights reserved.