Twitter Inc (TWTR) Stock Price Leaps 8% In After-Hours Trading As CEO Dick Costolo Is Stepping Down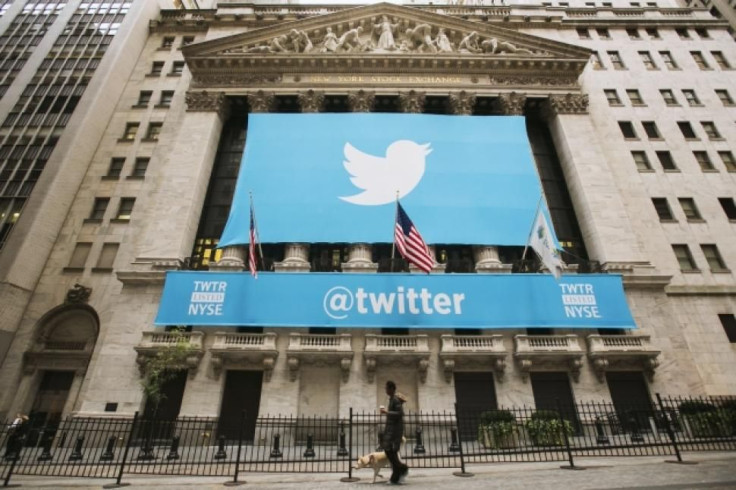 Shares of Twitter Inc. (NYSE:TWTR) jumped 8 percent in extended-hours trading Thursday after the social media company announced CEO Dick Costolo will step down on July 1.
The embattled chief executive will be replaced by co-founder and chairman Jack Dorsey on an interim basis, but he will remain on the company's board. Dorsey will continue to serve as CEO of Square, Inc., the payments and financial services company he co-founded in 2009.
Wall Street has shown signs of losing faith in Costolo's ability to transform Twitter into a social network that can attract a broader audience. "Costolo's resignation shouldn't be a surprise," said James Gellert, chairman and chief executive officer at Rapid Ratings International Inc. "The market has spoken that Twitter's progress isn't sufficient."
Shares of Twitter have lost nearly 14 percent of their value since its initial public offering on Nov. 7, 2013. Even before the IPO, Costolo faced pressure as expectations mounted for the social networking giant to generate high user growth. The stock soared more than 70 percent on the first day of trading to close at $44.90 a share, up from the initial pricing of $26 set ahead of its debut.
Since then, the company has faced tough shareholder questions about slowing user growth. Twitter reported 302 million active monthly users for the first quarter of 2015, up 18 percent from 255 million a year earlier.
But the gains pale in comparison to Facebook Inc., which has more active monthly users than Twitter and LinkedIn combined. Facebook announced in April it officially has more monthly active users (1.44 billion) than China has people (1.4 billion).
Although Twitter's quarterly profit beat estimates in the first quarter of 2015, revenue and mobile monthly active users both missed forecasts. The company also cut its earnings outlook for 2015.
Evercore ISI downgraded Twitter shares to Hold from Buy last week. The firm also cut Twitter's price target to $39 per share from $49, expressing concerns about the social media site's slow user growth.
"We no longer have the same conviction we once did that Twitter under-monetizes on the basis of its overall influence; the result is a more conservative view of valuation and the company's long-term growth prospects," Ken Sena, analyst at Evercore ISI, said in a research note on June 4.
Twitter's decision to replace Costolo comes just a week after the microblogging site held its annual shareholder meeting in San Francisco.
Ahead of the meeting, investor Chris Sacca, a former adviser to Twitter who invested in the company through his own firm, Lowercase Capital LLC, published an 8,500-word essay on "What Twitter Can Be," arguing the company has "failed to tell its own story."
Sacca also didn't shy away from saying which technology company Twitter would be a good fit with in a merger scenario. "I think it would be a fantastic use of Google's cash," Sacca said on CNBC last week.
After the announcement, Sacca did post a complimentary tweet about Costolo.
In under five years as CEO, @dickc grew Twitter from a $3b valuation to a $23b valuation. Credit where credit is due. Thanks, Dick.

— Chris Sacca (@sacca) Jun 11 2015
In April, Twitter's first-quarter earnings report was posted early and shared by financial intelligence service Selerity less than an hour before the closing bell, sending shares plunging more than 18 percent.
Shares of Twitter edged down 0.06 percent Thursday to close at $35.83 during the regular trading session. Following the announcement, shares rose as high as 8 percent to $39.29 in after-hours trading.
Jessica Menton is a writer who covers business and the financial markets. News tips? Email me here. Follow me on Twitter @JessicaMenton.
© Copyright IBTimes 2023. All rights reserved.
FOLLOW MORE IBT NEWS ON THE BELOW CHANNELS