Twitter Inc.'s Hail Mary? For Super Bowl 50, Facebook's Sports Stadium Will Bring Real-Time Social Media Showdown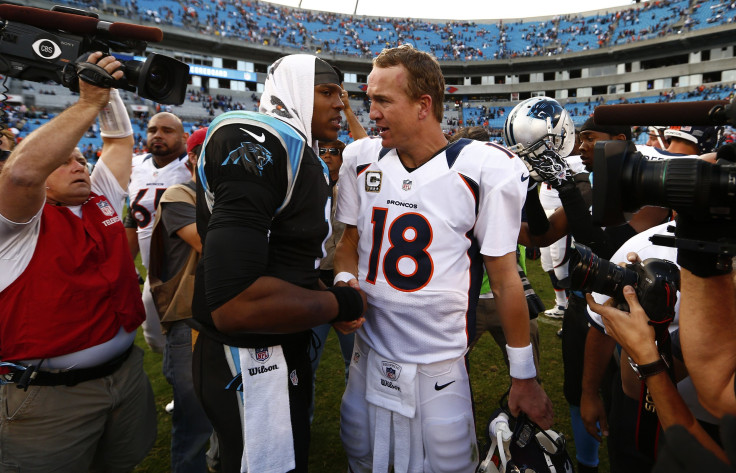 For Super Bowl 50, it's not just a showdown between Peyton Manning and Cam Newton. Beyond the TV screen, social networks have an opportunity to capture millions of eyeballs and advertising dollars during the most-watched U.S. TV event of the year.
From the start, Twitter shrewdly cast its ad offering as a companion to TV. Super Bowl advertisers could amplify their spots in the real-time conversation, while nonadvertisers saw it as a way to insinuate themselves into the conversation on the cheap.
Twitter has never been the biggest social network, but it has long been the dominant one during live events, while Facebook watched jealously from the sidelines. But now Twitter is weakened and Facebook is making its move with Sports Stadium, a new hub of sports-related content on Facebook's main site and app.
Unlike Twitter, this app will have no ads, for now. But like Twitter, it is built to facilitate the real-time conversation that users and marketers love. "We feel pretty confident that real-time sharing is an increasingly important part of the platform, and one we'll continue to invest in," Facebook Chief Operating Officer Sheryl Sandberg told investors on Wednesday.
Sports Stadium will include posts from friends, commentary from experts and a section for live scores, statistics and play-by-play. Like Twitter, it is intended as a second-screen for sports, for the estimated 650 million sports fans on Facebook.
The real-time second-screen is a proven a hit among users, and for the past five years, marketers have built increasingly elaborate strategies around real-time events. Until now, most of this has been built around Twitter. Indeed, one of the most talked-about Super Bowl ads in recent memory happened in real time on Twitter, not TV, in response to the blackout at the Superdome.
But now Twitter clearly has a fight on its hands.
Twitter stock is trading near an all-time low, and the company recently saw the departure of four top executives. So there's renewed urgency about the big moment that is #SB50. Last year, more than 28 million tweets related to the Super Bowl were sent — a new record for the game.
"That's because Twitter is the world's biggest Sports bar," Danny Keens, Twitter's head of North American sports partnerships, wrote in an email. "People all over the world will be using Twitter on their mobile device with the TV on at same time."
And so, Twitter has been drawing up its biggest plays. The company has new products to show off in the time leading up and for game day. Super Bowl 50 will have a designated Moment, curated feeds of tweets, which users can access in a new tab within the Moments section on the site and app. Vine, Twitter's six-second-video app, will also have an in-app channel for the Super Bowl. Celebs can access new apps — Q&A, Camera and Challenger — to create special content for Twitter. They can also record and stream live video with Periscope, which Twitter released last March.
Twitter will also take advantage of how the Super Bowl is being held in Santa Clara, California, just a jaunt down Highway 101 from Twitter headquarters in San Francisco. Talent are welcomed to tweet, Vine and Periscope from a "blue room" at the offices. Fox Sports shows, including "Garbage Time With Katie Nolan," will be taped from Twitter's headquarters during the week, as well.
Each of these projects will work in tandem to inspire more tweets and views in Twitter. "The best thing about Twitter and the Super Bowl is that anyone in the world can join the #SB50 conversation no matter where the actual game is played. But of course it's awesome to have the game in our backyard," Keens of Twitter wrote in an email.
Twitter will have to prove not only its engagement from users but a corresponding use by advertisers. Facebook reported $1.56 billion in profit for the fourth quarter in 2015, a 123 percent increase year over year, where mobile ads made up 80 percent of revenue. Twitter has yet to report its end-of-year earnings, but the a $132 million loss for the third quarter of 2015 had sent the stock plummeting by 13 percent.
In hopes of facilitating another "Oreo moment," Twitter has new tools like event targeting and conversational ads. Twitter's Amplify program will serve exclusive content, like GIFs, Vines and Periscope broadcasts, that brands can purchase.
"Marketers and senior marketers are sitting in the real transition. It's not just the big idea and buying a bunch of TV and hoping this would work," said Jason Klein, who previously worked in media buying and now runs ListenFirst, a company for social media analytics. "They're trying to use the internet somehow to figure out what's going on."
Some advertisers have already locked down big spots on social media. For example, Pepsi, which sponsors the Super Bowl halftime show, purchased a Promoted Moment on Twitter and plans to offer exclusive content from behind the scenes of the game.
TurboTax, a tax software company owned by Intuit, has run TV ads in the Super Bowl for the past three years and has another 30-second spot for next Sunday. But they're also spreading their campaign, "It doesn't take a genius to do your taxes," across social networks, with ads on Facebook, Instagram, Twitter, Tumblr and YouTube.
"A platform like the Super Bowl is about entertaining and creating conversation," said Cathleen Ryan, director of marketing and advertising at Intuit. "Our Super Bowl campaign includes a whole heck of a lot of touchpoints ... hopefully it's going to feel like everywhere."
Ryan said TurboTax's online strategy will include Twitter for its immediacy, and Facebook for its sheer size. "One is just the massive scale. There are very few places you can go other than Facebook to reach that many people ... quickly, roughly at the same time," Ryan said.
At $5 million for 30 seconds, Super Bowl advertisers are buying scale (110 million TV viewers), and eMarketers research has shown social is effective in extending that. The question is whether Twitter can keep its place at the center of conversation, or whether Facebook's overwhelming scale overwhelms on the field.
"Facebook has been a key partner for us since I started, for sure. We've grown together," said Ryan of TurboTax. "Our strategy hasn't per se changed as from a paid perspective. It's always an evolving science there."
© Copyright IBTimes 2022. All rights reserved.
FOLLOW MORE IBT NEWS ON THE BELOW CHANNELS