Twitter Reacts After Will Smith Slaps Chris Rock At Oscars Over Joke About Wife Jada
KEY POINTS
Will Smith slapped Chris Rock after the comedian made a joke about Jada Pinkett Smith's hair loss, which is due to alopecia
A number of celebrities and Twitter users criticized Smith over his actions
Smith later apologized in a tearful best actor acceptance speech
Will Smith left viewers of the 2022 Oscars stunned Sunday after he smacked Chris Rock across the face following a joke about his wife Jada Pinkett Smith's hair loss, which is due to alopecia.
The incident occurred after Rock, who was introducing the award for best documentary, joked to Pinkett Smith in the audience, "Jada, I love ya. G.I. Jane 2, can't wait to see ya," referencing the 1997 movie "G.I. Jane," which features a bald Demi Moore.
The camera then cut to Pinkett Smith, who appeared upset and rolled her eyes as she sat next to her husband.
Smith then took the stage and slapped Rock. After taking his seat, the actor yelled up to the stage at Rock, "Keep my wife's name out your f---ing mouth!"
Smith later apologized in a tearful best actor acceptance speech.
Smith's actions were met with mixed opinions on social media, with a number of celebrities and Twitter users criticizing him for what they deemed was an overreaction.
Comedian and director Judd Apatow called the incident "pure out of control rage and violence."
"He could have killed him. That's pure out of control rage and violence. They've heard a million jokes about them in the last three decades. They are not freshman in the world of Hollywood and comedy. He lost his mind," he wrote in a since-deleted tweet, obtained by Rolling Stone.
"Seems like Will Smith's plan to get comedian[s] and the world to not make jokes about him is not going to pan out. The Williams family must be furious. Pure narcissism," he added.
Comedian Kathy Griffin wrote: "Let me tell you something, it's a very bad practice to walk up on stage and physically assault a comedian. Now we all have to worry about who wants to be the next Will Smith in comedy clubs and theaters."
"Will Smith should be kicked out. Privilege should not excuse assault. It was a joke. Funny or not, it wasn't a swing," one Twitter user commented.
Some came to Smith's defense, pointing out that this was not the first time that Rock had made fun of his wife.
"If someone is disrespecting your partner over and over again, something has to give," one netizen wrote.
"Comedy should be punching up, not down. Yes, roasting celebs for trivial and pretentious stuff is fair game. When your joke is based on a medical condition, it becomes punching down, whether they're a celebrity or not. Jada has been open about her struggle with alopecia," another Twitter user commented.
However, others were quick to bring out the memes.
Later in the ceremony, Smith won the award for best actor for portraying Venus and Serena Williams' father in "King Richard." He got emotional during his acceptance speech and apologized for the altercation.
"I want to apologize to the Academy, I want to apologize to all my fellow nominees," Smith was quoted by Deadline as saying. "This is a beautiful moment and I'm not crying for winning an award, it's not about winning an award for me."
"I know to be able to do what we do you gotta be able to take abuse, you gotta be able to have people talk crazy about you," he continued. "In this business, you gotta have people disrespecting you and you gotta pretend that that's OK...Denzel [Washington] said to me a few minutes ago, 'At your highest moment, be careful, that's when the devil comes for you.'
Smith concluded his speech by saying he wants to be "a vessel of love" and he hopes the Williams sisters "didn't see that on TV."
The Academy of Motion Picture Arts and Sciences later responded to Smith and Rock's altercation, saying in a statement that it "does not condone violence of any form."
"Tonight we are delighted to celebrate our 94th Academy Awards winners, who deserve this moment of recognition from their peers and movie lovers around the world," the Academy continued.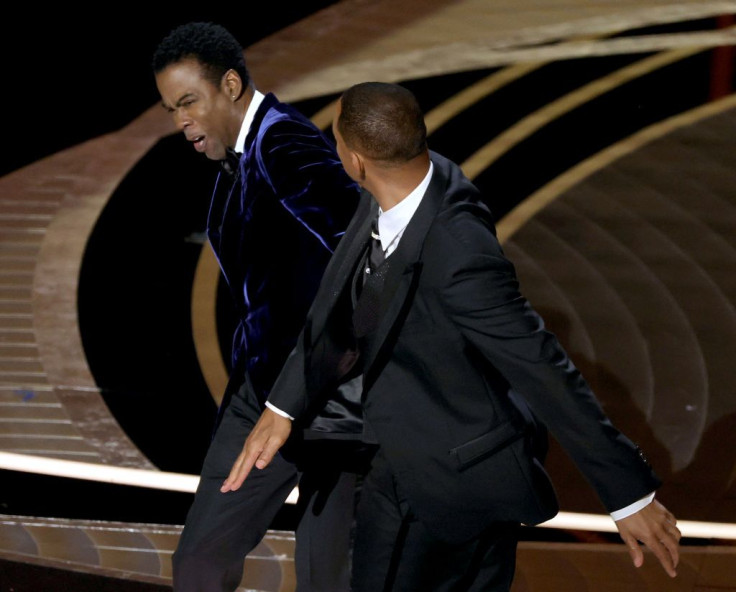 © Copyright IBTimes 2023. All rights reserved.