Twitter Usage Statistics: Which Country Has The Most Active Twitter Population?
When Twitter filed for its initial public offering with the Securities and Exchange Commission, one of the risks it noted was that the U.S. has a higher proportion of Internet users on Twitter than other countries do, and that it may have a difficult time monetizing its products overseas.
But a study from PeerReach, a social media analytics firm, found that Twitter (NYSE: TWTR) may not have trouble internationally after all. PeerReach looked at the percentage of people using Twitter in a country relative to the total number of Internet users in that country and found that the U.S. isn't even in the top five.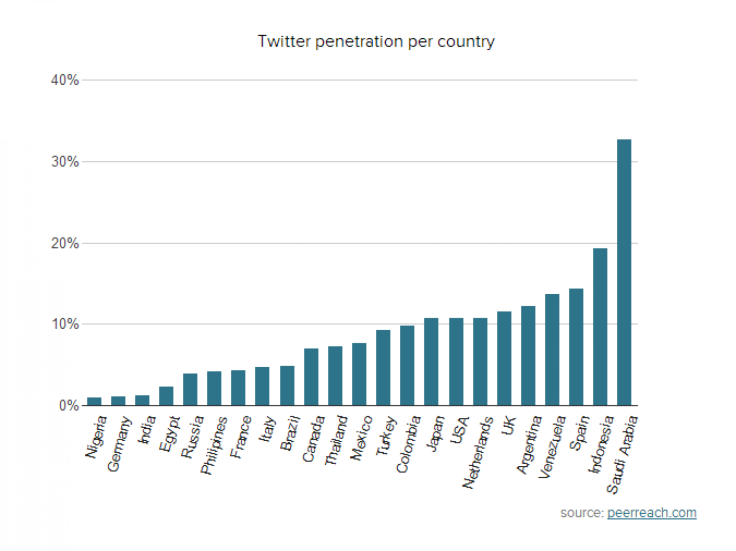 Saudi Arabia actually had the highest percentage of Twitter users relative to its online population. In fact, a full 32 percent of Saudi Arabia's online population uses the San Francisco-based microblogging service.
None of the top five countries in PeerReach's study of Twitter were English-speaking countries. The U.K. came in sixth place and the U.S., Twitter's home country, came in eighth, though that may have a lot to do with how much of the U.S. population is on the Internet.
The fact that the top two countries are Saudi Arabia and Indonesia should be encouraging for Twitter. PeerReach pointed out that most Internet users in these countries do not have access to a PC and rely on mobile devices for Twitter, meaning they can be lucrative sources of mobile revenue for Twitter. Meanwhile, Nigeria, Germany and India had the three lowest percentages of Twitter users.
The PeerReach study also showed which countries Twitter is likely to focus on to grow its user base.
© Copyright IBTimes 2023. All rights reserved.