Twitter Wants Amber Heard To Get Will Smith Treatment Amid Johnny Depp Trial
KEY POINTS
Will Smith was banned from the Oscars for 10 years, and his projects were reportedly paused after the Oscars slap
Some Twitter users wondered why Amber Heard has not been given the same treatment as Smith
Johnny Depp accused Heard of being physically violent toward him during their marriage
Social media users are calling for Amber Heard to be treated the same way as Will Smith, whose career and reputation appeared to have taken a hit after he slapped Chris Rock at the Oscars late last month.
The trial for the $50 million defamation lawsuit Johnny Depp filed against Heard over his ex-wife's 2018 Washington Post op-ed, in which she wrote about surviving domestic violence, kicked off in Fairfax, Virginia, Monday. Heard, 35, never mentioned Depp by name in the article, but the 58-year-old actor is claiming that the op-ed amounts to defamation, derailing his career and damaging his reputation.
Since the exes' legal battle began, Depp has been dropped from projects, including his role as Grindelwald in the "Fantastic Beasts" movies and Captain Jack Sparrow in the "Pirates of the Caribbean" franchise. In the aftermath of the Oscars slap, Smith was banned from the Oscars gala and other Academy events for 10 years, and reports claimed that several of his projects have been paused.
However, some Twitter users are wondering why Heard has not been fired or asked to step down from "Aquaman" or any other movies despite allegations that she had been physically violent toward Depp.
"So Hollywood wants to cancel Will Smith for 1 slap, but Amber Heard absolutely abused Johnny Depp and gets to keep her roles and fame?" one person claimed on Twitter.
"Y'all did all that to cancel Will Smith over a slap but won't cancel Amber Heard when she literally cut Johnny's finger off?" another tweeted.
"Amber Heard is a filthy liar, and there is plenty of evidence to prove it. Yet Johnny is the one to suffer," another claimed. "Will Smith defends his wife and gets a 10-year ban because someone made a crude joke about her medical condition. Why cancel the male but not the female? #AbuseHasNoGender."
But a number of fans came to Heard's defense, with one pointing out: "There is a difference between 'allegedly abused' and 'slapped someone for millions to see.'"
"Amber did not commit a crime at an Academy Awards function on live TV," another wrote.
"She never committed any crime," another commented.
Heard and Depp broke up in May 2016, when she sought a domestic violence restraining order against him. She alleged that the actor "violently" attacked her and threw a mobile phone at her face with "extreme force," in addition to other alleged instances of harassment.
Depp denied the claims, and the former couple settled their divorce out of court in August 2016.
In November 2020, Depp lost his libel case against the publisher of British tabloid The Sun, which called him a "wife-beater" in a 2018 article over Heard's allegations that he was physically abusive during their marriage. A judge ruled that the words were "substantially true."
However, Depp also accused Heard of being the abuser. He alleged in May 2019 that Heard "hit, punched and kicked me" and "repeatedly and frequently threw objects into my body and head, including heavy bottles, soda cans, burning candles, television remote controls and paint thinner cans, which severely injured me," USA Today reported.
He submitted as evidence a photo of his black and puffy eyes and scratches. The actor also alleged that one fight with Heard resulted in the severing of his fingertip from a shattered glass bottle thrown by his then-wife.
Heard denied the allegations of severing Depp's fingertip and instead claimed that it was the actor who threw bottles at her. "I only threw things to escape Johnny when he was beating me up," she further claimed.
In an audio recording shared by the Daily Mail in 2020 and confirmed to USA Today by Depp's then-lawyer Adam Waldman as a real recording from 2015, the actress can be heard telling Depp that she was hitting him. Heard later claimed that the leaked recording was edited by Depp's team.
Her lawyer, Roberta Kaplan, did not directly address the audio recordings or deny the allegations of physical violence in a statement sent to USA Today after they surfaced. But the attorney argued that Heard was also a victim of abuse, saying, "The fact that a woman fights or talks back does not mean that she has not been the subject of repeated domestic violence and abuse."
The ongoing Depp v. Heard trial is receiving live television coverage by Court TV and is also being streamed online.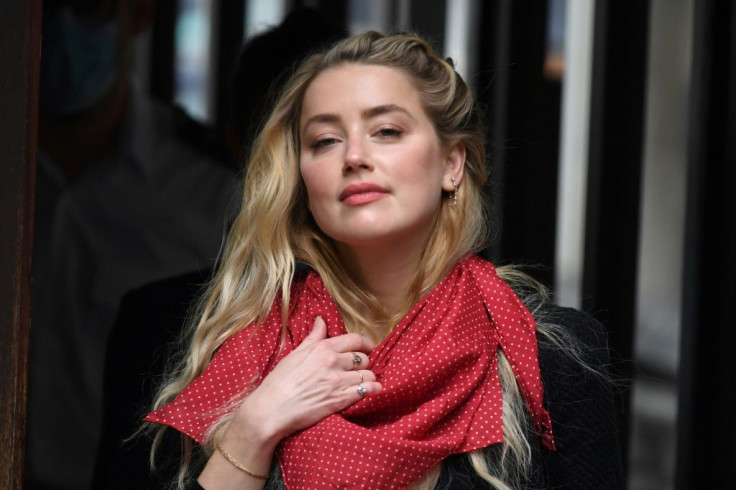 © Copyright IBTimes 2023. All rights reserved.
FOLLOW MORE IBT NEWS ON THE BELOW CHANNELS