Two White People Charged With Hate Crime For Allegedly Defacing Black Lives Matter Mural In California
KEY POINTS
Two white people were charged with a hate crime for their alleged vandalism of a Black Lives Matter street mural in Martinez, California
The two were charged with three additional misdemeanors which could mean serving a year in county jail if convicted
Video of the two painting over the mural went viral online during the weekend after a witness recorded an argument with them
Prosecutors said a white man and white woman who allegedly painted over a Black Lives Matter mural in Martinez, California, will be charged with a hate crime.
The suspects, identified as Nicole Anderson and David Nelson, also will be charged with three misdemeanors -- iolation of civil rights, vandalism and possession of tools to commit vandalism or graffiti -- by the Contra Costa County District Attorney's Office.
A court date has not been set, but the two could face a year in jail if convicted.
"We must address the root and byproduct of systemic racism in our country. The Black Lives Matter movement is an important civil rights cause that deserves all of our attention," Contra Costa County District Attorney Diana Becton said in a press release. "The mural completed last weekend was a peaceful and powerful way to communicate the importance of Black lives in Contra Costa County and the country. We must continue to elevate discussions and actually listen to one another in an effort to heal our community and country."
Anderson and Nelson's alleged actions came to the attention of Martinez police on Sunday after videos appeared online of a Black Lives Matter mural outside a local courthouse being painted over by a white man and white woman. Martinez Police Chief Manjit Sappal said several residents were granted a permit to paint the mural outside the courthouse on Saturday. Once it was done, two white people arrived with cans of black paint and a roller and began defacing the mural.
"This is not happening in my town," the woman is heard saying. The two are seen painting over the "B" and "L" with black paint while a witness recorded and argued with the two for several minutes.
(WARNING: GRAPHIC LANGUAGE)
"The community spent a considerable amount of time painting this mural only to have the suspects destroy it by dumping and rolling paint over part of the message," Chief Sappal said in a press release on Sunday.
The mural has since been repainted and has not been defaced while the street it is painted on remains blocked off.
Saturday's vandalism wasn't the only incident to occur during the weekend near the mural. In an unrelated incident on Sunday, a white man was arrested near the mural after allegedly pulling a gun a Black Lives Matter supporter.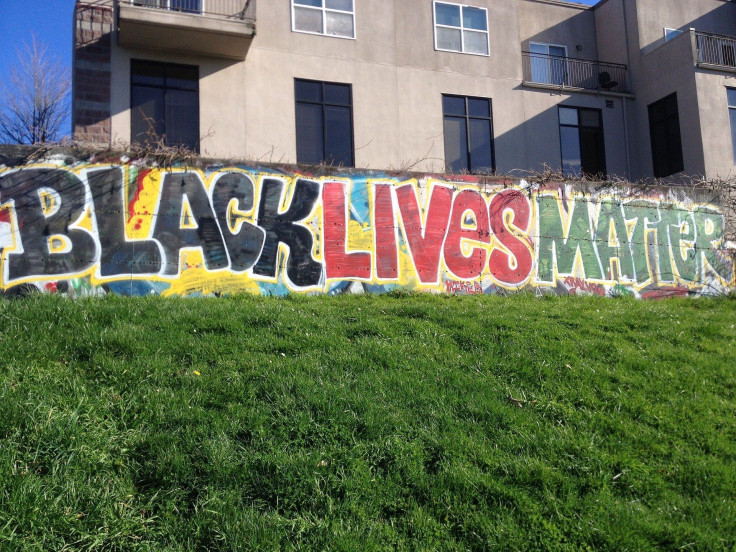 © Copyright IBTimes 2023. All rights reserved.
FOLLOW MORE IBT NEWS ON THE BELOW CHANNELS