Tyler Perry On Cover Of Men's Health Magazine: Talks Alex Cross And 30 Pound Weight Loss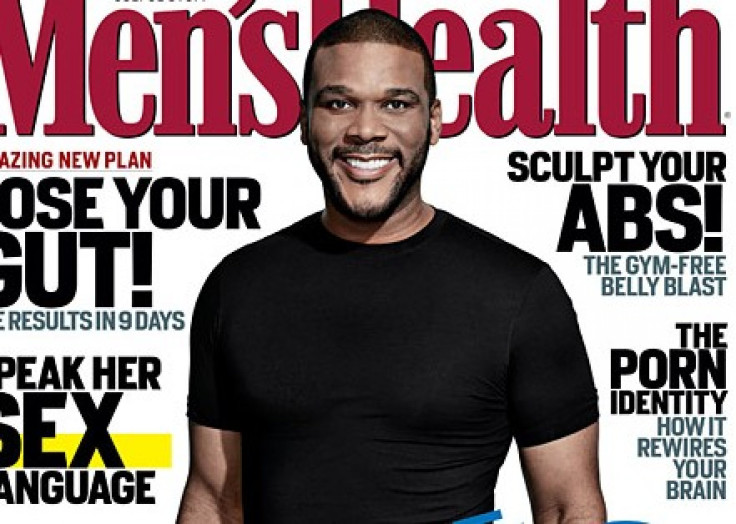 Actor and director Tyler Perry is featured in the latest issue of Men's Health, where he discusses his recent weight loss and upcoming role as Alex Cross.
Perry, who is most known for playing the hilarious character Madea in his own plays and films, steps into a new role as a homicide detective in the upcoming thriller which is based on best-selling novels by James Patterson.
Perry, who stands tall at a staggering 6'5," lost 30 pounds for the role, according to Men's Health, and the actor told the magazine, "I walk into a room with a lot more confidence."
Perry certainly does look better than ever on the cover, wearing a fitted black t-shirt that accentuate his new muscles, blue jeans, and a huge smile.
"All my life I've tried to hide my height. I was taller than everybody else and stood out, so I would slouch and try to hide it. But with what I've been able to do with my body, I'm owning it. I'm standing up when I walk into a room. Now, I feel like it's okay to be thought of as sexy."
Perry replaces acclaimed actor Morgan Freeman as Alex Cross, which are big shoes to fill. Morgan Freeman played Dr. Alex Cross in "Kiss the Girls" and "Along Came a Spider."
Perry opened up about succeeding Freeman, saying, "I thought, 'Well, Morgan Freeman played this role, you might not want to do this, 'cause Morgan Freeman knocked it out of the park. But the more I read it, the more I realized that I could do it."
Last year, numerous reports claimed that actor Idris Elba was expected to replace Freeman instead of Perry. When Perry was given the role instead, many movie critics were quick to question the decision.
"We'll reserve judgment on what Perry will do with the role, but not on the insanity of replacing Idris Elba -- a proven actor who's known for his ability to play a range of characters -- with Perry. It's definitely a risk, on multiple levels," wrote TheRoot.com.
Perry explained to Men's Health why he took on a role that has not been the norm for him, as his 'Madea' films are primarily comedy dramas.
"With Alex Cross, people say it's off-brand, a little different. But it's on purpose. They release it here, release it internationally, and now my stock has gone up on my own catalogs. Everything is about moving the ship forward. . . .Outside the ship doesn't matter. What's in the ship is mine, and it's going in the direction I think it should go."
Alex Cross comes out in theaters Friday.
© Copyright IBTimes 2023. All rights reserved.