U-Haul Issues Lifetime Ban To Brooklyn Funeral Home Caught Storing Bodies In Unrefrigerated Trucks
KEY POINTS
U-Haul reportedly issued a lifetime ban against Andrew T. Cleckley Funeral Services in Brooklyn for storing bodies in unrefrigerated trucks
A source said U-Haul higher ups were livid and imposed the ban effective Friday
The trucks used by the funeral home will be pulled from circulation until they have been thoroughly repaired, cleaned and disinfected
U-Haul reportedly issued a lifetime ban Friday against a funeral home in New York City that was found to be storing bodies inside unrefrigerated trucks. The ban was imposed on Andrew T. Cleckley Funeral Services in Brooklyn after several bodies were found on Wednesday.
"This is a wrongful, egregious and inhumane use of our equipment," a source at U-Haul told TMZ. The source said several higher ups within U-Haul were livid about the way the the funeral home used the trucks as storage space. The ban took effect Friday.
Authorities found the bodies after neighboring businesses complained about a foul smell coming from the trucks. Police and health department officials said 50 bodies were found inside the trucks.
The four trucks were taken out of circulation so they could be thoroughly cleaned, disinfected and repaired, U-Haul said. They won't go be available for rental until management is satisfied with their condition.
"Our trucks are designed for household moves," the source told TMZ. "Properly caring for the remains of people's loved ones requires vehicles suited specifically for that purpose. Our trucks absolutely cannot be rented for this reason."
Funeral home owner Andrew Cleckley told the New York Times he had no choice but to use the trucks after he "ran out of space" to store bodies. It is a problem plaguing funeral homes across New York City as a result of the coronavirus pandemic.
Around 18,000 people have died from coronavirus since March.
"I have no idea how any funeral home could let this happen," New York City Mayor Bill de Blasio told reporters. "Why on earth did they not alert the state ... go to their NYPD precinct and ask for help. Do something rather than leave the bodies there."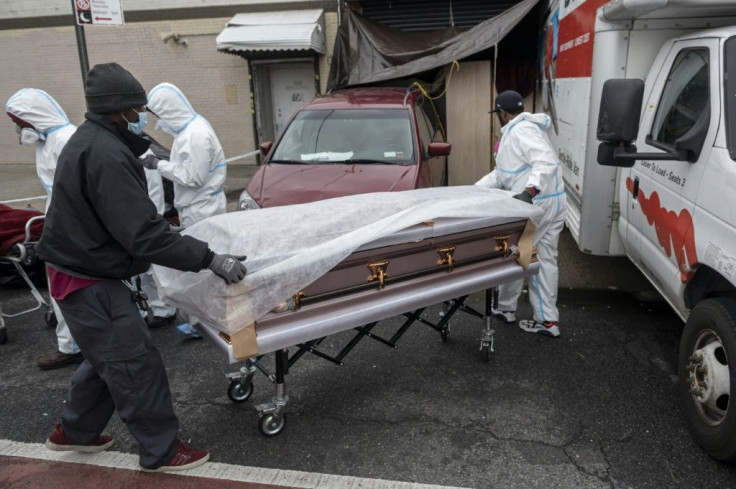 © Copyright IBTimes 2023. All rights reserved.