UCLA Shooting Live Updates: White Male Shooter Reports Investigated After Shots Fired At Engineering Building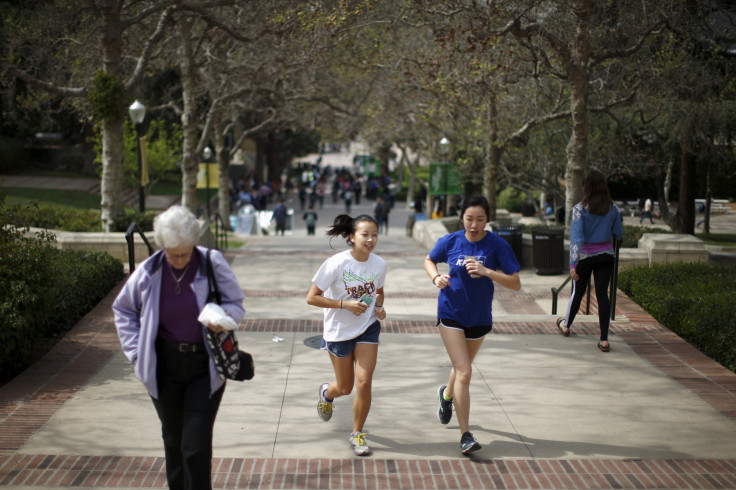 CORRECTION: Friday 9:30 a.m. EDT — Due to an editing error, unconfirmed information about the suspect's race was placed in the headline of this article. The Daily Bruin, which had tweeted during the campus lockdown that the shooter was a white male, retracted its reports Thursday in light of police statements.
UPDATE: 6:45 p.m. EDT — Los Angeles Police Chief Charlie Beck confirmed one man shot another and then himself in UCLA's Engineering IV building and that police recovered a gun at the scene, Reuters reported. "There are no suspects outstanding and no continuing threat to UCLA's campus," Beck told reporters without offering further details about the victims.
​UPDATE: 4:15 p.m. EDT — UCLA said its Engineering IV building was off-limits until further notice as police investigated a murder-suicide involving two men on campus. The school urged people to leave the campus through its north and east exits.
​UPDATE: 3:50 p.m. EDT — The relationship between two adult males found in a murder-suicide case at UCLA Wednesday is unclear, Los Angeles police said. Detectives were reviewing a suicide note found near the bodies.
UCLA officials said classes were canceled Wednesday afternoon "out of an abundance of caution," but would be conducted Thursday as scheduled. The campus was locked down for hours as police investigated reports of a potential active shooter.
​UPDATE: 3:28 p.m. EDT — UCLA's campus reopened after police confirmed a shooting that killed two people was an apparent murder-suicide case. Classes were canceled for the day and expected to resume Thursday, school officials said in a statement.
Two adult males were confirmed dead at UCLA's Engineering IV building. Nobody else was shot.
The news came after police searched the campus for hours, alarming students who were asked to stay away from the campus or indoors, depending on their locations.
​UPDATE: 3:17 p.m. EDT — Los Angeles Police Chief Charlie Beck confirmed there is "evidence" a suicide note was found at the UCLA campus, where two male victims were killed in a fatal shooting. The Los Angeles Police Department said the motive for the slayings was likely murder-suicide and that there are no outstanding suspects or threats on the campus.
U.S. President Barack Obama was briefed about the shooting while on traveling aboard Air Force One.
​UPDATE: 2:53 p.m. EDT — UCLA police ran across the campus with their weapons drawn as they searched for a potential live shooter after two people were killed, the Associated Press reported. UCLA Police Chief Jim Herren said at a press conference it was unknown if the shooter was one of the two men found dead from gunshot wounds or whether the shooter was still on the campus.
LAPD Capt. Andy Neiman previously told reporters that people should stay away from the campus. "There's not been any reports of any bombs or devices," Neiman replied when asked about other possible threats.
Denise Aberle, a bioengineering professor, told the AP she could see "a lot of police activity with innumerable cars" and a police helicopter hanging above the engineering building. "Police keep coming," she said.
A school Twitter account continued to warn students to stay safe:
UPDATE: 2:41 p.m. EDT — Both victims in the shooting at UCLA were male. It's unclear whether the shooter was one of them or is still in the area, the LAPD said. A school account tweeted: "Bruin Alert: Shooting. Lockdown continues for entire campus. Regardless of location on campus, go to secure location and deny entry."
Rafi Sands, vice president of UCLA's student government, told the Los Angeles Times he and about 30 other students secured a classroom door with their belts in an attempt to keep a potential attacker away. Sands, 20, said students were unsure what to believe as reports of the shooting spread across campus through social media and text messages.
"We get a lot of Bruin Alerts for small things," Sands said. "It took a while for everyone to realize this is serious."
UPDATE: 2:31 p.m. EDT — UCLA officials urged students to listen to police scanners and to stay alert amid reports of an active shooter on campus. Local reporters tweeted that students were walking out of campus buildings with their hands up as police cleared the area.
"Wait for UCPD to report the campus and hill are safe before leaving your secure location," the school said via its Twitter account.
A witness told CNN students were crying and shaking as they waited to be told they could emerge from their hiding spots.
As police combed the campus, actress Chloë Grace Moretz tweeted that the shooting was another sign that U.S. lawmakers should pass tougher gun control measures. And Zedd, a popular DJ, tweeted: "[A]bsolutely disgusting to read about what's happening at UCLA right now. hoping everyone stays safe."
California already has some of the nation's strictest gun laws.
UPDATE: 2:24 p.m. EDT — UCLA confirmed that two people were dead after a campus shooting. Police were searching for the shooter, and students were ordered to stay at safe locations.
News footage showed dozens of police raiding a campus building. The motive for the shooting was unclear. However, a local Fox News reporter said a suicide note had been found near the victims.
UPDATE: 2:18 p.m. EDT — There "may be at least one or two victims" at UCLA Wednesday after a shooting about 10 a.m. local time (1 p.m. EDT) close to an engineering building, LAPD Capt. Andy Neiman told reporters at a news conference. He could not confirm their conditions, although NBC News reported two people had died.
Neiman said the FBI and local fire department were joining city and campus police on the scene. "We know very little at this point," he said. "What we do know is that a shooting happened. If you are on campus right now, the message to everybody ... is to shelter in place."
UPDATE: 1:52 p.m. EDT — Police at UCLA confirmed there were two victims on campus amid reports of a shooting at the Engineering IV building. Local law enforcement personnel and representatives of the U.S. Bureau of Alcohol, Tobacco, Firearms and Explosives were responding to the school, which has about 43,000 students.
"Two people were shot," university representative Tod Tamberg told the Los Angeles Times. The motive for the shooting was unknown. The campus remained on lockdown.
Mehwish Khan, a 21-year-old psycho-biology student, told the newspaper she was hiding in the library with several other students. "The whole campus just started running, and I started running, too," she said in an interview over her cell phone with the sound of helicopters in the background. "Everyone was very confused. We got in a building, and no one knew what was going on."
UCLA has not yet finished its spring term. Classes will wrap up Friday, with exams held through the end of next week, according to the university calendar. Graduation is set for June 10-11.
UPDATE: 1:35 p.m. EDT — UCLA was on lockdown Wednesday as police investigated reports of a possible shooter outside the Engineering IV building, according to a statement by the school. Two people were wounded, NBC News reported.
"Stay in your rooms or a safe location. Do not try to go to classes or dining halls. Wait until it is safe to leave your location," the UCLA Housing account tweeted.
The Daily Bruin, the student-run newspaper, tweeted unconfirmed reports that the alleged gunman was a white male wearing a black jacket.
The LAPD's SWAT was on the scene, KTLA-TV in Los Angeles reported. Police learned of the incident at about 10 a.m. local time.
As they awaited official updates, students expressed their fears on Twitter:
Original story:
The University of California at Los Angeles confirmed Wednesday police were looking into "a possible shooter" near the Engineering IV building on its main campus. Citing anonymous sources, the Daily Bruin reported a white male shooter about 6 feet tall.
"Shooter is wearing a black jacket and black pants, according to police," the student newspaper tweeted.
The Engineering IV building houses the aerospace, electrical and mechanical departments.
More than 43,000 students attend UCLA, which has described itself as getting more application than any other university in the U.S. This week marked the final week of instruction before final exams for its spring semester.
FOR FREE to continue reading
✔️ Unlock the full content of International Business Times UK for free
offer available for a limited time only
✔️ Easily manage your Newsletters subscriptions and save your favourite articles
✔️ No payment method required
Already have an account?
Log in
© Copyright IBTimes 2023. All rights reserved.