UFC Champion Jon 'Bones' Jones Arrested In New Mexico For DWI, Negligent Use Of Firearm
KEY POINTS
Albuquerque police said it was called after a gunshot was reportedly heard in the city's Albuquerque Original Townsite district around 1 a.m. Thursday
Jon 'Bones' Jones was arrested after he was reportedly found with an open alcohol container in the car and failed a field sobriety test
Police said a handgun was found under the driver's seat after Jones' car was towed and an empty bullet casing that matched the gun's caliber fell out of the driver's door
UFC Light Heavyweight Champion Jon 'Bones' Jones was arrested Thursday morning in Albuquerque, New Mexico, when he allegedly was found behind the wheel of a car with an open container and firearm.
The Albuquerque Police Department said an officer was sent to investigate a reported gunshot in the Albuquerque Original Townsite district around 1 a.m. An officer reportedly found a black Jeep with a man at the wheel, identified as Jones, and a second outside the car's passenger door. The officer said he saw an open alcohol container in the backseat and called a second officer to help conduct a field sobriety test.
Jones was arrested after the sobriety test, accused of driving while intoxicated, and the vehicle was towed from the scene.
Officers conducted a second search of the car after it was towed and found a handgun hidden underneath the driver's seat. A bullet casing was also found that reportedly fell out of the driver's side door that matched the handgun's caliber.
Gilbert Gallegos, director of communications for the police department, said the gun would be tested to see if it was used in any crimes.
"As part of the investigation into this incident, our Gun Violence Reduction Unit will test the firearm and bullet casing to determine whether the gun has been used in any crimes," Gallegos said. "Reducing gun violence in Albuquerque is our top priority."
Jones was booked at Bernalillo County Metropolitan Detention Center shortly after his arrest, but was released shortly after. The Bernalillo County District Attorney's Office said Jones' next scheduled court appearance is on April 8 for arraignment.
Jones' team did not comment, but UFC released a short statement after his latest arrest.
"UFC is aware of the situation regarding Jon Jones in Albuquerque early this morning," the UFC said. "The organization has been in contact with Jones' management team and is currently gathering additional information."
It's the latest in what has been a checkered legal history for the man hailed as one of the greatest UFC fighters in history.
Jones pleaded guilty to a DWI charge in 2012 after driving his car into a pole in Binghamton, New York.
He was then convicted for a hit-and-run incident from 2015 in Albuquerque when he allegedly ran a red light and crashed his rental car into two other vehicles. Jones was on probation until 2018.
His last arrest was in July 2019 and he was charged with battery for an alleged incident at a strip club in Albuquerque in April 2019. Jones allegedly slapped a server in the rear, pulled her to his lap, and choked her while kissing her on the neck. He pleaded no-contest in October when he received 90-day deferred sentence that prohibited him from being arrested or return to the scene in that time. He was also ordered to pay court fees.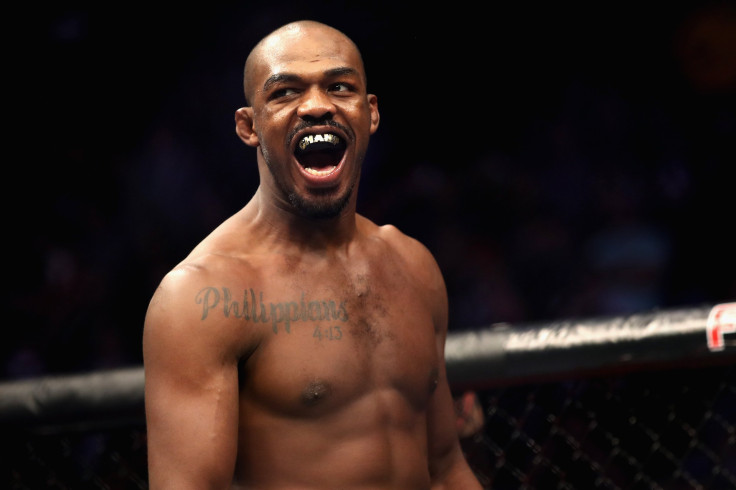 © Copyright IBTimes 2023. All rights reserved.
FOLLOW MORE IBT NEWS ON THE BELOW CHANNELS