Unclear If Siri Speaker Will Have Display Screen Like Amazon's Echo Show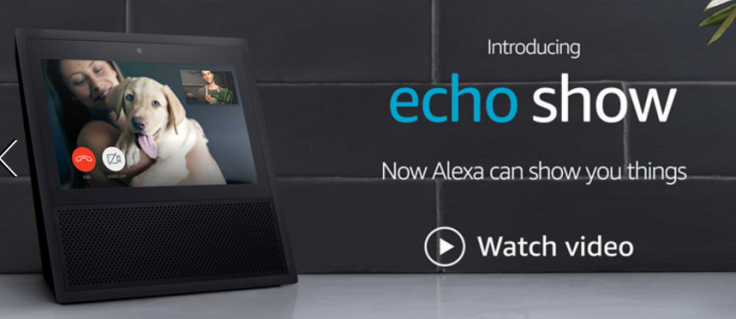 Amazon revealed the Echo Show Tuesday, and with coverage of the Alexa gadget came rumors about Apple's upcoming Siri speaker.
Apple employees have been testing the Siri speaker in their homes for several months, sources familiar with the matter told Bloomberg.
So far, it's unknown whether Apple's upcoming Siri speaker will come with a built-in display, like Amazon's Echo Show. Marketing chief Phil Schiller said last week in an interview he thinks voice assistant devices are beneficial, but that doesn't mean you'd never want a screen.
Read: Apple Siri Speaker: 5 Expected Features Including Improved Beats Audio, Touchscreen
KGI Securities analyst Ming-Chi Kuo previously said there's a more than 50 percent chance Apple could announce its Siri speaker at the Worldwide Developers Conference this June. Apple would be late in the market of voice-assistant speakers, following Amazon's multiple Alexa devices and the Google Home. Amazon is expected to control 70 percent of the voice-enabled speaker device market this year, a forecast from eMarketer released this week predicted.
Apart from the Echo Show, Amazon revealed the Echo Look late last month. The device includes LED lighting and a depth-sensing camera. The $199.99 gadget acts as a "style assistant" by taking full-length pictures of your outfits and judging your fashion taste.
The Echo Look with a built-in screen comes with voice and video calling features and carries out other tasks. The device allows users to buy products on Amazon and shows connected security cameras and baby monitors on the screen, as well as allowing users see photos and weather updates. It also responds to other requests.
However, Apple's device could tackle problems found in Amazon's devices. Kuo said the Siri speaker will have "excellent" acoustics performance, which will help it compete with Echo gadgets. Kuo also said the Siri speaker will cost more than the Amazon Echo, will support AirPlay and will have a performance similar to the iPhone 6 and iPhone 6S.
Read: New Amazon Echo Show: Preorder, Features, Price Revealed For Alexa-Powered Device With Built-In Screen
No Apple Music On Echo Show
The Echo Look streams music on Amazon's Prime service, as well as Pandora, Spotify, TuneIn, iHeartRadio and others. However, the list does not include Apple Music, which could mean Apple is saving its streaming service for its own device.
Amazon devices chief Dave Limp said Amazon would "love to have Apple, but they're not super big" on opening up Apple Music integration, Bloomberg reported.
This isn't the first time Apple has clashed with Amazon. In 2015, Amazon stopped selling the Apple TV on its site (Amazon also discontinued the Google Chromecast). Amazon said at the time it didn't want to confuse its customers if a product sold through Amazon does not support Prime Video. Apple TV does not support Amazon apps. However, the companies are rumored to be putting their differences aside for the TV box. Amazon will bring its Prime Video app to the Apple TV in the third quarter of this year. Previously, Apple users with Amazon Prime subscriptions had to rely on AirPlay to stream videos from their iOS device to the Apple TV.
© Copyright IBTimes 2022. All rights reserved.
FOLLOW MORE IBT NEWS ON THE BELOW CHANNELS