'Undercover Holiday' Hallmark Movie Premiere: Trailer, Synopsis, Cast
Hallmark Channel's merry holiday season continues with the newest "Countdown to Christmas" holiday premiere, "Undercover Holiday." The film, starring Noemí Gonzalez and Stephen Huszar, premieres Sunday night.
The film will be a treat for fans, as they are definitely familiar with Huszar, who has starred in several films for both the network and its sister station, Hallmark Movies & Mysteries. Titles there include "Time for Us to Come Home for Christmas," "Ruby Herring Mysteries," "A Homecoming for the Holidays," "Return to Christmas Creek" and "Magical Christmas Ornaments." He also featured in Hallmark's "My One and Only," and appeared as Luke Tatum on the series "Chesapeake Shores."
Gonzalez will be a new face for Hallmark fans, but she has had notable roles before including in "Selena: The Series" and as Mia Rosales on "The Young and the Restless."
Gabriella Reynoso ("The Christmas House") also stars.
So what can fans expect from the film? Let's find out.
"Pop star Jaylen Rodriguez (Gonzalez) has recently catapulted to stardom and is about to headline her first tour, but before she does, she's going back home for a REAL, traditional Rodriguez family Christmas," a synopsis for the film reads. "However, when she starts receiving concerning fan mail from a 'secret admirer,' her team insists that she hire round-the-clock security for her trip home. Security guards and overzealous fans are everything her family was concerned about when she set off to make it in the music business, but this is her new reality, so she relents. However, not wanting to worry her fun, tight-knit family, specifically her beloved Abuela (Reynoso), she pretends her security guard Matt (Huszar), a former Navy SEAL, is her boyfriend."
Naturally, the two butt heads, as they don't agree on much, and Jaylen is not amused that she needs to have a guard present.
"The family is delighted that Jaylen is dating and welcomes him with open arms. Meanwhile, Jaylen finds Matt's presence invasive," the synopsis continues. "As they do their best to maintain the charade, they continually butt heads. She wants to relive the hometown Christmases of her youth and he struggles to protect her in potentially vulnerable situations."
However, as they continue to spend time together, something begins to change, and the two find themselves blurring the lines of their relationship.
"As the holiday progresses, Jaylen and Matt begin to soften to each other and bond over their shared secret, as he embraces her large, Hispanic family's wonderful Christmas traditions," the synopsis concludes. "Matt's protection takes on a whole new meaning and the line between bodyguard and boyfriend becomes blurred as their lives are changed forever."
"Undercover Holiday" premieres Sunday, Dec. 4 at 8 p.m. EST on Hallmark Channel.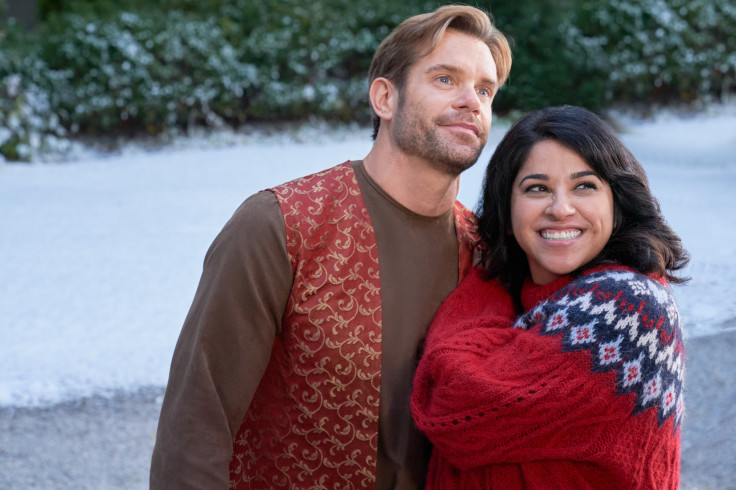 © Copyright IBTimes 2023. All rights reserved.