UNESCO Falls Further Into Swamp Of Moral Bankruptcy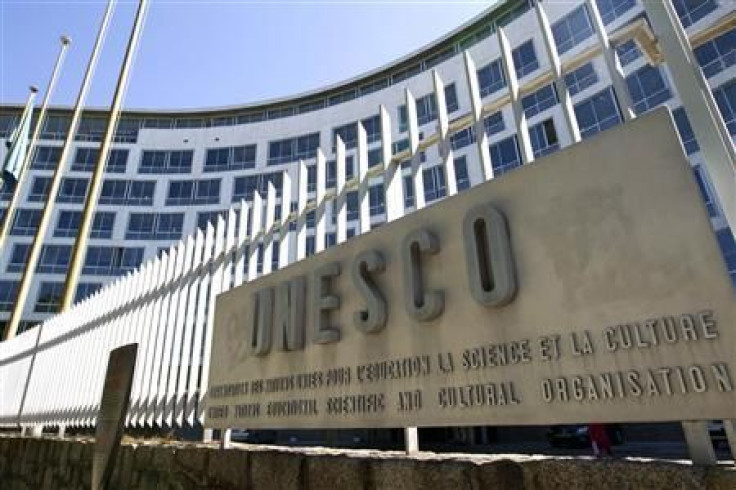 UNESCO's decision to cancel this week's Paris exhibition about Jewish ties to Israel highlights – in case anyone needed a reminder – the moral bankruptcy that pervades all too much of the United Nations and its affiliate organizations.
UNESCO (officially the United Nations Educational, Scientific and Cultural Organization) was created out of a United Nations gathering in late 1945 "to respond to the firm belief of nations, forged by two world wars in less than a generation, that political and economic agreements are not enough to build a lasting peace. Peace must be established on the basis of humanity's moral and intellectual solidarity."
Uh huh.
Let's review the bidding and see, with this last-minute cancellation of an exhibition that was two years in the making, just how far UNESCO has fallen down the swamp of intellectual dishonesty, moral bankruptcy, and political kowtowing. Let's see as well how the United States dipped its toe in the same swamp.
Two years ago, UNESCO and the Simon Wiesenthal Center decided to create an exhibition, for display at UNESCO's Paris headquarters, called "The People, the Book, the Land – 3,500 years of ties between the Jewish people and the Land of Israel."
Wiesenthal commissioned Hebrew University's Robert Wistrich, who says he was skeptical about UNESCO but accepted the job. He wrote 24 panels of about 800 words each, starting with Abraham and ending with the State of Israel. The display was scheduled to open on Monday and run for 10 days.
On January 14, Abdullah Alneaimi, who heads UNESCO's Arab Group, wrote to UNESCO Director General Irina Bokova to express "deep concern" that the exhibit would upset Israeli-Palestinian peace talks. Bokova agreed, saying, "In this context, regrettably, UNESCO had to postpone the inauguration of the exhibit" while raising "unresolved issues relating to potentially contestable textual and visual historical points."
We're left to ponder why the truth – that Jews have historical ties to the land of Israel that date back 3,500 years – is so controversial. Could it be that, by acknowledging it, UNESCO would threaten the Arab narrative: that the world created the Jewish state merely in response to the Holocaust, that the location was arbitrary, and that the Muslim world rightly claims ownership over that land?
UNESCO's decision is shocking only in its timing. Notwithstanding its high-minded mission statement as quoted above, the organization has long displayed a knee-jerk insensitivity, if not hostility, to the Jewish state.
In October, UNESCO voted for at least six resolutions to condemn Israel at its Executive Board meeting in Paris, the Times of Israel reports. In 2012, it created a chair in Astronomy, Astrophysics and Space Sciences at the Islamic University of Gaza, which reportedly has close ties to Hamas. A year earlier, both the United States and Israel stopped paying dues to UNESCO after it allowed membership for Palestine, costing the organization more than one-fifth of its budget.
The more interesting question is why Washington similarly succumbed to the silly claim that, if UNESCO acknowledged the historical truth about Jews and Israel, then Israelis and Palestinians could not make peace.
To be sure, the State Department condemned UNESCO's decision and said it expressed its unhappiness to top UNESCO officials. But, well before that, while Israel, Canada, and Montenegro agreed to co-sponsor the exhibition, the United States refused to do so – using much the same argument that UNESCO's Arab officials deployed this week in seeking its postponement.
"At this critical juncture in the ongoing Middle East peace process," the State Department's Director of UNESCO Affairs, Kelly Siekman, wrote to the Wiesenthal Center earlier this month, "and after thoughtful consideration with review at the highest levels, we have made the decision that the United State will not be able to co-sponsor the current exhibit during its display at UNESCO headquarters."
How sad, indeed how pathetic, that the world's most powerful nation would succumb to historical falsities, misplaced sensitivities, and an all-consuming political correctness that pervades Arab culture.
Perhaps the State Department should recall the words of President Barack Obama in Jerusalem in March: "For the Jewish people, the journey to the promise of the state of Israel wound through countless generations. It involved centuries of suffering and exile, prejudice and pogroms and even genocide. Through it all, the Jewish people sustained their unique identity and traditions, as well as a longing to return home. And while Jews achieved extraordinary success in many parts of the world, the dream of true freedom finally found its full expression in the Zionist idea -- to be a free people in your homeland."
In that spirit, here's a message for UNESCO and the State Department: The truth shall set you free.
Lawrence J. Haas, former communications director for Vice President Al Gore, is a senior fellow at the American Foreign Policy Council and author of "Sound the Trumpet: The United States and Human Rights Promotion." Follow him on Twitter @larryhaasonline.
FOR FREE to continue reading
✔️ Unlock the full content of International Business Times UK for free
offer available for a limited time only
✔️ Easily manage your Newsletters subscriptions and save your favourite articles
✔️ No payment method required
Already have an account?
Log in
© Copyright IBTimes 2023. All rights reserved.