United Nations Ceasefire: Following Paris Attacks, Leaders Draft Syrian Resolution To Defeat ISIS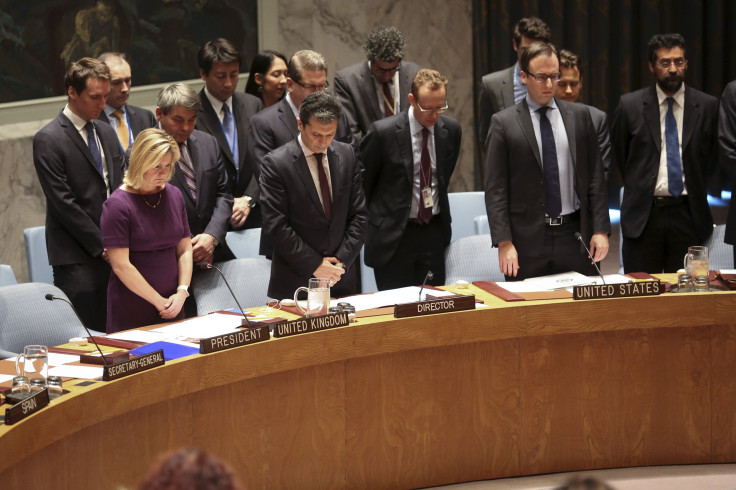 The United Nations plans to immediately draft a ceasefire in Syria following the Paris terrorist attacks Friday. The Islamic State group claimed responsibility for the attacks. British officials told the Associated Press that nearly 20 countries agreed to a preliminary plan to end years of conflict in Syria.
World leaders have grappled with how to respond to the attacks. A meeting was held in Vienna Saturday of about 20 heads of state to discuss a resolution that would set a Jan. 1 deadline to begin negotiations between Syrian President Bashar Assad's administration and opposition groups.
British Deputy Ambassador Peter Wilson said Monday the U.N. Security Council is "very clear" in its goal to respond right away to the Islamic State jihadists. Britain holds the council presidency.
U.S. President Barack Obama and Russian President Vladimir Putin met Sunday to discuss how to move forward with conflict resolution in Syria, according to a White House official. The meeting ran for 35 minutes.
United Nations Security Council | Graphiq
Some have raised concerns that Russia's motive is to bolster the Assad regime, but the official said Obama is receptive to any effort to fight ISIS.
"President Obama and President Putin agreed on the need for a Syrian-led and Syrian-owned political transition, which would be preceded by U.N.-mediated negotiations between the Syrian opposition and regime as well a ceasefire," the official said.
A Kremlin official acknowledged the differences in policy between the two nations.
"Differences on tactics still remain," Putin's foreign policy adviser Yuri Ushakov told reporters.
Putin and Obama were in Turkey Sunday for the Group of 20 summit meeting of the leaders of the world's top economies.
Obama has pledged to stand by France in the aftermath of the attacks, which claimed 129 lives.
© Copyright IBTimes 2023. All rights reserved.