The United States Is Rome? NBA Coaches, Players Criticize Donald Trump Winning Presidency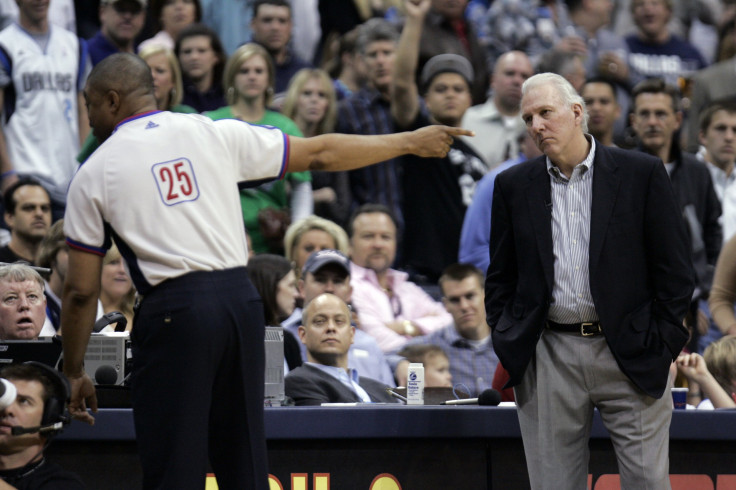 Gregg Popovich, the longtime head coach of the NBA's San Antonio Spurs, recently delivered an impassioned, reasoned speech of sorts about President-elect Donald Trump's victory. Speaking with reporters Friday, Popovich ended his rant by expressing his fear that the United States is Rome — essentially, alleging that the country is an empire set to fall.
In his lengthy remarks, he touched on the fact that Trump's campaign rhetoric attacked vulnerable people, saying it was something many would not accept from their children, let alone a president.
"What gets lost in the process are African-Americans and Hispanics and women and the gay population, not to mention the eighth-grade developmental stage exhibited by him when he made fun of the handicapped person," Popovich said, referencing a 2015 rally where Trump appeared to mock disabled New York Times reporter Serge Kovaleski. "I mean, come on. That's what a seventh-grade, eighth-grade bully does, and he was elected president of the United States."
At one point, a reporter apparently attempted to ask Popovich a question. The coach said he wasn't done and continued talking about Trump. "I'm a rich white guy, and I'm sick to my stomach thinking about it," he said. "I can't imagine being a Muslim right now, or a woman, or an African-American, a Hispanic, a handicapped person, how disenfranchised they might feel. And for anyone in those groups that voted for him, it's just beyond my comprehension how they ignore all that. And so, my final conclusion is — my big fear is — we are Rome."
Rome's empire fell in 476 A.D. after controlling the world as an utter superpower for some 500 years. Historians have pegged a number of reasons, including military failures, taxation and bitter power struggles, for its fall.
Popovich is not the only person from the NBA to speak out against Trump after his win over Democrat Hillary Clinton.
"We just elected an openly, brazen misogynist leader and we should keep our mouths shut and realize that we need to be learning maybe from the rest of the world, because we don't got anything to teach anybody," Detroit Pistons coach Stan Van Gundy said last week. "I have been ashamed of a lot of things that have happened in this country, but I can't say I've ever been ashamed of our country until today. Until today. We all have to find our way to move forward, but that was — and I'm not even trying to make a political statement. To me, that's beyond politics."
Golden State Warriors Coach Steve Kerr also said last week there hasn't been any "respect and dignity" during the Republican's campaign.
"And then you walk into a room with your daughter and your wife, who've basically been insulted by [Trump's] comments, and they're distraught," he said. "And you walk in and you see the faces of your players, most of them who have been insulted directly as minorities, it's sort of shocking."
The head of the NBA's Coaches Association, Dallas Mavericks coach Rick Carlisle, told NBA.com via text message over the weekend that they "should not tolerate xenophobic, homophobic, racist and misogynistic talk from a person recently elected president."
Some players made public comments about Trump, as well. Chicago Bulls player Dwyane Wade said he was surprised, while the Cleveland Cavaliers' LeBron James, a Clinton supporter, said that "our nation has never been built on one guy, anyway."
In the U.S.' most popular league, the NFL, there's been somewhat of a divide during the election.
Trump touted high-profile support from New England Patriots Coach Bill Belichick and quarterback Tom Brady. Meanwhile, the Tampa Bay Buccaneers Mike Evans, sat during the national anthem to protest Trump getting elected.
© Copyright IBTimes 2023. All rights reserved.