Unlimited Breadsticks In Trouble: Olive Garden Investor Says Cool It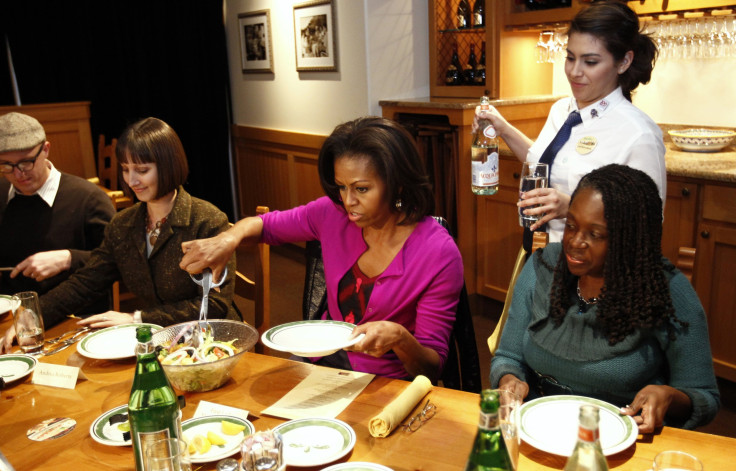 An Olive Garden investor group has a weighty critique of the restaurant: servers are bringing out too many of the restaurant's famous unlimited breadsticks to customers, who leave them to go stale, the Associated Press reported. The criticism comes in the form of a 300-page report by Starboard Value, a hedge fund invested in Olive Garden's parent company, Darden Restaurants Inc. (NYSE:DRI).
In two slides titled "Breadsticks: just one example of food waste," Starboard Value attacked the quality of the breadsticks themselves, saying they are "filled with more air and have less flavor (similar to hot dog buns)," a stark comparison to the "fresh and golden brown quality breadsticks" they call a staple of Olive Garden in the 1990s.
The report says Olive Garden uses anywhere between 675 million to 700 million breadsticks a year at an average of around three per customer, but that the average customer doesn't consume three breadsticks. (Tell that to the guys who tried to eat 1,000 breadsticks.)
Don't panic just yet. Starboard Value isn't recommending Olive Garden turn unlimited breadsticks into limited breadsticks, it just wants servers to be more careful about how they serve them.
Breadsticks "deteriorate in quality," after sitting out for just seven minutes, according to Darden Restaurants and Starboard Value, so Olive Garden needs to bring less out at a time, so breadsticks remain hot and ready to go. Olive Garden's policy is to give out one more breadstick than the number of customers at a table. So a party of four gets five breadsticks at a time in theory, but Starboard Value says 57 percent of the time Olive Garden servers are giving out much more than that.
Olive Garden's unlimited breadsticks service has garnered a cult following among enthusiastic fans. There's even a forum on the site Reddit specifically for fans to share photos and tell tales of their adventures with unlimited breadsticks. There are nearly 6,500 people members of the forum. Even the College of Idaho President Marvin Henberg felt the need to address the metaphysics of whether Olive Garden breadsticks are really unlimited at his commencement address in May:
Starboard Value also notes in its 300-slide presentation that Olive Garden doesn't salt its pasta water! Its as if millions of Italian grandmothers suddenly cried out in terror...
Darden, which owns LongHorn Steakhouse, Bahama Breeze and a handful of other restaurants, is in the midst of a corporate shakeup and an "Olive Garden Brand Renaissance" program aimed at bringing up four years of sliding profit margins, according to the Wall Street Journal. Activist investors want to replace the entire board of directors.
© Copyright IBTimes 2023. All rights reserved.