US Attorney General Loretta Lynch Pledges Limits On 'Punitive' Solitary Confinement In Nation's Prisons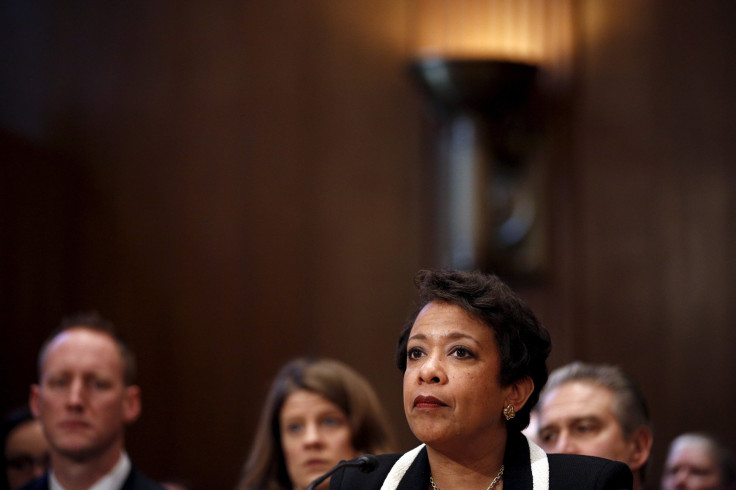 NEW ORLEANS — U.S. Attorney General Loretta Lynch said Tuesday that she plans to curb the excessive use of solitary confinement for inmates serving time behind bars in American prisons and jails. Her speech, delivered to a conference ballroom full of prison wardens and jailers, followed President Barack Obama's announcement in an op-ed Monday that he will ban solitary confinement for juveniles.
"We need to put restrictive limits on when, why, and how long an inmate can be put in restrictive housing," Lynch said. She added that the Department of Justice, acting on the directive from President Obama, will no longer allow federal juvenile facilities to place minors in solitary. "We are ending this practice once and for all," she said.
Lynch's remarks came at the American Correctional Association's annual winter conference here. The ACA, a nonprofit, is the largest correctional association in the United States. The several hundred attendees at Tuesday's event included a range of stakeholders in the criminal justice system — from prison wardens to sheriffs to academic researchers.
Lynch was introduced by Louisiana Governor John Bel Edwards, who acknowledged that his state has the highest incarceration rate in the nation. "We have a lot of work to do," he said.
Over the last two decades, the United States has become the world's leading jailer, incarcerating some 2.7 million people every year. While it is notoriously difficult to document the number of inmates actually serving time in solitary confinement, one recent report by Yale Law School suggests that 80,000 to 100,000 people in state prisons in 2014 were held in solitary.
However, the practice is becoming less and less popular. On Monday, President Obama announced in an article in The Washington Post that he plans to limit the number of inmates, especially juveniles, who are forced to spend up to 23 hours per day locked up in solitary.
"Research suggests that solitary confinement has the potential to lead to devastating, lasting psychological consequences," he wrote. "It has been linked to depression, alienation, withdrawal, a reduced ability to interact with others and the potential for violent behavior."
He added, "The United States is a nation of second chances, but the experience of solitary confinement too often undercuts that second chance."
Lynch, who was nominated by President Barack Obama in November 2014, previously served as the U.S. Attorney for the Eastern District of New York. Since being appointed to office in February 2015 she has been a vocal advocate for reforming the criminal justice system. Recently, she unveiled a $53 million program to reduce recidivism.
On Tuesday, Lynch announced a $24 million initiative to treat inmates in federal prisons with mental illness. Often, she said, prisoners who are placed in solitary suffer from mental illness, but isolating them only makes matters worse. While it's occasionally necessary to restrict an inmate from the general prison population for their own safety, she said solitary is too often used as a punitive tool.
"There are times when this practice is necessary," she said. But "there's little doubt that [solitary] has been used without consideration and without good cause."
© Copyright IBTimes 2023. All rights reserved.