US-Blacklisted Huawei Launches Riyadh Cloud Branch Amid Strengthening China-Saudi Ties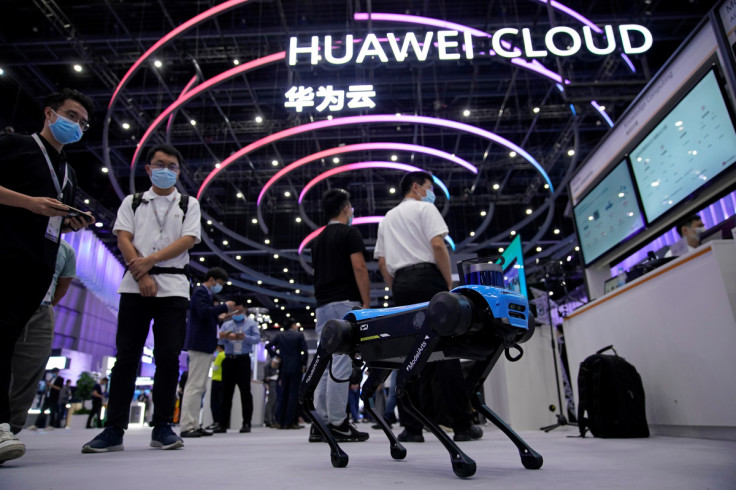 KEY POINTS
Huawei's Steven Yi said Saudi created an 'inviting environment' for top investors
China and Saudi Arabia have been bolstering technoscientific ties in recent years
Prince Abdulaziz bin Salman has said he ignores criticism over deepening Sino-Arab ties
Huawei Cloud has launched the Huawei Cloud Riyadh Region branch as part of its efforts to promote a digital-led economy in Saudi Arabia. The development comes as China and Saudi continue to bolster trade and diplomatic relations.
"This achievement underscores Huawei Cloud's unwavering dedication to supporting Saudi Arabia's Vision 2030, aligned with the nation's ambitious technological advancement, leadership, and innovation goals," the company said in a press release.
The Chinese tech giant's Huawei Cloud Riyadh office, which was announced Monday at the Huawei Cloud Summit Arabia 2023, will focus on serving consumers across the Middle East, Central Asia and Africa.
Steven Yi, senior vice president of Huawei and president of Huawei Middle East and Central Asia region, shared during the launch that passing by the newly renovated Diriyah – known for its mud-brick architecture – made him emotional. "It brought to mind an old Chinese saying: 'Build the right nest, and a Phoenix will come.' The essence is clear: create an inviting environment, and you'll attract the best. This is undeniably true for Saudi, a nation that consistently attracts top investors," he said.
Aside from announcing the Riyadh region branch at the summit, Huawei Cloud also launched the "Saudi Arabia Go Cloud Go Global" program that seeks to connect Chinese and Saudi companies for growth and innovation.
Huawei Cloud's advancements in the Kingdom come at a time when technoscientific cooperation between China and Saudi has made significant strides in recent years.
Late last year, Huawei signed a memorandum of agreement with Saudi Arabia to build cutting-edge complexes in Saudi cities and enhance cloud computing. Geopolitics expert Rajaram Panda wrote that a deal between Huawei and Saudi Arabia "starkly underlines the China-US rivalry."
However, some experts believe a deeper look into China-Saudi relations will reveal a different angle from what most of the world sees.
An August report by the Washington, D.C.-based think tank Carnegie Endowment for International Peace (CEIP) said that strengthening scientific and technological innovation between the two nations is centered on Saudi's priorities instead of the other way around.
The United States has painted China as a country that strengthens ties with other nations to feed its interests, but the CEIP report noted that the Sino-Saudi partnership "was born from the technoscientific and developmental needs of the Saudi state itself," not from China's attempts at greater world influence.
The Kingdom has indicated that it isn't very concerned about Western warnings regarding ties with China.
In mid-June, Saudi's energy minister, Prince Abdulaziz bin Salman, said during the Arab-China Business Conference that the Kingdom sought cooperation instead of competition with Beijing. He explained that China has had a track record of securing deals with the "right manufacturers," which he finds business value in.
When asked about criticism over strengthening Sino-Arab ties, Abdulaziz said, "I totally ignore it."
Saudi's communications and information technology minister, Abdullah bin Amer Alswaha, said in July that the Kingdom was looking to deepen technological relations with China by first penetrating Hong Kong, which he believes will work as an "innovation bridge" between China and Saudi Arabia.
Thammy Evans, a senior fellow with the Atlantic Council's GeoTech Center, told International Business Times that the Sino-Arab tech alliance is a "smart move" and there is "every likelihood" that bridging the alliance through Hong Kong would prosper.
© Copyright IBTimes 2023. All rights reserved.