US COVID-19 Death Toll May Hit 618,000 By August Despite Agressive Vaccine Rollout
KEY POINTS
The COVID-19 death toll in the US may hit 618,000 by August
Universal mask wearing may reduce deaths by 13,000
Forecasters see a 23% drop in mask usage by August 1
Despite the government's aggressive vaccine rollout, the COVID-19 death toll in the U.S. may hit 618,000 by Aug. 1 as more Americans take fewer safety precautions, according to researchers.
In a forecast published Friday by the Institute for Health Metrics and Evaluation at the University of Washington, the researchers suggest that 58,000 more people will die due to the coronavirus by August, which would bring the total death toll to 618,275.
The death toll would be limited to 605,000 if 95% of Americans adopt mask usage in public environments.
"If universal mask coverage (95%) were attained in the next week, our model projects 13,000 fewer cumulative deaths," the researchers said.
If more people stop wearing masks and begin gathering at pre-COVID levels, the U.S. may hit a death toll of 679,000 by August.
Data published by the Centers for Disease Control and Prevention on Sunday showed that the U.S. has administered more than 205 million COVID-19 vaccine doses. The agency said that 50.4% of American adults received at least one shot of the vaccine, while 32.5% of the total adult population are fully inoculated against the virus.
While 82 million people are protected against the COVID-19, experts warn that vaccine hesitancy and lifting safety measures, such as mask-wearing and social distancing, could prevent the nation from reaching the immunity levels needed to stop the spread of the virus.
However, the IHME model suggests a 23% drop in mask usage by August 1. "The trend toward mandate easing continues, and it appears quite possible there will be a huge behavioral rebound," the forecasters said.
As of April 16, the U.S. recorded an average of 70,117 new infections daily. Michigan accounts for more than 10% of the country's daily cases, but the state may be seeing its COVID-19 wave slow down.
"We are starting to see the beginning of what could be a slowdown," Gov. Gretchen Whitmer said on NBC's "Meet the Press" on Sunday.
New Jersey and New York, which faced surges in novel coronavirus case levels during the winter, are also seeing declines in new infections, according to The New York Times.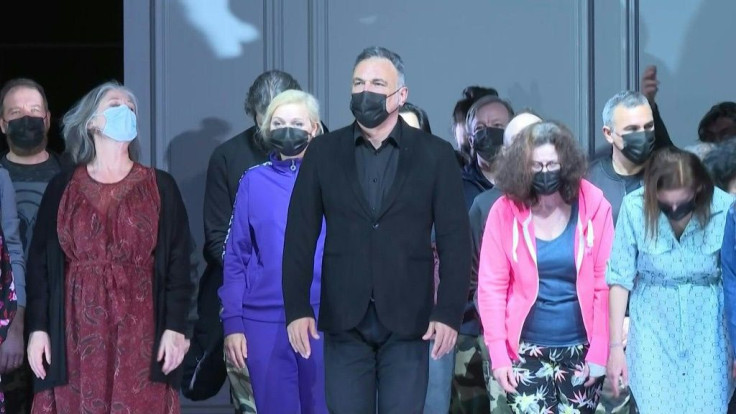 © Copyright IBTimes 2023. All rights reserved.