US Open 2015 Prize Money: Serena Williams Competes For Highest Grand Slam Winner's Check At Flushing Meadows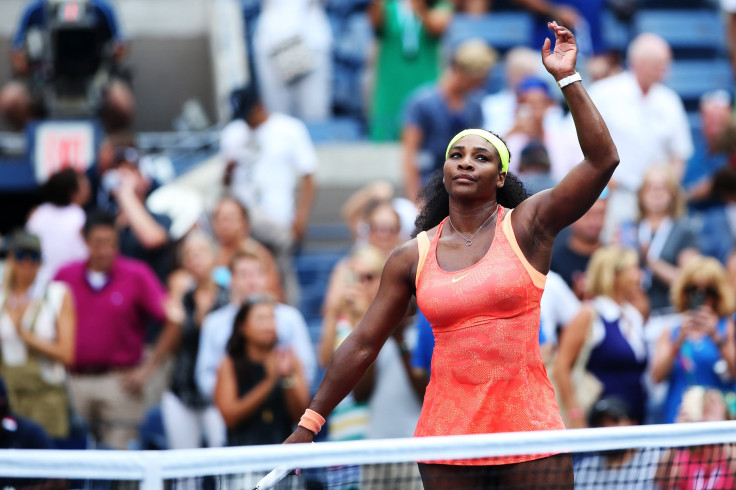 While the focus of Serena Williams and the rest of the tennis world are on her quest to make history at the U.S. Open, she also stands in line to take home a record winner's check in New York. After coming through her second round match on Wednesday, Williams is just five wins away from lifting the trophy and becoming the first woman since Steffi Graf in 1988 to complete a clean sweep of all four Grand Slam titles in a single year. As if that weren't enough, victory would take her level with the German great for the most Major titles in the Open era, with 22.
But victory would also allow the 33-year-old to significantly enhance her career prize money of over $73 million. Both the women's and men's champion at this year's U.S. Open will collect $3.3 million, up 10 percent from 12 months ago. That hike keeps it ahead of Wimbledon, which this year rewarded its winners with $2.9 million, as the most lucrative Grand Slam. The Australian Open ($2.2 million) and French Open ($2 million) currently lag behind in the continued financial race engaged in by tennis' four showcase events.
However, were she to win the final on Sept. 12, Williams would not end up pocketing quite as much as she did after hoisting the trophy aloft for a sixth time in 2014. Last year, Williams also won the U.S. Open Series as the best performer over a series of hard-court tournaments leading into the year's final Grand Slam. That meant the American secured a $1 million bonus when she also came out on top at Flushing Meadows by beating Caroline Wozniacki in the final.
This time around, having skipped her usual tournament stop at Stanford before losing in the semifinals of the prestigious tournament in Toronto, Williams only came in second in the U.S. Open Series. It means she would have to settle for just a $500,000 bonus and an overall check of $3.8 million. Yet that is now the biggest prize funds still on offer on the women's side after the U.S. Open Series winner Karolina Pliskova suffered a shocking opening-round loss in New York.
On the men's side, U.S. Open Series winner Andy Murray remains on course to land his second U.S. Open title and what would be the largest winner's check in tennis history. He can, though, expect plenty of competition from world No. 1 and the man who finished runner-up to him in the Series, Novak Djokovic.
But every player will benefit from the increased money on offer in New York. The overall purse at the U.S. Open has increased 10.5 percent to $42.3 million. Much of that will benefit the early-round losers at the event as part of an effort in recent years to ensure the sport's lower-ranked players are better compensated.
Despite that progress, there has been plenty of discussion this week about whether the $39,500 on offer for competing in the first round has brought about an unwanted consequence. This year's opening round saw a Grand Slam record 12 retirements, with the suggestion that at least some were as the result of pre-existing injuries for players who were understandably keen to nevertheless compete and collect their prize money.
In the most-cited example, Russian Vitalia Diatchenko retired after eight games, all of which she lost, against Williams on Monday. Diatchenko later said she had injured her left foot in the warmup.
Debate has been building over how to address the situation. Rather than punish the injured players, Murray is among those who believe that those players unable to take their place in the first-round draw because of injury should still get the prize money, and allow a lucky-loser from qualifying to step in.
"It's such an easy thing to fix," he said, according to The Guardian. "I just don't know why they don't do that."
"I think that with the prizemoney now so high, -- and players have fought very hard at times to get this money so high -- if a player is injured and they show up here and they're directly into the main draw by right and they've worked the whole year to get themselves into that position, just give them the first-round prizemoney.
"With the match last night I was like 'What's going on?' If I had paid money to watch that I would be pissed off. I wouldn't be happy to have watched that."
© Copyright IBTimes 2023. All rights reserved.
FOLLOW MORE IBT NEWS ON THE BELOW CHANNELS