US Open Tennis 2014: Tickets, Schedule, Betting Odds And Prediction For The Tournament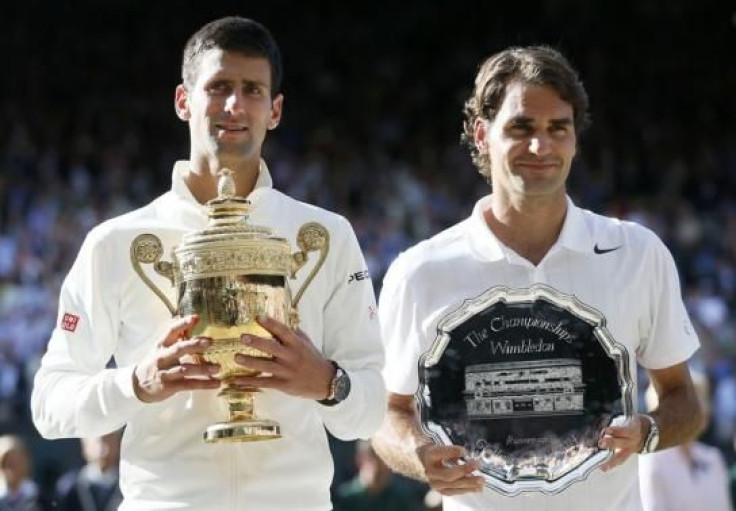 The 2014 U.S. Open is set to begin on Aug. 25 in Flushing Meadows, marking the fourth and final major tournament of the year. While a few players are considered to have a strong chance of winning the title, it's a certainty that a new champion will be crowned when the finals take place on Sept. 8.
A wrist injury will prevent Rafael Nadal from participating, a year after he won the title for the second time in his career. Andy Murray is the most recent U.S. Open champion in the field, and he has the third-best odds of taking home the trophy.
Not surprisingly, the No.1 player in the world is favored to win it all. Novak Djokovic is the betting favorite, having won the event in 2011. Roger Federer is right behind, after domination the U.S. Open from 2004-2008. The two faced off in the finals at Wimbledon with Djokovic coming out on top in five sets.
The only way Djokovic and Federer can face each other this time around is in a finals rematch. Djokovic and Murray, the last two U.S. Open winners that are competing, could meet in the quarterfinals. The top ranked player's side of the bracket doesn't get any easier in the semifinals, where he could face Australian Open winner Stanislas Wawrinka, who has the fourth-best odds of winning the tournament.
On the women's side, Serena Williams is expected to win her third straight U.S. Open title. Williams is looking for her first major victory in 2014, though she won four of the previous six Grand Slam events, before the start of the year. Maria Sharapova, Simona Halep and Eugenie Bouchard are considered to be her biggest competition.
The first round for the men will last through the first three days of the tournament, while the women will move onto the second round by Day No.3. The schedule the men's Round of 16 to begin on Labor Day and the women's final to take place on Sept. 7, the second-to-last day of the tournament.
Four days before the start of the 2014 U.S. Open, tickets are still available at Ticketmaster. Seats for the evening session on the first day are going for as much as $419, while available tickets for the women's final are going for over $1,500.
Betting Odds (via Bovada.lv)
Novak Djokovic 5/4 Serena Williams 3/2
Roger Federer 11/4 Maria Sharapova 11/2
Andy Murray 4/1 Simona Halep 7/1
Stanislas Wawrinka 12/1 Eugenie Bouchard 9/1
Grigor Dimitrov 14/1 Petra Kvitova 10/1
Jo-Wilfried Tsonga 20/1 Victoria Azarenka 12/1
Milos Raonic 20/1 Agnieszka Radwanksa 20/1
Tomas Berdych 40/1 Caroline Wozniacki 20/1
David Ferrer 50/1 Ana Ivanovic 25/1
Kei Nishikori 50/1 Venus Williams 33/1
Ernests Gulbis 50/1 Angelique Kerber 40/1
John Isner 80/1 Garbine Muguruza 40/1
Jerzy Janowicz 100/1 Sloane Stephens 40/1
Nick Kyrgios 100/1 Madison Keys 50/1
Marin Cilic 100/1 Sam Stosur 50/1
Prediction
Men: Novak Djokovic
Women: Serena Williams
FOLLOW MORE IBT NEWS ON THE BELOW CHANNELS