USA vs. Germany Soccer: Prediction, Preview For Women's World Cup 2015 Semifinal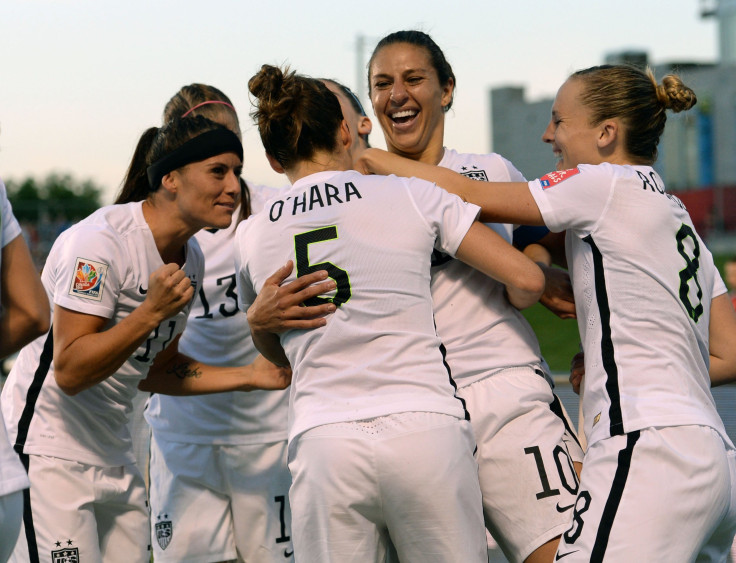 Progress to the Women's World Cup semifinals has been fairly smooth sailing for the United States women's national team, but its level of opponent is about to get a whole lot tougher. Having topped the "Group of Death," the U.S. dutifully dispatched significant underdogs Colombia and China to continue its record of reaching the final four of every Women's World Cup tournament. But, after getting past opponents ranked 28th and 16th, now comes the world's No. 1 team Germany in Montreal on Tuesday.
Although the Americans have been able to move through the tournament while not at its best, it is likely to take a performance on another level to what has been seen so far in order to get past the 2003 and 2007 champions. The good news for coach Jill Ellis is that her team is coming off the back of its best display so far.
While the score line read just 1-0 in favor of the U.S. against old foe China on Friday and the goal came off a rudimentary long ball into the box, there was plenty to encourage. And much of what was good about the performance came from the changes Ellis made to her lineup. The former U.S. youth teams coach has come in for plenty of criticism so far in Canada as her team lacked fluidity going forward and relied on a hugely impressive defensive showing through the early rounds of the competition.
But against China it started to come together. With the veteran physical presence of Abby Wambach taken out of the team and the industry of Amy Rodriguez put in, the U.S. played with far more energy and flow. Also helping was the presence of Morgan Brian, in for the suspended Lauren Holiday, to provide a more natural holder in midfield, while Kelley O'Hara offered width and pace on the right in place of the other suspended U.S. player, Megan Rapinoe.
But that improvement also provides Ellis with a conundrum -- one that will determine whether both she and her team are viewed as a success -- to what degree does she now change her lineup?
It is a simple decision to bring Rapinoe back into the first XI, with the midfielder having been the team's most dangerous creative player by some distance so far. Yet whether she returns in play of O'Hara or Tobin Heath, who had her most effective game of the World Cup last time out, is more in doubt. Causing an even bigger headache will be whether Holiday returns. Although clearly in the first XI based on talent, it has been clear that the partnership between her and Carli Lloyd, with both more comfortable going forward, requires a huge amount of compromise that hasn't so far paid dividends. Against a team of the quality of Germany, especially its ability to find space and pass through midfield, Holiday's and Lloyd's lack of defensive acumen could be exposed.
And then there is the matter of Wambach. Playing in her final World Cup and desperate to lift the trophy for the first time, Wambach started three of the first four games, but lacked her usual decisiveness in front of goal. At the same time her presence also resulted in the rest of the team relying on her ability to win headers and hold up long balls forward. Rodriguez may not be anywhere close to the finisher and big-game player of Wambach, but her constant running and pressing set the tone for the U.S. performance against China.
Goal-scoring has not come easy for the U.S. in this tournament, something which cannot be said for its next opponent. Germany has scored 20 goals so far, more than twice the number of the U.S., which included a 10-0 win over Ivory Coast. But in its last match, Germany had to rely on its mental resolve to squeeze through.
In the most eagerly awaited match of the World Cup to date, Germany was outplayed by 3rd-ranked France for much of the contest and was behind entering the final seven minutes. Yet a late penalty converted by the tournament's top scorer Celia Sasic and then some shootout heroics from goalkeeper Nadine Angerer got Germany to the semifinals.
Montreal's Olympic Stadium will now be the setting for a clash between two titans of the women's game and the only two-time champions in Women's World Cup history. And whoever prevails will likely start as favorites against either Japan or England when the trophy will be on the line in Sunday's final.
Prediction: The strength of both defenses means there is a very good chance that it will be a tightly fought encounter, even though their last meeting, in April 2013, ended in a 3-3 tie. But on the evidence of this tournament, it is Germany that have the advantage. In contrast to most of the Americans' opponents, Silvia Neid's team not only has a high level of technical skill, but the physical components to handle the traditional strengths of the U.S. And providing Germany recovers from its grueling encounter with France, it should just edge through to the final.
Predicted score: Germany over USA, 1-0
© Copyright IBTimes 2023. All rights reserved.