Valentine's Day 2017: How To Make Dipping Chocolate For Strawberries, Cookies And Other Treats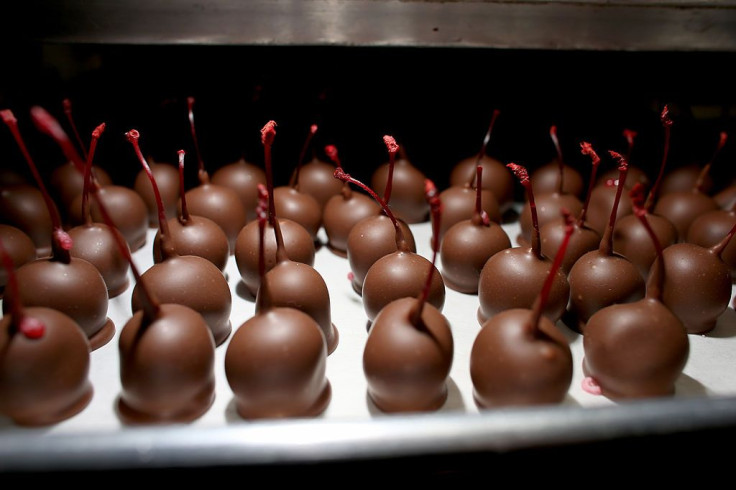 With Valentine's Day just around the corner, treating yourself or your loved one to some chocolate dipped goodness is a gift in itself. If you are not up for buying your sweetheart some sugar, then why not just head into the kitchen and make some tasty chocolate dipped treats?
Making dipping chocolate for strawberries, candies, cookies and other sweets is not a difficult task. Consider trying out this recipe, courtesy of Better Homes & Gardens.
You will need the following:
About a pound of chocolate bars or squares of your choice such as milk chocolate, semi-sweet or white chocolate.
4-cup glass measuring cup or a 1-1/2-quart glass mixing bowl
Shortening that is not butter
Large glass casserole dish or bowl
Rubber spatula
Wax paper
Wire rack
Heavy plastic bag or a piping bag
A baking sheet
How To:
There are two ways to tackle dipping chocolate, on the stovetop, which takes a bit longer, or by microwave.
Stovetop:
1. Chop the chocolate bars or squares into small pieces.
2. Use the glass measuring cup or glass mixing bowl to combine the chocolate with your shortening. Use one tablespoon of shortening for every 6 ounces of chocolate.
3. Pour warm tap water into the casserole dish bowl, filling it to about one-inch. Make sure the water temperature is between 100-110 degrees Fahrenheit.
4. Place the bowl containing the chocolate inside the casserole dish or bowl. (Tip: Make sure the water does not splash into the chocolate while placing the bowl into the casserole dish.)
5. Use the rubber spatula to constantly stir the chocolate until it is smooth and completely melted. This can take anywhere from 15 to 20 minutes, be patient.
6. Once smooth and melted the chocolate is ready for dipping.
7. To dip cookies, simply place the cookie into the dipping sauce and use the edge of the bowl to get rid of excess chocolate.
8. To drizzle chocolate sauce on cookies, place the treats on a wire rack over waxed paper. Take the bag and snip off a tiny piece in the corner in order to drizzle chocolate on the cookies.
10. To drizzle chocolate on fruits, like strawberries or cherries, place the fruit on a baking sheet covered with wax paper and decorate the fruit to your liking. Fruits can also be dipped in chocolate, placed on the wax paper and put in the refrigerator to harden.
Microwave:
Feel free to take a quicker route to making dipping chocolate if you are pressed for time. In this case, you will use up to six ounces of chopped up chocolate of your choice and place it in a microwave-safe measuring cup, bowl or custard cup. Microwave the chocolate on high, uncovered for one and a half to two minutes or until the chocolate is soft enough to be stirred smooth. Then proceed to follow steps seven through 10 in the above how-to section.
© Copyright IBTimes 2023. All rights reserved.