Valentine's Day Recipes For Two: 8 Romantic Dinner Ideas And Wine Pairings For The Holiday Of Love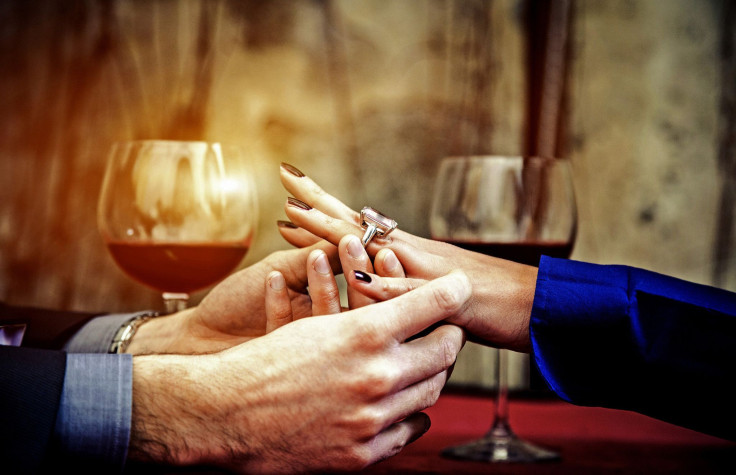 Red roses, gourmet chocolates and expensive restaurant dinners are nice, but nothing truly says, "I love you," like a home-cooked meal on Valentine's Day. You can show your special someone how much you care about him or her with a decadent dish and a bottle of wine, without the hassle of attempting to book a table on one of the busiest restaurant nights of the year. Here are our top picks for the best romantic recipes for two:
1. Beef and broccoli. If you're planning a low-key night in on Valentine's Day, whip up a fake-out, take-out recipe of a Chinese favorite. This tasty recipe at Table for Two for beef and broccoli calls for a crockpot, so be sure to begin making the dish at least 6 hours in advance of dinner time. Serve this meal with a dry Riesling.
2. Braised short ribs: Add a little heat to your Valentine's Day dinner with these slightly spicy short ribs served over a hearty rice pilaf. Just buy two short ribs and scale back the braising liquid to turn this recipe at Fine Cooking into a meal for two. Choose a cabernet sauvignon to pair with this meal.
3. Coq au vin. It's the ultimate French comfort food, with its fall-off-the-bone chicken and rich flavor. Try Food Network chef Ina Garten's recipe, which yields three servings, and serve it with a merlot and a fresh baguette. Typically, you drink the wine you cook coq au vin with. In this case, it would be a burgundy, but you can also try a light-bodied merlot.
4. Fish in parchment. It's an easy and elegant way to prepare fish. Chop up some fresh veggies and toss them in the parchment to complete the meal. This recipe at Real Simple for Asian-style halibut in parchment is packed with flavor. Try serving this meal with a sauvignon blanc or a pinot noir.
5. Risotto. This Martha Stewart recipe for creamy mushroom risotto will have you looking like a gourmet chef on Valentine's Day. It boasts earthy flavors and tons of Parmesan cheese. Just be sure to cut the recipe in half to scale it back for two people. Pair this rich dish with a pinot noir or a chardonnay.
6. Quinoa bowls. Cooking for a vegan or vegetarian this Valentine's Day? Don't sweat it. This simple recipe for two at Oh My Veggies is packed with wholesome quinoa, veggies, peanuts and baked tofu. You can easily bake your own tofu or buy it premade at your local health food store. Serve this dish alongside a Vinho Verde with refreshing notes of citrus and fruit.
7. Spaghetti with clams. Celebrity chef Nigella Lawson is the queen of decadence and her quick and easy recipe for spaghetti with clams doesn't disappoint. Try pairing the dish with a Vermentino, pinot grigio or dry rosé. Just be sure to double up this single-serving recipe for two and you'll be set for a romantic dinner with that special someone. But we would advise against attempting to recreate the spaghetti scene in Disney's "Lady and the Tramp" film if you're trying to impress.
8. Steamed mussels. If you're strapped for cash or short on time but still want to deliver the goods, try this quick and inexpensive one-pot recipe for classic moules marinières at Serious Eats. Mussels cost only a few bucks a pound and cook in no time. Moules marinières are prepared with a dry white wine such as muscadet or sauvignon blanc. Serve the dish with the remaining wine left in the bottle and plenty of crunchy bread for dipping.
© Copyright IBTimes 2023. All rights reserved.