Valiant Entertainment Wants To Break The Marvel, DC Comics Duopoly On Superhero Film Genre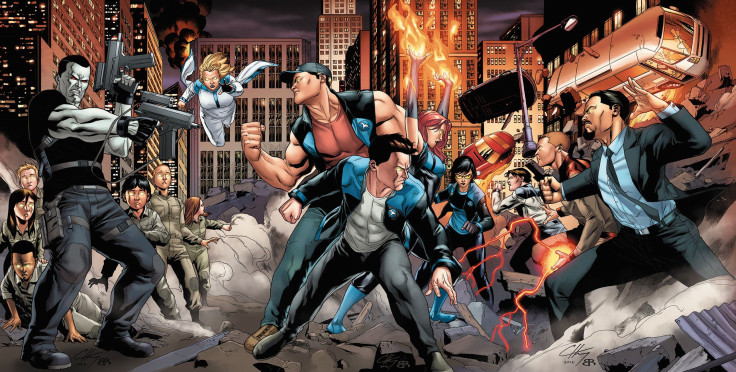 Today's cineplex is dominated by the superheroes from two rival galaxies: Disney-owned Marvel Entertainment and Warner Bros.'s DC Entertainment. Between now and the end of the decade, DC and Marvel will have released over 20 superhero movies, but Hollywood has already started to fret about the possibility that the Big Two may be running out of heroes to bring to the screen and that the superhero movie industrial complex's bubble is on the verge of bursting.
But, fear not, because hope for the genre has appeared: Valiant Entertainment.
Valiant, an independent comic book publisher with a three year old comic book universe, has plans for its own superhero cinematic universe, which it revealed in the spring. It has in place a five-movie deal with Sony Pictures that involves adaptations of two of its comic book series—"Bloodshot" and "Harbinger"—and which will culminate in a crossover movie. Moreover, thanks to a nine-figure financing deal with DMG Entertainment, a Beijing-based company, Valiant is also developing movies for two of its other series. They also have deals with other studios that have yet to be announced.
Valiant boasts one of the largest independently owned superhero universes in comics, but it is rather unknown to the general public. How is a comparatively small company with very little household recognition supposed to compete or co-exist with the Big Two?
"The answer to fighting Marvel and DC is to not fight Marvel and DC," Dinesh Shamdasani, CEO and chief creative officer of Valiant Entertainment, told International Business Times. "We aim to tell stories that, surprisingly, aren't superhero stories, but that have elements of the superhero genre."
Essentially, Valiant is translating what it does in print to the big screen. In the Valiant Universe, superhero spectacle comes second to character-centric storytelling, and the universe features a higher concentration of anti-heroes and morally ambiguous characters than what's in the mainstream. At first glance, Valiant's comics have all the trappings of your classic superhero stories, but once you start reading, you see that they're more idiosyncratic and offer a twist on the usual superhero formula.
Take their character Bloodshot, for example, whose modern origin story offers a deadly twist on the Captain America origin story. "Bloodshot" is about a soldier who was brought back from the dead by a private security contractor and infused with nano-computers that have equipped him with enhanced strength, speed and endurance. Unlike, Captain America, he was not created as force for good; he's a killing machine created to hunt people with powers.
Bloodshot is more concerned with atoning for his crimes and taking down the organization that created him than he is with saving the world. The explosion and bullet hole filled "Bloodshot," reads less like your standard superhero comic and more like an action movie—and that's the point. This book is more inspired by and aims to be more like "Die Hard" than it is by"Iron Man" or "Captain America."
Shamdasani says that the "Bloodshot" feature film adaptation, which will be directed by David Leitch and Chad Stahelski ("John Wick") and will hit theatres in 2017, will be heavily influenced by movies like "Robocop," the Jason Bourne franchise, and "Terminator."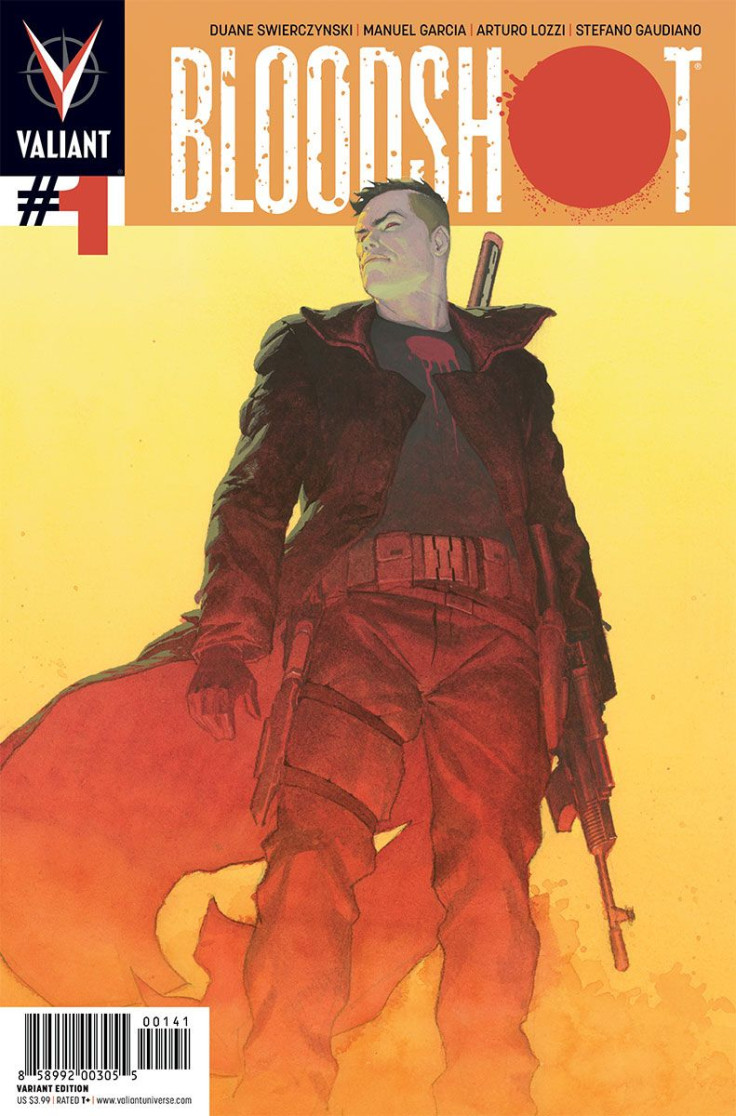 Similarly, "Harbinger," which is centered on a telekinetic teenage runaway named Peter Stanchek who is recruited into the mysterious Harbinger Foundation by its even more mysterious and similarly superpowered CEO, is less a story about teenage superheroes and more like a young adult story. Drawing on more common and mainstream genre will hopefully widen the appeal of Valiant's cinematic offerings.
"When you infuse superhero elements into this kind of narrative, I think you get something wholly unique," Shamdasani said.
"It [the cinematic universe] will also appeal to [people] who may not be into the superhero genre, but are big fans of sci-fi, young adult, or you name it. We've got something for everybody," Gavin Cuneo, Valiant Entertainment's CFO and COO, added.
Following their respective sequels, the characters "Bloodshot" and "Harbinger" will clash in "Harbinger Wars," an adaptation of Valiant's comic book crossover event from 2013.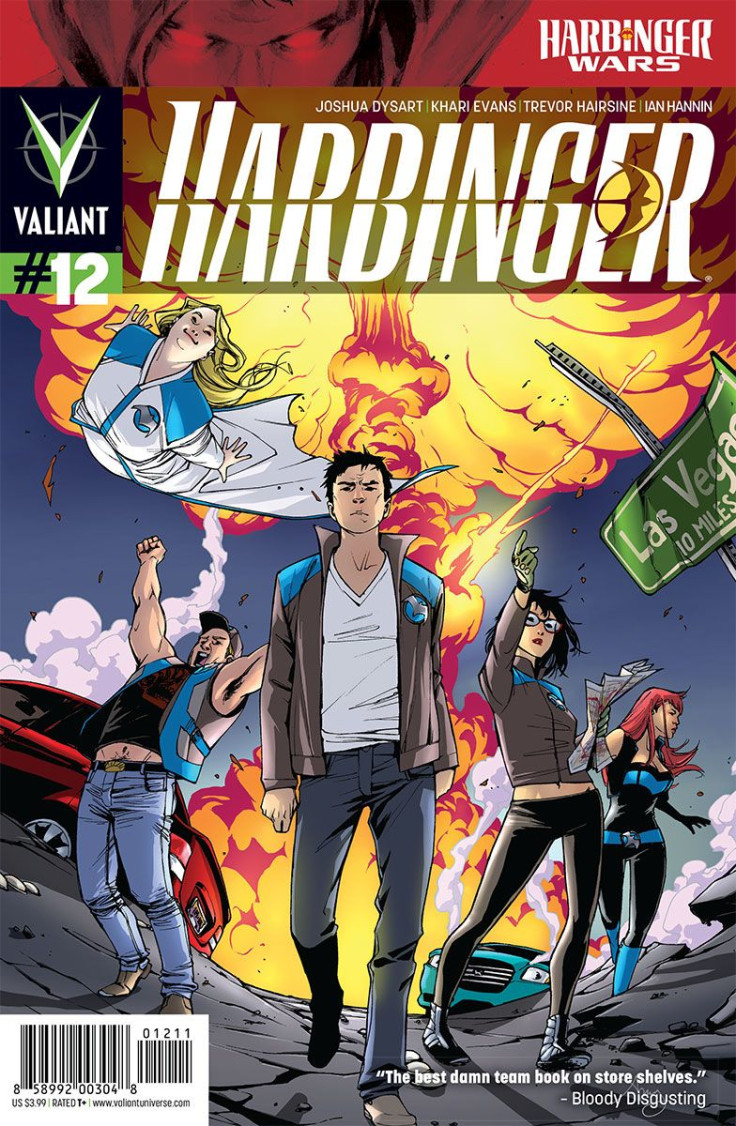 Originally founded in 1989 by two Marvel defectors, Valiant's ethos was always to fill a perceived void in the marketplace. Bob Layton, former senior vice president of the original Valiant, told LA Weekly that Valiant's focus on character-driven storytelling was a reaction to the "overwhelmingly art-driven" mainstream. Riding the 90s comic book boom, Valiant became the third largest publisher. Unfortunately, the comic book bubble burst, and by 2004, Valiant went under when its owner filled for bankruptcy. However, it didn't stay dead for too long, because comics.
Valiant Reboot
In 2007, Shamdasani and Jason Kothari founded the new Valiant Entertainment. And, in 2012, the rebooted Valiant Universe debuted to critical acclaim and commercial success. The new universe featured many of the original's flagship titles, which were modernized, but it was also starting from square one. The revived Valiant has no desire to become a movie studio or anything more than a comic book publisher. Instead, Valiant's expansion into the broader entertainment landscape is more of a means to an end than it is a primary focus.
"Comic books are at our core," Cuneo said. "But to get as many fans and consumers to interact with our characters and experience our characters, we want to get them out there as wide as possible and in as many ways as possible."
That being said, when Shamdasani and Kothari relaunched the company, they just assumed that they would eventually start making movies because that's just the nature of the business. They started developing the "Bloodshot" film even before the comics were relaunched.
Valiant sees not being a household name as an opportunity to exert more control over how its characters are introduced to a wider audience. Those not familiar with Valiant can enter the movies without any pre-conceived notions. However, Valiant has another advantage: its comic book universe is more accessible because its only three years old. Catching up on everything before the first movie drops in 2017 is entirely possible. Comparatively, DC Comics and Marvel have 75 year old universes that have incredibly complicated and, at times, convoluted histories.
Although Valiant is entering a crowded, cluttered field, Shamdasani and Cuneo aren't the least bit worried about it.
"There is no harm in oversaturation because the content is so good," Shamdasani said. He believes over-saturation will only become a problem if the quality of the genre starts to fall.
© Copyright IBTimes 2022. All rights reserved.
FOLLOW MORE IBT NEWS ON THE BELOW CHANNELS