'Vampire Diaries' Season 6 Spoilers: EP Julie Plec Teases Damon And Elena Hookup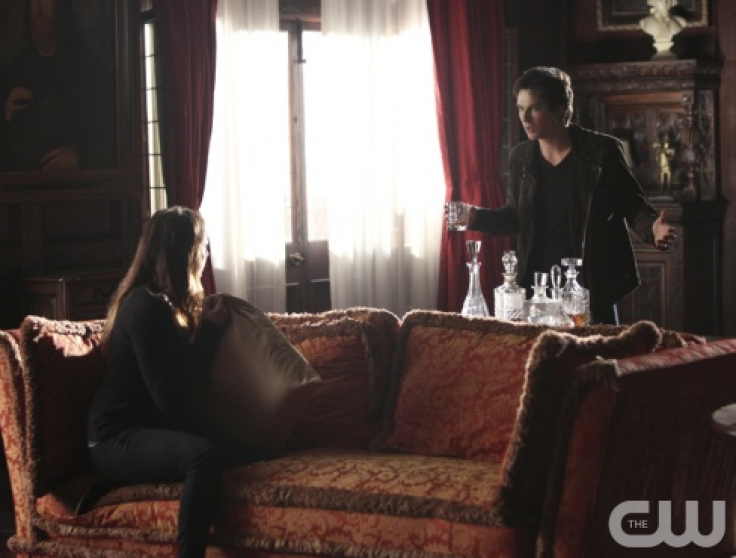 Delena shippers can now breathe easy. Damon (Ian Somerhalder) and Elena (Nina Dobrev) have had a rough season on "The Vampire Diaries," but according to executive producer Julie Plec that will change moving forward.
Plec recently dished to E! Online that the remaining episodes in Season 6 will feature a "hookup, breakup and makeup." The EP confirmed that the hookup, breakup and makeup won't happen to the same couple, but didn't dive into what characters would be experiencing the range of emotions. However she did reveal one major spoiler:
"I can tell you that the hookup is … people who like rain will be very happy."
Plec's comment might seem odd to some, but certainly not to fans of Damon and Elena. Viewers got their "Delena rain kiss" earlier in Season 6 when Damon tried to help Elena regain her memories by telling her about a romantic moment when they got stuck in the rain.
A hookup between Damon and Elena will come as a relief to shippers, especially since the midseason finale left them in a difficult spot. Although Elena never got her memories back, she showed up on Damon's doorstep, seemingly ready to move forward with getting to know him. Fans anxiously waited for the couple to kiss under the mistletoe, however "The Vampire Diaries" threw in a major twist that prevented a holiday embrace – Kai (Chris Wood) had used magic to make Elena invisible to Damon.
It's unclear when fans will get to see the hookup, but it could potentially be sooner rather than later. When the midseason premiere airs, Damon will be working on rescuing his beloved from Kai. He'll come up with a plan to get Elena back, however an "unexpected visitor" will force him to "rethink his strategy."
As for the upcoming breakup and makeup on "The Vampire Diaries"? That could go in a couple different directions. Caroline (Candice Accola) and Stefan (Paul Wesley) are working on rebuilding their friendship, but Stefan will be keeping a secret from Caroline in episode 11. If Caroline finds out that Stefan is hiding things from her, the pair could once again become estranged.
Alaric (Matt Davis) and Jo (Jodi Lyn O'Keefe) could also potentially end up on the outs. Magic and a serial killer brother can put a lot of strain on a new relationship, and Jo might not be happy that Alaric allowed Kai to escape.
Another option is Bonnie (Kat Graham) and Jeremy (Steven R. McQueen). Because Bonnie died, the pair technically didn't break up. The gang is still working on getting Bonnie back to the land of the living, but a relationship with Jeremy might not be in the cards if she ever manages to return … especially since Jeremy is leaving Mystic Falls.
"The Vampire Diaries" returns to the CW on Jan. 22.
© Copyright IBTimes 2023. All rights reserved.