'Vampire Diaries' Season 8 Spoilers: Kat Graham Teases Major Death In Final Episodes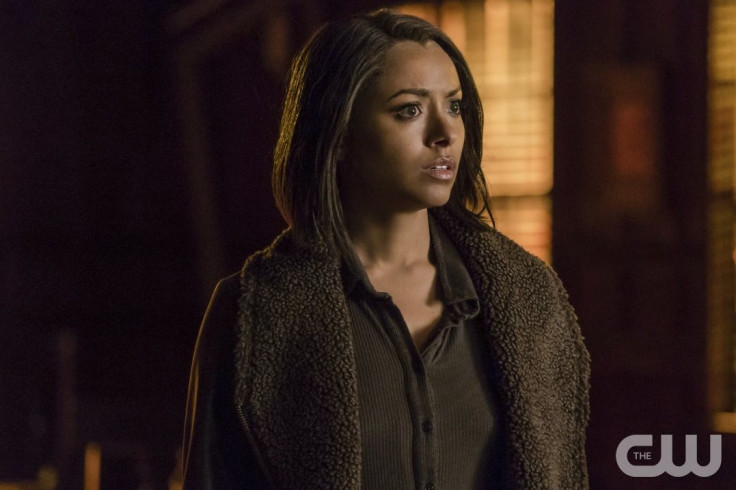 "The Vampire Diaries" isn't going to leave TV without a few more jaw-dropping moments. Actress Kat Graham revealed that not everyone is going to get a happy ending when the series comes to a close with Season 8. Fans should prepare to lose a major character.
Graham, who plays Bonnie, revealed to the Hollywood Reporter that there is "a big death coming up" on the CW drama. She added that it wouldn't be right away, though. "Not in the season premiere — but, you know, midway through, someone's kickin' the bucket," she said.
Anyone could die on "TVD." As humans, Alaric (matt Davis) and Matt (Zach Roerig) are always in danger, and Enzo (Michael Malarkey) and Damon (Ian Somerhalder) are being controlled by an evil entity when the season kicks off. Typically, viewers could rule out a handful of characters being killed off. However, with the last season confirmed, any major characters could depart a little early.
Executive producer Julie Plec previously hinted that it wouldn't be all doom and gloom for the gang in Season 8. She even hinted that a few might live happily ever after. "The goal is not to try to make the fans happy because of some small thing they've latched onto that they consider important to them, but to make the experience resolve itself satisfyingly … really delivering on a good, happy ending, as much as that's even possible for each character," she revealed to seat42f earlier this month.
It's going to take a lot of work to get to any sort of happiness though. There's a new character in Mystic Falls determined to make life miserable for the Salvatores and their friends. "There's definitely a really cool female villain. I know the actress — she's amazing," Graham teased. "It's a take on an old classic story that we're bringing to life."
Not much is known about the villain, but at the show's final San Diego Comic-Con panel, Plec promised it would be a fresh spin on a bad guy. "It's a new take on villains for us. It's definitely something that's rooted back all the way into sort of ancient times. And other than that, I'm going to have to let you wait and see for yourselves," she teased.
"The Vampire Diaries" Season 8 premieres Friday, Oct. 21, at 8 p.m. EDT. on The CW.
© Copyright IBTimes 2022. All rights reserved.
FOLLOW MORE IBT NEWS ON THE BELOW CHANNELS