Vanessa Bryant Shares Cryptic Post About Being 'Let Down' After Denying Mother's Shocking Claims
KEY POINTS
Vanessa Bryant reposted Kobe Bryant sister's message about being "let down by the most trusted people"
This came a day after she disputed her mother's malicious claims against her
Sofia Laine claimed that Vanessa asked her to move out of her house and took back the car she gifted
Kobe Bryant's widow, Vanessa Bryant, shared a cryptic post a day after she lambasted her mom, Sofia Laine, who claims her daughter asked her to move out of her house following the NBA star's death.
On Tuesday, Sept. 22, Vanessa took to Instagram Stories to share a quote about being "let down by the most trusted people and loved by the most expected ones." The message was originally shared by Kobe's sister, Sharia Washington.
"Some make us cry for things that we haven't done, while others ignore our faults and just see our smile. Some leave us when we need them the most, while some stay with us even when we ask them to leave," the quote read.
"The world is a mixture of people. We just need to know which hand to shake and which hand to hold! After all that's life, learning to hold on and learning to let go," it continued.
A day before, Vanessa aired her side of the story after Laine claimed in an interview with Univision's "El Gordo y La Flaca" that she was kicked out of the house that was gifted to her by Kobe, though it isn't under her name. Her mother also said that Vanessa took back the car she gifted her.
In a statement to E! News, the wife of the late Los Angeles Lakers superstar didn't mince her words as she denounced her mother's claims.
"My husband and daughter passed away unexpectedly and yet my mom has the audacity to do an interview on TV talking negatively about me while shedding tears about a car and home that wasn't in her name. She has removed all her diamond jewelry, emptied her apartment that I provide, and put the furniture in storage to appear as though she is without support," Vanessa said.
Vanessa explained that she and Kobe had been supporting her financially for over two decades, and she has continued to do so after her husband, along with their daughter Gianna, died in a helicopter crash in January. This was on top of Laine's monthly alimony, the 38-year-old added.
"Contrary to previous reports, she has not been physically present or emotionally supportive for my daughters and me after my husband and daughter passed away," she said.
Vanessa concluded her statement by asking her mother to stop publicly airing their personal matters.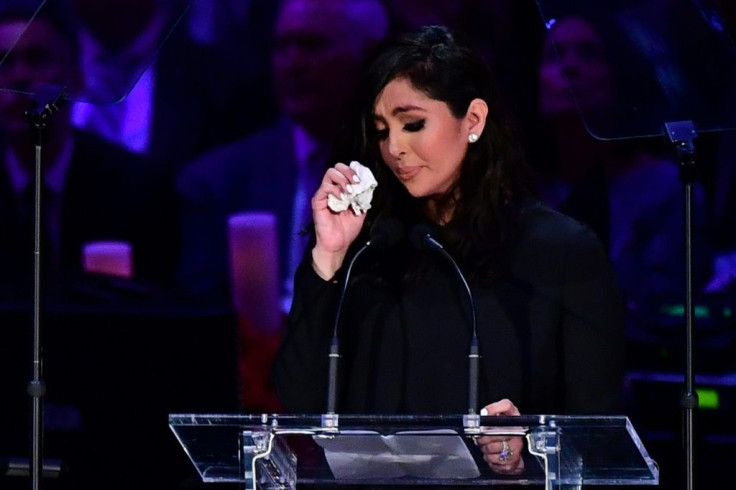 © Copyright IBTimes 2023. All rights reserved.