Venice Cruise Ship Ban Sparks Joy, Confusion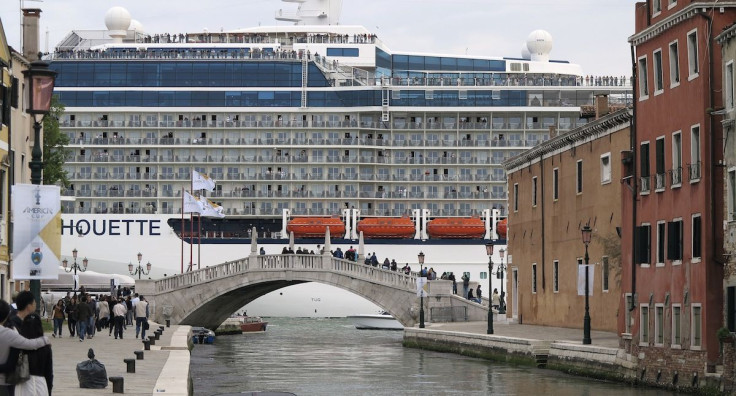 The Italian government announced this week that it would ban 96,000-plus-ton cruise ships from Venice's famed canals and reduce the number of 40,000-plus-ton ships by 20 percent next year in an attempt to preserve the sinking city. The decision has been hailed both as a rare victory of environmentalism over tourism dollars, and a befuddling development that will choke astounding growth on the well-trodden Southern Europe cruise circuit.
Cruise tourism to the Queen of the Adriatic ballooned from 100,000 passengers in 1999 to an estimated 1.8 million in 2012. As the cruise industry grew, so too did its chorus of critics, who blamed the increasingly larger ships for polluting the lagoon and causing vibrations that damage the foundations of the city's famed Gothic and Byzantine palazzos.
Their opposition reached a fever pitch following the Costa Concordia accident, which left 32 people dead and struck a clear nerve with the Italian people. In its wake, the government issued an outright ban on large ships sailing too close to the Italian coast. Yet, that rule was delayed for Venice and its canals until an alternative solution could be reached.
The government announced Tuesday that it would limit the number of ships sailing past (and often towering over) the city's sidewalk cafes and dreamy canals by as early as January. Those over 40,000 tons will be reduced by 20 percent at that time, while those over 96,000 tons will be banned outright by November 2014. The government will also cap the number of large vessels at five per day, down from as many as nine during peak season.
"Finally the trend towards gigantic ships in the lagoon has been turned around," the mayor of Venice, Giorgio Orsoni, said in a statement. "We've had enough of these mega cruise ships just meters away from San Marco; from now on there will be clear limits on the size of ships that can enter Venice."
It remained unclear Thursday how companies would divvy up the impending itinerary cuts. Cruise ships likely to be impacted by the ruling include Costa Fascinosa, Costa Magica, Celebrity Equinox, Celebrity Silhouette, MSC Fantasia, MSC Preziosa, P&O Ventura and Regal Princess. Smaller vessels operated by Azamara, Oceania, Saga, Seabourn, Silversea and Voyages to Antiquity will not be affected.
Individual cruise lines deferred comment to industry group Cruise Lines International Association, or CLIA, which said that, while it believed the passage of cruises through the Giudecca Canal was safe, "we agree that any sustainable solution requires an alternative passage."
"We absolutely respect the Italian government's decision, and CLIA remains committed to working and collaborating with the Italian authorities in the development of the alternative final passage." The Italian government said in its announcements Tuesday that it would open up a new canal route to Venice by the main shipping terminal within two years, which would allow larger vessels to enter in a safe manner.
Local activists, meanwhile, called the ruling a partial victory. They told Italian media they would continue to fight for a sustainable long-term solution and oppose the new canal project, which they believe could have "devastating" environmental impacts.
How much longer Venice can stay above water is yet another question locals have grappled with of late. Rising saltwater has already cracked centuries-old buildings, crumbling the very foundations of "the most romantic city in the world." Scientists estimate that Venice's buildings are now sinking at a rate of 0.08 inches (2 millimeters) each year, and groups such as Venice's No Big Ships Committee argue that the currents produced by cruise ships exacerbate the problem. Each ship's vast bulk, they say, displaces large quantities of water that then surge into the smaller canals.
Despite wide-ranging anger over the matter, Venice has good reason to protect its cruise industry: money. Last year, more than 650 ships docked in the city, making it the most popular stop on the Mediterranean cruise circuit. With the ships have come some 6,000 jobs and an economic boom of sorts for this "city of merchants," even as Italy's economy remains otherwise stagnant.
© Copyright IBTimes 2023. All rights reserved.