'A Very Murray Christmas' Netflix Special Convinced Bill Murray That Miley Cyrus Really Can Sing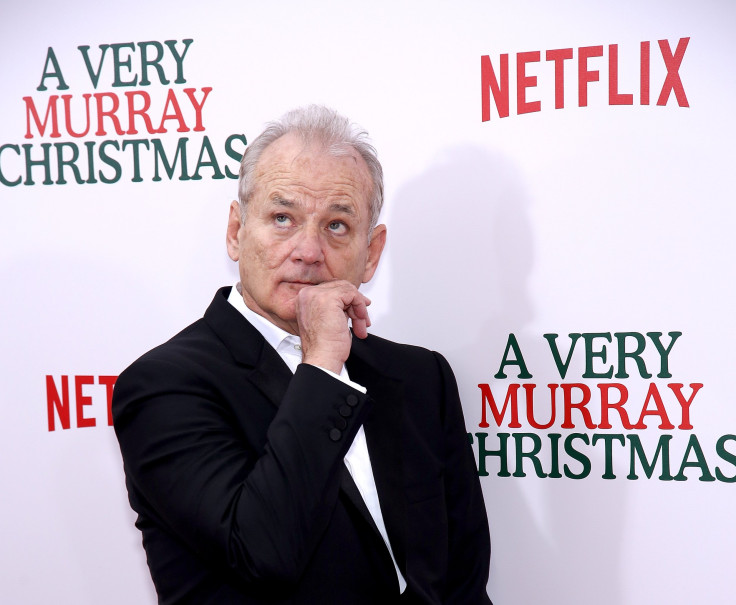 Miley Cyrus has a wild reputation and actor Bill Murray wasn't sure what he was getting into when he set off to work with the "Wrecking Ball" singer on his Netflix Christmas special "A Very Murray Christmas." When all was said and done, Murray walked away impressed by Cyrus, especially with her music after hearing her sing live.
Murray is now a believer in Cyrus' ability and talent as a singer following the filming of the holiday special. The 65-year-old told People he originally believed the voice he heard on her songs wasn't her, but that changed after hearing her sing in person.
"When you hear her [on the radio] you go, 'She's not even really singing that, that's all voice activated – it's all tricked out.'" Murray said. "None of that's true. She's really got it. She's really got the pipes."
The former "Saturday Night Live" star wasn't the only one on set who was impressed with Cyrus after having worked with her. In an interview with Access Hollywood in May, Clooney said Cyrus was "a real pro."
"And Bill Murray and I had drinks a few nights ago and he was just talking about how impressed he was as an entertainer and also just as a -- just in general as a pro, how professional she was. I really liked her," Clooney said.
Paul Shaffer, the former band leader on "Late Night With David Letterman" plays piano beside Cyrus, where she sings "Silent Night." Cyrus is one of many guests who will be appearing on the special. George Clooney, Amy Poehler, Chris Rock, Jason Schwartzman, Michael Cera, Maya Rudolph and many more are also expected to appear.
Sophia Coppola directed "A Very Murray Christmas," which is a tribute to variety shows. In the special, Murray will be preparing to host a live holiday production that gets shut down due to a blizzard. The comedian tries to make light of the situation "by singing and celebrating with friends, hotel employees and anyone else who drops by," according to the synopsis.
Watch the trailer to Murray's Netflix special below.
"A Very Murray Christmas" will be available to stream on Netflix on Dec. 4
© Copyright IBTimes 2023. All rights reserved.