VIDEO Arsenal 4-1 Sunderland: Highlights; Sublime Rosicky Goal Accents Comfortable Gunners Win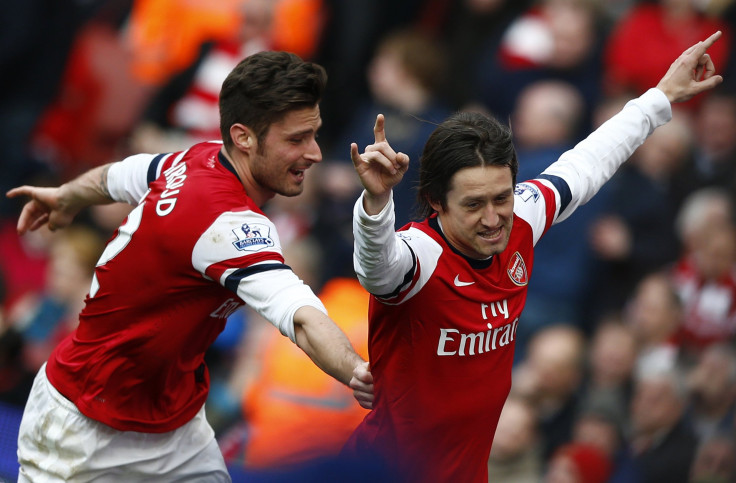 Arsenal bounced back from the crushing disappointment of their defeat to Bayern Munich in ideal fashion with a most comfortable 4-1 victory against a lackluster Sunderland on Saturday at the Emirates Stadium.
It was everything Arsene Wenger surely dreamed the match would be. Needing a confidence boost after their hopes of Champions League progress took a heavy, and cruel, blow on Wednesday, Sunderland were only too willing to oblige.
Also surely of particular encouragement to Wenger were the two goals from Olivier Giroud. After a recent high-profile personal issue and his exclusion from the lineup against Bayern, the French striker bounced back to form by first finishing off a nice move after just five minutes before pouncing on an errant back pass to double his side's advantage. He made the final pass too for what was a brilliant team goal rounded off by Tomas Rosicky to put Arsenal three goals to the good before half-time. Laurent Koscielny then headed in a fourth before Emanuele Giacchcherini fired home a consolation in what was a non-event of a second half.
The only negative on the day for Arsenal was an injury that forced Nacho Monreal off and causes particular concern with Kieran Gibbs already on the sidelines. But overall, Wenger will be delighted, especially with the result achieved with Mesut Ozil, the man surely most affected by events in midweek, given a rare and most needed weekend off. With Chelsea's dramatic win earlier in the day, it was also a win that was sorely required in terms of the Premier League standings. Arsenal remain just a single point behind their London rivals and with their title fate likely to be decided with an arduous run of fixtures next month.
Sunderland, meanwhile remain mired in the relegation zone, a position that was anything but reflected in their performance. Indeed, it was a display of a side who dangerously already had their minds occupied by next Sunday's Capital One Cup final.
Eager to put their European disappointment swiftly in the rearview mirror, Arsenal came out with an impressive tempo and intensity. And Sunderland were all too acquiescing to their opponents passing football.
Within five minutes, Arsenal strolled through their opponents to take the lead. Two of the players that came into the starting lineup, Lukas Podolski and Rosicky, played their part in helping the ball into the path of Wilshere. His run took him into the box, where he laid it square for Giroud to finish coolly low to the side of Vito Mannone.
The goal did nothing to rouse the visitors. Mannone was alert to help a fierce shot from Podolski over the crossbar but a second goal came just past the half-hour mark and it was one that embodied Sunderland's lax approach to the opening half. After some purposeless passing around at the back, January signing Santiago Vergini heavily blotted his copybook with a back pass to his goalkeeper that never looked like reaching him. Credit must go to Arsenal who pressed their opponents well and Giroud was quick to seize upon the error and easily get to the ball ahead of Mannone before finishing calmly past the former Arsenal stopper.
Sunderland's lack of pressure on the ball enabled Arsenal to showcase some of the impressive one-touch passing combinations in the final third that they have made their calling card. They did just that to dazzling effect to effectively put the result beyond doubt with three minutes still to go before the interval. In a goal that bore a striking similarity to Jack Wilshere's memorable goal against Norwich earlier in the season, Rosicky, Santi Cazorla and Wilshere were all involved in some quick passing in the buildup. The denouement then came with Rosicky knocking it into the feet of Giroud, who performed what is becoming his trademark flick around the corner back to the Czech midfielder. Rosicky supplied a delightful dink over the out-rushing Mannone for his first Premier League goal of the season.
One can only imagine the tirade that Gus Poyet unleashed on his players at the half-time break. His unhappiness was clear in his decision to take off the anonymous Jozy Altidore and Adam Johnson and replace them with Emanuele Giaccherini and Sebastian Larsson.
And Sunderland showed some initial signs of improvement in the second half. Still, it wasn't long before they switched off once more to allow Arsenal to extend their lead. Vergini almost made his afternoon even memorable for all the wrong reasons when he lashed at a clearance and sent the ball just inches wide of his own post. The let off was only temporary. From the resulting corner, Sunderland's defense, and particularly Phil Bardsley, incredibly allowed Koscielny to rise unchallenged in the middle of the box and power a header past the unmoved Mannone.
Sunderland gave their fans something to cheer after their long trip south with a fine strike form distance after Wojciech Szczesny punched a free-kick clear, but this was not a performance that the Wearsiders will remember with any fondness.
<iframe frameborder="0" width="480" height="270" src="http://www.dailymotion.com/embed/video/x1d0zv4" allowfullscreen></iframe><br /><a href="http://www.dailymotion.com/video/x1d0zv4_arsenal-4-1-sunderland-highlight-22-02-2014_sport" target="_blank">Arsenal 4-1 Sunderland Highlight 22/02/2014</a> <i>by <a href="http://www.dailymotion.com/ifihighlights" target="_blank">ifihighlights</a></i>
© Copyright IBTimes 2023. All rights reserved.