Video: Asian American Hit With Hammer Multiple Times By Passerby In Hell's Kitchen
KEY POINTS
An unknown woman was caught on camera striking an Asian woman with a hammer Sunday night
The attacker reportedly told the victim, Theresa, to "take off your mask" shortly before hitting her with the weapon
Police are investigating the attack as a possible hate crime
New York police are on the lookout for a woman who was caught on camera striking an Asian woman with a hammer in Hell's Kitchen, Manhattan, Sunday night.
The victim, a 31-year-old woman identified as Theresa, was walking with her friend along 42nd Street near Ninth Avenue at approximately 8:45 p.m. when the woman approached her, WABC reported.
Police said the unknown woman told Theresa to "take off your mask" before striking her with a hammer several times, causing multiple lacerations, according to a report by WPIX.
Theresa, a recent graduate of the Fashion Institute of Technology, said of her attacker, "She was talking to herself, like talking to a wall. I thought maybe she was drink or something, so we just wanted to pass through her quickly and when I passed through her, she saw us and said, 'Take off your f-----g mask,' which is shocking," as per WABC.
"Suddenly, I felt my head get hit by something," she continued.
Footage of the incident released by the NYPD Tuesday showed the attacker, who was wearing black jeans and a black tank top, striking Theresa with the hammer multiple times. She then proceeded to attack Theresa's friend, who attempted to fight back with a wine bottle.
At one point, the assailant can be seen dropping her hammer, which was then picked up by Theresa. Theresa and her friend then left the scene and called for help as the attacker shouted at them.
Theresa was rushed to the hospital in stable condition. She suffered a deep wound on the left side of her head and needed seven stitches. According to her, however, the physical pain does not compare to the psychological scars she received from the attack. It left her shaken up, traumatized and in total shock, Theresa said.
NYPD investigators said they are looking into the incident as a possible hate crime, according to WPIX.
Police are asking for people with any information on the attacker that can help with the investigation to call Crime Stoppers at 1-800-577-TIPS.
The incident occurred just a block away from where a 65-year-old Asian woman was attacked and pummeled to the ground in broad daylight by a man on March 29. The suspect, 38-year-old Brandon Elliot, was arrested two days later.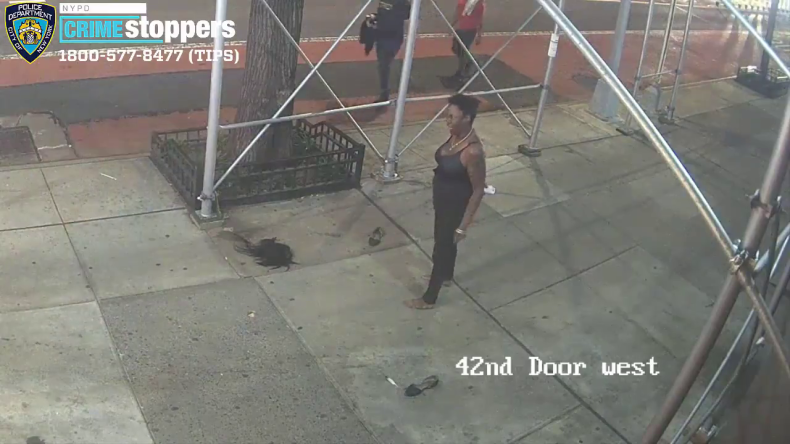 © Copyright IBTimes 2022. All rights reserved.