Rafael Nadal News: After Berdych Loss, Can Rafa Return To His Best For French Open?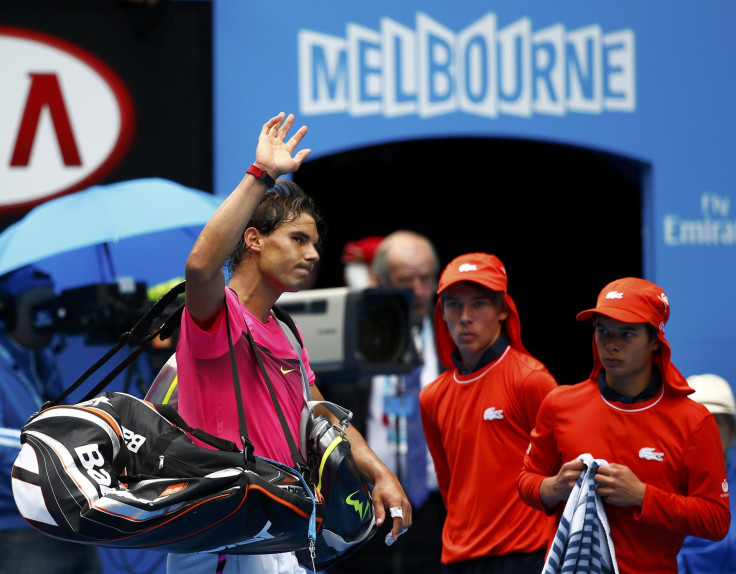 Rafael Nadal had survived a five-set epic in the second round, but he had no answer for Tomas Berdych as he crashed out at the quarterfinals of the Australian Open in straight sets. A 6-2, 6-0, 7-6 (7-5) loss was stunningly emphatic, particularly given that Nadal had win an extraordinary 17 straight matches against the Czech seventh seed dating back to 2006.
"I didn't play my best today," Nadal said. "He played better than me and that's it. That's the sport. Sometimes, almost every time, is simple: the player who plays better, the player who is able to maintain the better rhythm, the better concentration, play with less mistakes, is the player who has more success. And today this player has been Tomas."
Ahead of the first Grand Slam of 2015, Nadal had played just eight matches on the ATP Tour since last year's Wimbledon, after suffering from a wrist problem and appendicitis in the second half of 2014. Even his own expectations were low heading into an event he won in 2009 and reached the final of in his last two visits. The rustiness was clearly on show as he had to battle physical distress to beat American qualifier Tim Smyczek. But he appeared to be finding his rhythm and building momentum after back-to-back straight-sets wins over Dudi Sela and 14th seed Kevin Anderson to reach the last eight.
Yet when it came to taking on Berdych on Rod Laver Arena on Tuesday, Nadal was only too willing to admit that his performance had been "very bad." Firing an inordinate amount of unforced errors and regularly watching Berdych's strong ground strokes sail past him, it wasn't until the third set Nadal began to look anything like the player who has won 14 Grand Slam titles.
"In the third [set], yes, I was able to maintain the rhythm of the ball, to try to put one more ball inside. If I'm able to do that for two hours and a half, three hours, then he can feel the pressure, he can feel more tired when he's going for the shots. But the real thing, I tested him for one hour, for a set. For the rest of the thing I didn't test him in general."
Yet despite his disappointment, there was also a sense of perspective in Nadal's reaction. The last time the Spaniard returned from a similarly lengthy layoff, he immediately went on an incredible run to end the year with two Grand Slam titles and the No. 1 ranking. But that was when returning on his favored clay surface. This time coming back on the hard courts Down Under, Nadal is taking encouragement from a quarterfinal berth at a Grand Slam.
"When you have injuries, the comebacks are difficult," he explained. "There are so many examples around the world of sport that have shown it's tough to come back. I'm not an exception to that. I have to take the positive things. Without being at my top level of tennis I was able to be here in quarterfinals. Is not a bad result at all for me arriving here the way I arrived."
The 28-year-old, likely due to his physically grueling style, continues to have more fitness struggles than his long-time rivals at the top of men's tennis, Roger Federer and Novak Djokovic. Yet he has exposed before the foolishness of writing him off as a force. Not only was there his incredible return to the tour in 2013, but also what he did last year.
Nadal had suffered a cruelly timed back problem to lose the Australian Open final to Stan Wawrinka and then went onto have his least dominant clay-court season since before his first French Open title in 2005. But come Roland Garros he was again a class above the competition, losing just two sets en route to an unprecedented ninth French Open triumph. Once again he got the better of Novak Djokovic, to thwart the world No. 1's quest to claim the one Grand Slam title still to elude him. Djokovic will doubtless again be his main challenger when the tournament rolls around in May, but beating Nadal at Roland Garros remains an extraordinary physical and mental hurdle, and is an experience that still only one man has savored -- Robin Soderling in 2009.
In the intervening four months, though, it's clear Nadal will want to build some real momentum. It is perhaps why he will now be heading to the clay in South America to compete in Rio de Janeiro and Buenos Aires. After a short return to the hard-courts for Masters 1000 events in Indian Wells and Miami, it will be time for the start of the European clay-court season and preparations for his French Open title defense. Despite his difficulties in Australia, Nadal insists he is ready for the battle ahead to get back to his best.
"It's just the beginning of the season, and I want to keep having chances to compete well against everybody," he said. "The season is long. Beginnings are tough. I need to be ready to accept all the situations that's going to happen or happened and try to be strong, accepting everything, and working hard to be back the way that I want to be. When I say 'be back,' I don't mean win or lose, I mean have the feeling on court that when you are there you feel confident, you feel you can compete against everybody with equal conditions."
© Copyright IBTimes 2023. All rights reserved.
FOLLOW MORE IBT NEWS ON THE BELOW CHANNELS