VIDEO Chelsea 2-0 Arsenal: Highlights; Superb Mata Goal Seals Blues' Capital One Cup Victory At The Emirates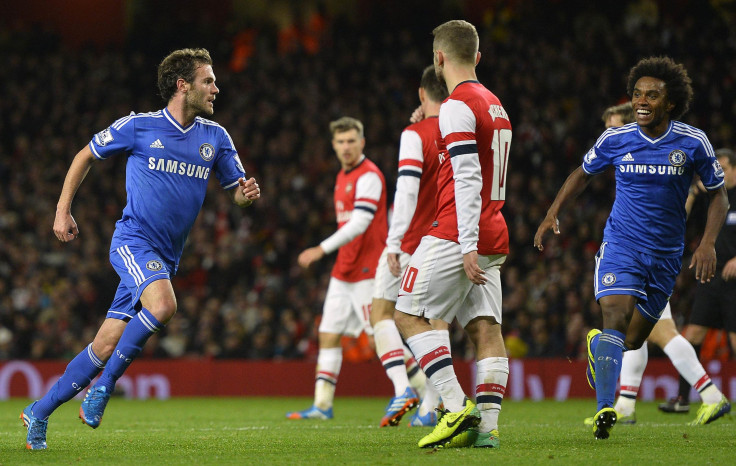 Chelsea came out on top in the battle between the Premier League's top two to move into the quarterfinals of the Capital One Cup with a 2-0 victory over a lackluster Arsenal at the Emirates. The first meeting between Arsene Wenger and Jose Mourinho since the Chelsea boss' return to Stamford Bridge saw both coaches field almost completely fresh lineups after their victories at the weekend. It was Chelsea's XI, though, that showed the more urgency throughout and deservedly prevailed through goals midway through each half from Cesar Azpilicueta and Juan Mata.
The result continues Mourinho's head-to-head dominance over Wenger, while the match will also likely be seen as an early blow delivered between two sides who could yet be tussling for the Premier League title come May. Given, the unfamiliarity of the two lineups -- eight changes for Arsenal and 10 for Chelsea -- it may be unwise to read too much into the result beyond Wenger's side having to wait yet longer to end their trophy drought.
Wenger, of course, will be hoping to be competing for far more significant prizes at the season's climax. Yet, he certainly won't be enamored with the lack of energy shown by a side that still contained the likes of Jack Wilshere, Aaron Ramsey and Santi Cazorla. The tone, though, was set from the front by a seemingly apathetic performance by Nicklas Bendtner.
Having had just 48 hours to prepare after a dramatic victory over Manchester City, Mourinho will be delighted to progress and keep on course to lift a trophy that proved a springboard to success in his first spell in charge of Chelsea.
The pattern of the match was set from early on, with Chelsea able to enjoy largely unchallenged possession. The tempo of the match in general was woefully slow in the opening exchanges, however. Young Japanese midfielder Ryo Miyachi failed to take advantage of a couple of early opportunities to impress, most notably when being played through one-on-one with Mark Schwarzer, but allowing Gary Cahill to get back and cover.
The first quickening of the pace 20 minutes in, saw Kevin de Bruyne cut in from the left and fire an effort that was comfortable for Lukasz Fabianski. Five minutes later, though, Arsenal's reserve keeper was caught in no-man's land by his own defender.
Chelsea broke from deep inside their own half, but the danger should have been averted for Arsenal when the ball deflected and bounced toward the edge of their own area with both Wilshere and Carl Jenkinson under it. But, with Wilshere leaving it to his teammate, Jenkinson appeared unnecessarily panicked and produced a tame header back toward Lukasz Fabianski that allowed Azpilicueta to sneak in an direct a volley wide of the goalkeeper and in off the post.
The goal showed no signs of shocking the home side into some sort of life. Their only effort of note in the opening 45 minutes being when Azpilicueta almost undid his good work at the other end by giving the ball away and seeing fellow Spaniard Nacho Monreal burst into the area but firing past the post.
Wenger was likely to have had a few choice words with his team at the break and predictably they came out improved in the second half. The end product, though, was still missing. Ramsey had a shot deflected wide, while he, Tomas Rosciky and Bendtner all neglected the chance to shoot at the climax of another promising attack.
Still, the intensity remained not what it might have been from Arsenal. That they were second best in that department was demonstrated as Chelsea doubled their lead on 66 minutes. Wilshere was unable to win a header inside his own box, while his teammates then failed to close down Mata when the ball fell to him on the edge of the box. From there, though, huge credit must go to the Spaniard who gave another nudge to Mourinho for a more regular starting berth with an unstoppable right-footed drive into the corner of the net.
With Mesut Ozil having been introduced just minutes before, Olivier Giroud was now thrown on for the anonymous Bendtner. Unsurprisingly, Arsenal were immediately improved. Giroud displayed the kind of industry missing from the Dane by manufacturing a shooting opportunity in the box but seeing his low effort blocked by Schwarzer. And when Cazorla fired wide from the angle after a good run in the final minutes, hopes from the home crowd of a dramatic comeback were lost.
Follow Jason Le Miere on Twitter
Arsenal 0-2 Chelsea Footyroom.comby footyroomcom
© Copyright IBTimes 2023. All rights reserved.