VIDEO Manchester United 3-1 Preston: Highlights, Goals; Rooney, Herrera And Fellaini Set Up Arsenal FA Cup Quarterfinal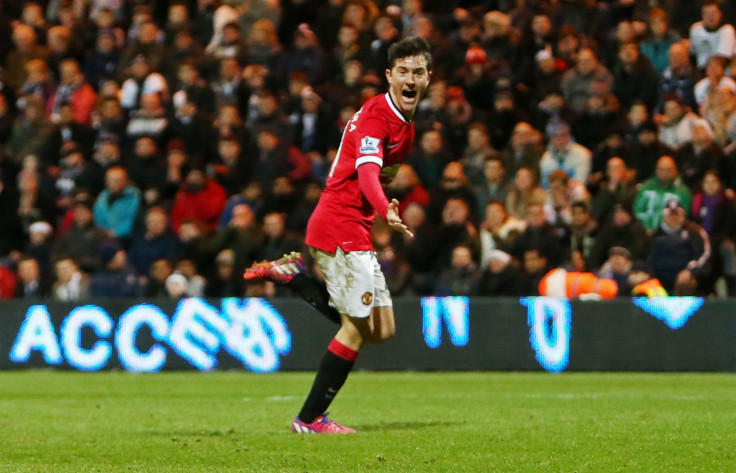 Manchester United produced a late fight back to beat Preston North End 3-1 at Deepdale and secure an FA Cup quarterfinal at home to Arsenal. Once again it was a far from convincing performance from Louis van Gaal's men, but, as against Yeovil Town and Cambridge United in the previous rounds they did just enough to see off lower league opponents.
Yet with 30 minutes to ago it looked like they would finally be made to pay for their sub-standard displays in this year's competition. Scott Laird's deflected strike early in the second half had put the high-flying League One outfit ahead in front of an ecstatic home support. United were showing little sign of responding until two scrappy goals in the space of eight minutes turned the contest in their favor.
First Ander Herrera, who scored at Yeovil and was making his first start since that third round tie, squeezed a left-footed in off the post, with Preston furiously protesting that Wayne Rooney, clearly in an offside position, had interfered with goalkeeper Thorsten Stuckmann. The appeals ignored, Preston's hopes of a lucrative replay soon went by the wayside, too, when Marouane Fellaini lashed home a rebound from close range after his far-post header had been initially kept out by Stuckmann. To complete Preston and Stucknmann's frustration, Rooney went tumbling without contact over the leg of the Preston stopper to win a penalty that he lashed into the roof of the net with two minutes remaining.
Still, Van Gaal, who had been open about his disappointment in United's performance in a 3-1 in over Burnley last time out, is unlikely to be overjoyed with what he witnessed on Monday. With Robin van Persie ruled out, Van Gaal did what many had been calling for by moving Rooney into attack and bringing Herrera into the midfield. But those switches did little to improve the fluidity of a team whose results continue to far exceed the quality of their performances.
In the opening period, Angel di Maria was the only playing providing a spark in a team that remains drudgingly one-paced with and without the ball. Unfortunately for the club's record signing, his good work went unappreciated in the opening 45 minutes, with Rooney, in particular on several occasions unable to seize upon the Argentinean's incisive passing.
Two minutes into the second half, things took a further turn for the worse. Veteran striker Kevin Davies won a trademark header from a long ball forward, fellow striker Joe Garner laid it off and Laird, allowed to run in behind courtesy of a defensive mix up from the visitors, struck a low shot that deflected off the boot of Antonio Valencia to take it through the dive of David de Gea.
Preston, working at full pelt throughout, had a sniff of a second goal when Tom Clarke just failed with a volley from a free-kick. And Van Gaal showed his concern when, much to the Colombian's surprise, Falcao was taken off for Ashley Young. But, with Preston tiring, the changes had the desired effect. In the 65th minute, Young cut back for Herrera, whose left-footed shot was far from the rocket he fired in against Yeovil but crucially found the net. Stuckmann had clearly been distracted by the presence of Rooney, but crucially the Manchester United forward had not been in the goalkeeper's line of vision and had not made a move toward the ball.
The second goal had no such controversy. Fellaini's strength in the air again paid off, allowing him to score at the second attempt. But Preston were soon irate once again as the result was put beyond doubt when Rooney hurdled the challenge of Stuckmann and plunged to the ground. It was clearly a dive, although there is a certainly a strong argument that it was also a foul given the rash way that the German keeper dove in to Rooney's path.
Still, there was little doubt that Manchester United had again struggled more than should be expected against a side considerably lower down the league pyramid. When Arsenal visit Old Trafford in three weeks' time, it will be a very different proposition and United will have to produce a very different performance.
© Copyright IBTimes 2023. All rights reserved.