VIDEO Manchester United 3-1 Burnley: Highlights, Goals; Smalling And Van Persie Fire United Back Into Top 4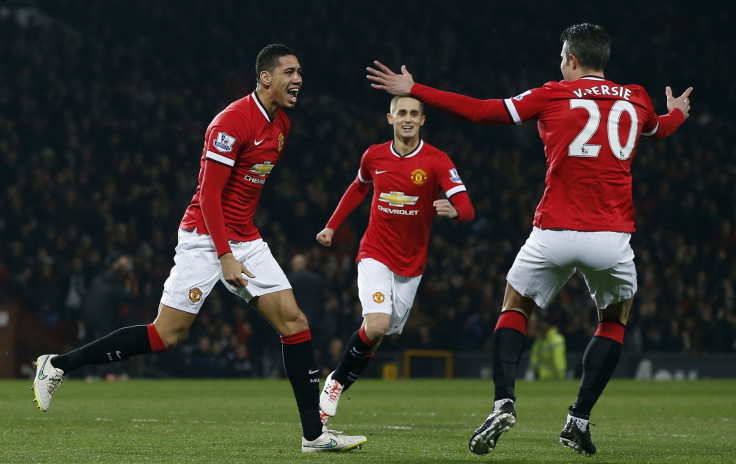 A day after Louis van Gaal's now-infamous dossier ignited fresh debate about his side's playing style, Manchester United required two set-piece goals, a late penalty and a fair degree of fortune to limp past Burnley 3-1 at Old Trafford on Wednesday.
For Van Gaal, the essential statistics make for encouraging reading. United's 18th successive match unbeaten in all competitions, handed to them by two first-half Chris Smalling goals and a Robin van Persie penalty eight minutes from the end, takes them up to third place in the Premier League table. But those facts continue to mask hugely substandard performances.
Unlike against West Ham, there was no need to revert to the direct style that led to the "long-ball United" gibe from Sam Allardyce and Van Gaal's subsequent bizarre rebuttal. For that they have two headers from Smalling to thank, the first just six minutes into the contest and only seconds after he replaced the injured Phil Jones.
A second followed, again from a corner, in first half injury time to give United a lead at the break that was barely credible. In between Smalling's goals Burnley, who remain second from bottom after a third defeat in four matches, had been the superior team. Just six minutes after falling in behind, the visitors were level when Danny Ings grabbed his ninth Premier League goal of the season when diving to head home Kieran Trippier's vicious cross.
Smalling was the man who lost the in-form Ings, and the defender continued to prove as dangerous in his own box as in the opposition's. He wasn't the only United defender struggling. Had Burnley been more ruthless they would have taken control of the game, instead Ashley Barnes failed with a hat-trick of promising opportunities. The second half saw David de Gea have to come to his side's rescue once again to block an effort from Ings from pointblank range.
While apart from that gilt-edged chance, the second half contained less moments of panic for United. The Red Devils remained desperately short of fluidity against a Burnley team that was clearly tiring. And it must surely concern Van Gaal that, while having the majority of the possession throughout, Manchester United failed to create a single chance from open play until the dying stages.
It was a sense of relief that greeted Van Persie's penalty nestling in the net eight minutes from time after Scott Arfield had clumsily brought down Angel di Maria. Under Sir Alex Ferguson, a win like this would have been seen as the hallmark of a title-winning side. But for Van Gaal, getting results in spite of ugly performances has become the default.
They were fortunate that Burnley didn't strike first on Wednesday. In a sign of the home side's struggles throughout defending set-pieces, former Manchester United defender Michael Keane mistimed a free header at the near post in the third minute. Keane had been jettisoned from Old Trafford at the start of the season in just a small part of Van Gaal's expensive shakeup of his squad.
But the fruits of that expense are still to be seen out on the pitch. Burnley manager Sean Dyche will be bitterly disappointed that they were undone by their inability to defend two corners, allowing Smalling to get two goals in a game for the first time in his career. In open play, Burnley had little trouble dealing with a team including the expensive talents of Angel di Maria, Radamel Falcao and others.
In their defense, United were forced to reshuffle, not only after Jones' early injury, but also after Daley Blind failed to shake off a blow to his face. The Dutchman's departure gave the recently marginalized Ander Herrera a chance to impress, but it also led to Wayne Rooney, the man on track to break Manchester United's all-time scoring record, being deployed as a holding midfielder. Unsurprisingly, he continued to have little impact on the game, a fact made all the more prevalent by the continued failure of Van Persie and Falcao to sparkle up front.
Burnley's failure to take advantage of United's struggles and Ings' continued excellence in front of goal, coupled with wins for Queens Park Rangers and Hull City, mean they drop back into the bottom three. But the intensity and purposefulness of their performance shows the players remain fully behind Dyche and can certainly not be written off in their efforts to beat the drop.
Meanwhile, other than some late thrills against overstretched opponents, the result was the only positive thing for United's team of high-priced players to take away from their struggles to beat the side with the lowest budget in the Premier League.
© Copyright IBTimes 2023. All rights reserved.