VIDEO Nadal Vs. Djokovic 2014 French Open Highlights: Nadal Wins In Final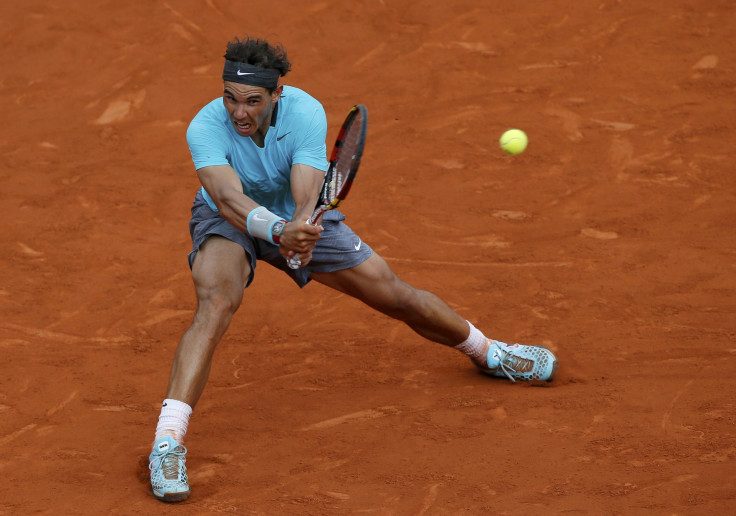 After losing only his second set for the entire tournament, No. 1 Rafael Nadal had enough. The Spaniard rediscovered his composure at Roland Garros in typical fashion to clinch his ninth career French Open title in a 3-6 7-5 6-2 6-4 victory over rival No. 2 Novak Djokovic Sunday in Paris.
The 27-year-old Nadal tied all-time great Pete Sampras with 14 career slam titles, while improving his French win streak to 36 matches and career mark to 65-1. Nadal also retained the top ranking he usurped from Djokovic last year.
Nadal is now 23-19 against Djokovic, who had won the previous four matches including on clay in Rome earlier this year. Nadal also improved his French record against Djokovic to 6-0, and hasn't lost to the Serb in a slam since 2012.
Breaking his opponent's serve in the eighth game, Djokovic was dominate in the first set, shortening or outright ending long volleys that usually result in Nadal's favor.
Despite taking the first set in 44 minutes, the Serb couldn't maintain that momentum in the next three sets.
The second set was far tighter with Djokovic limiting Nadal's backhand and overall returns with his cross-court forehand. Nadal also missed his first break point opportunity in the second set up 4-2 after overreaching on a forehand.
Still, Nadal would capitalize on his next break point opportunity, and claim 17 winners in the second set, compared to only five in the first.
Between the end of the second and the start of third, Djokovic lost five straight games and faced an 0-3 hole in the third set with Nadal crushing forehand winners. Djokovic particularly lost control of his second-serve points, dropping from 50 percent in the first set to 31 percent combined in the second and third.
A reasonably distraught and frustrated Djokovic expressed his anger in between games, slamming his water bottle and racket against the clay and throwing up his arms after many of his 49 unforced errors.
Djokovic missed an opportunity in the fourth set to tie 3-3, but missed two straight points and gave Nadal his fifth break point win in the match.
Later in the fourth, Djokovic found new life after taking away one of Nadal's break points with a forehand winner after a short volley at 4-3, and overpowered Nadal with punishing returns to even the set at 4-4.
In the ninth game of the fourth, Nadal would pin Djokovic to his right and approach the net for a forehand volley winner and the advantage, then firing an ace to the win the game at 5-4 heading to championship points.
Djokovic would double-fault on his final serve in the last game, and Nadal dropped to his knees in tears amid roars from the crowd. Nadal then climbed into the stands to hug his family and supporters. It was yet another milestone for a tennis star who continues to build a strong case as the sport's all-time greatest.
© Copyright IBTimes 2023. All rights reserved.