Video: NY, DC Mayors Make Urgent Pleas To Stay Off Snowy Roads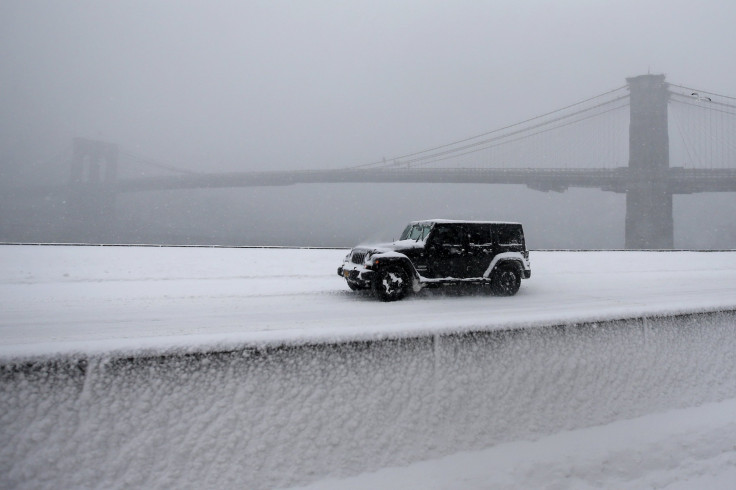 The mayors of two of the United States' largest cities pleaded with their residents to remain off the roads as a dangerous blizzard descended on the Eastern Seaboard Saturday.
The winter storm dumped nearly 2 feet of snow on the suburbs of Washington before moving on to Philadelphia and New York, paralyzing road, rail and airline travel along the U.S. East Coast.
"Anyone who has come into the city from the suburbs should turn around and go back. This is very, very fast accumulation and I guarantee if people linger they will get stuck and it won't be in anyone's interest. Certainly as we've said, we're gonna tow any vehicle that is blocking our snow plows or our emergency vehicles," New York City Mayor Bill de Blasio said during a news conference Saturday. De Blasio issued a citywide travel ban effective at 2:30p.m. EST, saying "all vehicles that are not emergency vehicles or authorized vehicles or involved in direct, urgent service to people need to be off the streets."
At least 10 states declared weather emergencies, aiming to get a handle on highways made impassable by the drifting snow and to shore up coastal areas where the blizzard conditions raised the danger of flooding.
Muriel Bower, the mayor of the nation's capital, warned residents low visibility made a hazardous mix for pedestrians and snow plows trying to clear Washington's streets.
The heaviest snow was engulfing New York City Saturday and expected to not end until Sunday.
At least six people were killed in car crashes due to icy roads in North Carolina, Kentucky and Tennessee.
The worst appeared to be over for Washington although moderate snow was expected to keep falling until late Saturday, with the deepest accumulation of 23 inches recorded in Poolesville, Maryland, north of the nation's capital.
© Copyright Thomson Reuters 2023. All rights reserved.