VIDEO Serena Williams vs. Roberta Vinci: US Open Highlights; Unseeded Italian Upsets Serena's Grand Slam Dream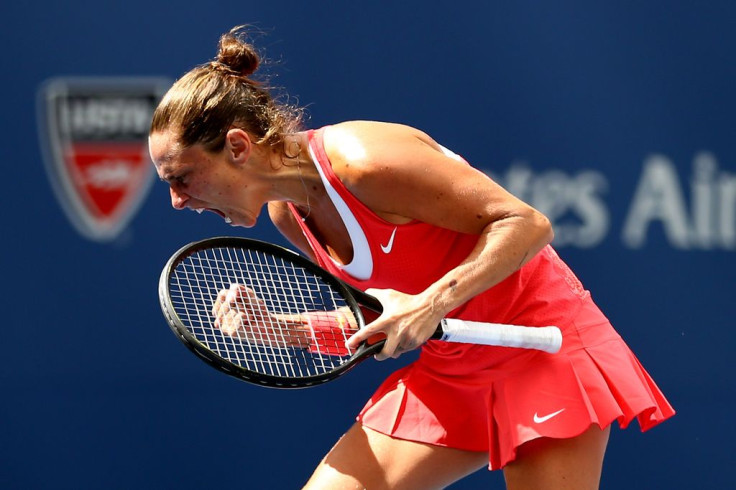 Unseeded Italian Roberta Vinci brought a stunning end to Serena Williams' hopes of a calendar-year Grand Slam with a 2-6 6-4 6-4 win in the semifinals of the U.S. Open. In one of the biggest upsets in recent tennis history, Williams was simply overcome by the pressure of the date with history awaiting her in Saturday's final.
Not only was Williams on the verge of a first clean sweep of the sport's four Grand Slams in a single year for the first time since 1988, but she would have matched Steffi Graf's Open-era record of 22 Grand Slam titles. Having cruised to the opening set, the tension simply became too much and Vinci, in her first Grand Slam semifinal at the age of 32, admirably held her composure to become the oldest first-time Major finalist in history and setup a meeting with fellow Italian Flavia Pennetta.
Having reeled off four straight games to take the opening set, the world No. 1 looked set to match Pennetta, who steamrolled second seed Simona Halep in straight sets in Friday's first semifinal. The fact that she was playing an opponent who had failed to win more than four games against her in any of the eight previous sets they had played only added weight to that theory. However, the pressure of closing in on her meeting with destiny soon became written large across her face and her groundstrokes. And Vinci, lacking the power of so many of her contemporaries but blessed with a rare variety in her shot-making, somehow remained steady amid the incredible drama unfolding opposite her to take advantage and the second set.
It was far from an unfamiliar position for Williams. In 11 of her previous 26 Grand Slam matches in 2015, she had gone the distance. Each time she had prevailed. And, having let her emotions explode with a smashing of her racket at the changeover, she seemed ready to let the tightness out and regain control when grabbing an early break in the third set. Instead, the tension came roaring back. Struggling to hold on having been broken back, in one game Williams released thunderous emotion after each successful point.
She could not, though, escape the weight of expectations. The unthinkable started to become a very real prospect when Vinci triumphed in an epic seventh game to break and move within two games of the finish line. While Williams, winner of six U.S. Open titles including the last three, held serve to force her opponent to serve it out, Vinci displayed faultless nerve to clinch the win with a deft half-volley at the net. A 300-1 outsider to lift the trophy at the start of the tournament, Vinci now has only 26th-seeded Pennetta standing in her way of crowning one of the most unlikely Grand Slam wins in tennis history.
© Copyright IBTimes 2023. All rights reserved.