Video Shows Police Officer Save Baby From Choking Along California Freeway
KEY POINTS
Two California Highway Patrol officers saved a baby choking on a cherry in a car along a freeway Monday
One officer, a licensed paramedic, slapped the infant on the back and dislodged the fruit
The child was taken to a hospital and is expected to be OK
Two highway patrol officers saved a 6-month-old infant who was choking on the side of a Los Angeles County, California freeway, authorities said Monday.
After getting a call about the choking baby, the officers, identified as Casey Ramstead and Jed Cato, found the car on the right shoulder of the 101 freeway in Los Angeles' Woodland Hills neighborhood. The child was choking on a cherry, the California Highway Patrol (CHP) West Valley said in a statement.
"Officer Ramstead, a licensed paramedic, evaluated the infant and utilized back slaps to help the infant clear his airway and begin breathing normally," the CHP stated.
Dashcam footage of the incident was released by the agency Monday showing Ramstead approaching the family's parked SUV and talking to the baby's mother while Cato directs traffic of vehicles passing by.
Ramstead was seen in the video patting the baby on the back several times until the fruit dislodged from the child's airway.
"I put my hands out, she handed me the baby. I held him up. I was trying to look, listen and feel to see if there was any air exchange happening. I was listening to his back to see if I could hear anything," Ramstead was quoted by KNBC as saying. "I didn't hear anything. Something was wrong, but I just didn't know how severe."
"That was just pure relief and excitement because I knew I did it right!" the officer told KCAL-TV.
Ramstead continued to monitor the child afterward and attempted to keep the family calm, according to the CHP.
An ambulance arrived a few minutes later and took the baby to a hospital for evaluation. The child is expected to be OK, the CHP said.
The agency warned the public that cherries are a choking hazard to children as young as the baby the officers had saved.
Many praised the two officers' actions online, while others criticized the family for giving the infant a cherry in the first place.
"Awesome work..that quick response and work saved that baby," one person commented on the CHP's Facebook post.
Another wrote, "Why in the world would someone be giving that little baby cherries?!"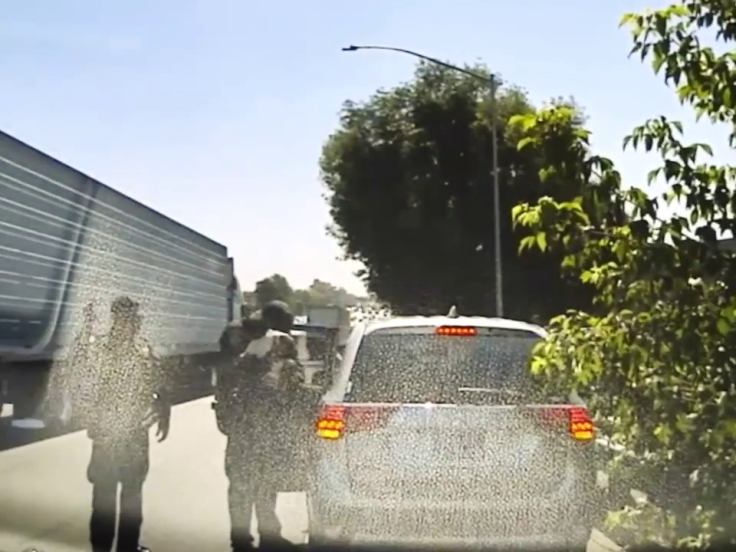 © Copyright IBTimes 2023. All rights reserved.