VIDEO 'SNL' Skits From Last Night: Watch Cold Open, Weekend Update Mocks Sydney Sweeney's Conservative Family
The "Saturday Night Live" Season 48 premiere wasted no time taking aim at the major cast changes which saw the departure of Kate McKinnon, Pete Davidson, Aidy Bryant, and others.
The episode was hosted by "Top Gun: Maverick" star Miles Teller and featured musical guest Kendrick Lamar.
Here are some of the notable sketches from the first episode of "Saturday Night Live" Season 48.
Cold Open
The iconic sketch comedy show began the night by poking fun at the casting shake-ups following the recent exits of fan-favorite stars.
Teller and "SNL" cast member Andrew Dismukes took on the role of Peyton and Eli Manning, respectively, in a parody of the brother's "Manningcast" show.
Instead of discussing Monday Night Football, the siblings analyzed the first cold open of the season.
"There were a lot of changes at the show that could be exciting. Let's see what they spent the entire summer coming up with," Teller says.
The brothers observed a sketch parodying former President Donald Trump at Mar-a-Lago during Hurricane Ian.
Through their observations, the brother noticed the modified cast failed to create memorable impressions of political figures like former cast members.
Teller noted the sketch served "14 attempted jokes, one mild laugh, and three chuckles."
Send Something Normal
The comedy sketch show took a swing at a few Hollywood scandals involving social media exchanges by hosting a mock game show.
"The game is very simple. We have four male celebrity contestants, and all they have to do is reply to a woman's DM on Instagram in a way that is normal," Teller said.
The contestants included Adam Levine, portrayed by Mikey Day, Armie Hammer played by James Austin Johnson, Neil DeGrasse Tyson, portrayed by Kenan Thompson, and Bowen Yang, as himself.
The Maroon 5 singer was the first contestant up first and was asked to reply to a woman who sent him a message saying she was a "huge fan."
"OK. Tough call. Can I see her most liked vacation photo?" Day said. "All right. Going to kick things off with a 'Holy moly!' But I got three more, though. 'Holy moly! Holy crap!"
Teller informed Day that it wasn't the correct answer and moved on to Hammer, who wanted to address the negative media attention he has received.
"All right, look, I know there's been a lot of talk about me in the press, but I've done a lot of work on myself, and I've changed. So, I have my message," Johnson said. "'I want to break open your bones and suck out the marrow.'"
In the end, Hammer, along with the rest of the contestants, failed to send a normal reply to other messages.
Weekend Update
The "SNL" fake news segment called on newcomer Michael Longfellow to share his thoughts on actress Sydney Sweeney's recent social media post.
The "Euphoria" star began receiving backlash after sharing photos from her mother's birthday in which guests wore MAGA-themed "Make 60 Great Again" hats.
"Well, my family's from Arizona, so if you can get in trouble for what your parents think ... it's been a good run," Longfellow told "Weekend Update" co-anchor Colin Jost.
Although he encouraged others to push back against their family's conservative views, Longfellow's attempt was unsuccessful.
"You got to stand up to your parents. When I found out my dad was voting for Trump, I sat him down, and I told him, 'Hey, you keep going down this path, I might have to pay for my own car insurance next year,'" he said.
"Then he told me how much it was, and I said, 'Well, I didn't know that when I said that ... so I'm sorry."
Actor Brendan Gleeson will host the next episode of "Saturday Night Live" with Willow as the musical guest.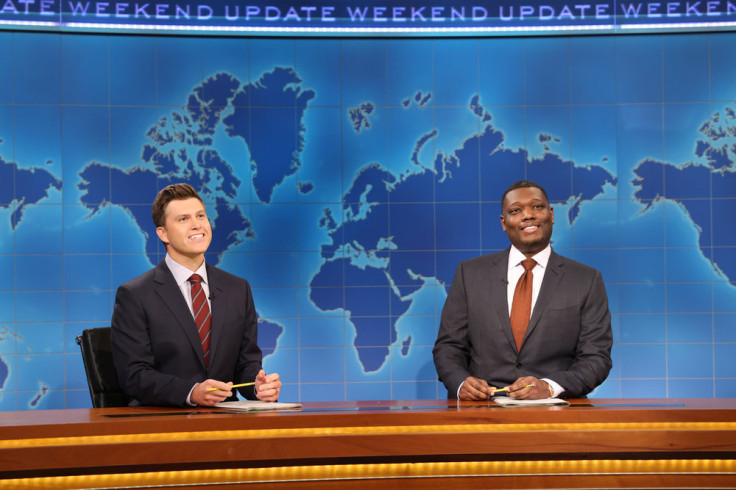 © Copyright IBTimes 2023. All rights reserved.