VIDEO 'SNL' Skits From Last Night: Watch Cold Open, Baby Yoda Visits Weekend Update
"Saturday Night Live" deviated from its typical opening skit to kick off the night with some entertainment news. The episode was hosted by actress Selena Gomez and featured musical guest Post Malone.
Along with the Johnny Depp vs. Amber Heard defamation trial skit, "Weekend Update" received a visit from Baby Yoda.
Here are some of the notable sketches from "Saturday Night Live" Season 47, Episode 20.
Cold Open
The latest cold open of the NBC comedy sketch show took a break from politics to tackle the Depp-Heard defamation trial.
Kate McKinnon played MSNBC's Nicolle Wallace, who explained the importance of reporting on the "cuckoo trial."
"I know it's not the most pertinent story of the moment," McKinnon said. "But with all of the problems in the world, isn't it nice to have a news story we can all collectively watch and say, 'Ooh, glad it ain't me?'"
Viewers were then taken to the courtroom where the "fecal matter" Heard left in Depp's bed was the topic of discussion.
Cecily Strong's Judge Penney Azcarate allowed Depp's team to play a video of his staff discovering the excrement. "I'll allow it because it does sound fun, and this trial is for fun," she said.
Kenan Thompson played the property manager, who walked into the room and noticed the offending odor. "Damn! Smells like boo boo in here!" he said.
Thompson was later joined by other staff members played by Ego Nwodim, Melissa Villaseñor, and Chris Redd, who all declared they hated their jobs.
Weekend Update
Kyle Mooney's Baby Yoda returned to the "SNL" fake news segment to promote his upcoming Disney+ series, "Obi-Wan Kenobi," and discuss his spiritual awakening.
Mooney's Baby Yoda spoke with co-anchor Michael Che, who noticed the "Star Wars" character had a new vibe.
"Life is all good Michael, real good. Of course, Season 3 of Mando coming up—blah, blah, blah, blah, work, work, work," Baby Yoda said.
Mooney went on to reveal he had a spiritual awakening after he went on something similar to a group ayahuasca retreat, "but with a bunch of pills and weed. And instead of a spiritual guide walking us through it, my boy Tom Holland got on the aux cable, and I saw God."
Baby Yoda also attempted to squash his feud with Baby Groot from the "Guardians of the Galaxy" movie franchise.
"I just want to say, Baby Groot, I know we had our issues. But I mean this from the bottom of my heart: I really, really don't like you," Baby Yoda said.
"And the next time I see you, I will chop you down like Paul Bunyan, sprinkle you on my blunt, and smoke you while I'm in the hot tub with your girl. "
He added, "That being said, I love you, and I've always got your back."
Opening Monologue
Gomez made her hosting debut by greeting the audience and poking fun at her dating life. "One reason I've been very happy to host is because I'm single, and I've heard that 'SNL' is a great place to find romance," she told the crowd.
Gomez reflected on stars like Emma Stone and Scarlett Johansson, who met their significant others while hosting the show. The 29-year-old actress then joked that the show also brought Pete Davidson and Machine Gun Kelly together.
Ultimately, Gomez hoped speaking out about her desire to find a relationship would help her find love.
"Since I don't really want to try the dating apps, I just want to put it out into the universe that I'm manifesting love. I would like to say that I'm looking for my soulmate, but at this point, I will take anyone," she joked.
Actress Natasha Lyonne will host the "Saturday Night Live" season finale next week with musical guest Japanese Breakfast.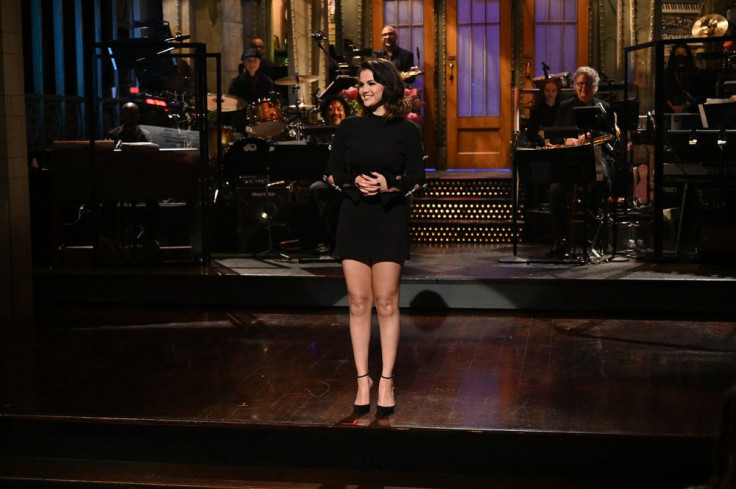 © Copyright IBTimes 2023. All rights reserved.