VIDEO 'SNL' Skits From Last Night: Watch Cold Open, Pete Davidson's Last Weekend Update
"Saturday Night Live" kicked off its season finale by allowing a beloved cast member to say her final goodbye while several other stars announced they would also be leaving the iconic NBC comedy sketch show.
The episode was hosted by actress Natasha Lyonne and featured musical guest Japanese Breakfast.
Along with a special nod to Kate McKinnon's departure, Pete Davidson appeared on "Weekend Update" for a final appearance.
Here are some of the notable sketches from "Saturday Night Live" Season 47, Episode 21.
Final Encounter Cold Open
The opening saw McKinnon reprise her popular character Colleen Rafferty, who tends to get abducted by aliens and has difficult experiences compared to her friends.
Following her latest abduction, alongside characters played by Lyonne and Cecily Strong, the group spoke with Pentagon agents, played by Aidy Bryant and Mikey Day.
During the questioning, Lyonne and Strong described their magical experiences of being lifted into the spaceship by the aliens.
However, Rafferty wasn't as lucky and detailed her abduction using rhymes and euphemisms to refer to her private parts.
"I wasn't so much gently lifted as I was yanked skyward by some kind of claw machine device. And mind you, I am popping a squat on the median at the time, so I slide right out of my slacks," she explained.
"I'm being rocketed up to the ship with my coot coot and prune chute hanging out. I barely managed to pull my Wonderwear back up."
Although she was essentially inappropriately prodded and probed by the aliens once again, Rafferty concluded that it "might be the most stable relationship" she's ever had.
In the end, the agents revealed the aliens would be willing to give Earth access to some of their technology if one of the abductees agrees to go with them permanently.
"I can read the room — it's me, right?" said Rafferty. "Sure, why not. I kind of felt like an alien on this planet anyway."
McKinnon then walked onto the spaceship and turned around to address the audience. She then began to break down in tears as she said, "Well, Earth, I love you, thanks for letting me stay a while. 'Live from New York, it's Saturday night!'"
Weekend Update
The "SNL" fake news segment gave Davidson the opportunity to say goodbye and thank the show's creator, Lorne Michaels, for giving him a chance.
"Hello, Colin [Jost] and [Michael] Che and [the] millions of people [who] are only watching to see if I bring up Kanye [West]," Davidson said.
"I never imagined this would be my life. Look at me when I started here: Back then I was just, like, a skinny kid, and no one knew what race I was. Now, everyone knows I'm white because I became hugely successful, while barely showing up to work."
Davidson also reflected on his time on the show and credited Michaels for always giving him the best advice.
"I'll never forget [when] I called him [after] I got engaged. I was like, 'Lorne, I just got engaged to Ariana Grande after dating for two weeks.' He goes, 'Oh, well, hold on for dear life.' It's a true story," Davidson said.
"I appreciate 'Saturday Night Live' always having my back. Thank you, Lorne, for never giving up on me or judging me, even when everyone else was, and for believing in me and allowing me to have a place that I could call home with memories that will last a lifetime."
Along with Davidson and McKinnon, Bryant and Kyle Mooney are also leaving the comedy sketch show.
"Forgot About Lorne"
The unaired sketch was cut for time but featured Davidson paying tribute to Michaels after learning the producer always wanted to do a music video with him.
"You know, that guy has literally done everything for me, so I'm going to pay him back by doing this rap video exactly the way he wrote it," Davidson said.
Davidson proceeded to rap to the tune of "Forgot the Dre" by Eminem. Davidson reflected on Michaels' legacy by listing his accomplishments, including discovering famous comedians like Tina Fey, Kristen Wiig, David Spade, and Chris Farley, and winning the Presidential Medal of Freedom.
However, the music video was eventually interrupted when Eminem showed up to confront Davidson about parodying another one of his songs. "I would just stop. They all suck," the rapper said. "Just please, stop. It's really bad."
Although Davidson attempted to make excuses for why he continues to parody Eminem's songs, the rapper issued one final warning to stop using his music.
Davidson then turned to Michaels, who was watching from the side, and yelled, "Well, Lorne, you blew it!"
"Saturday Night Live" has not revealed details about Season 48. In the past, the show typically premieres in late September or early October.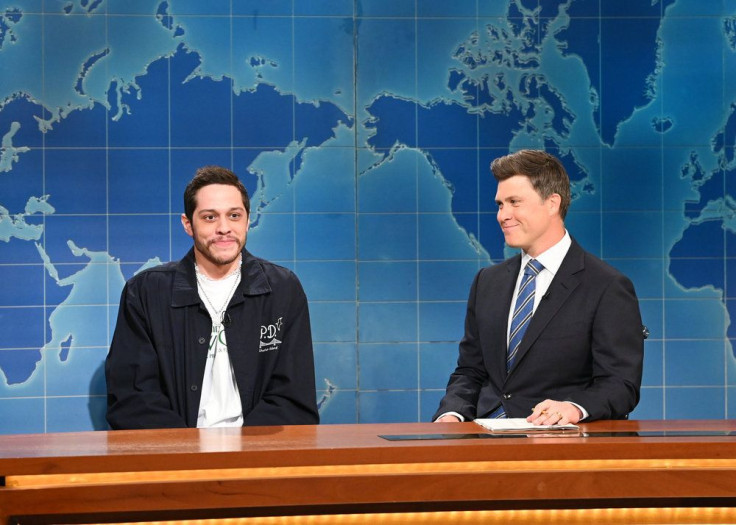 © Copyright IBTimes 2022. All rights reserved.
FOLLOW MORE IBT NEWS ON THE BELOW CHANNELS