Vietnam's VinFast Bolts Past BMW, Volkswagen In Valuation After Nasdaq Debut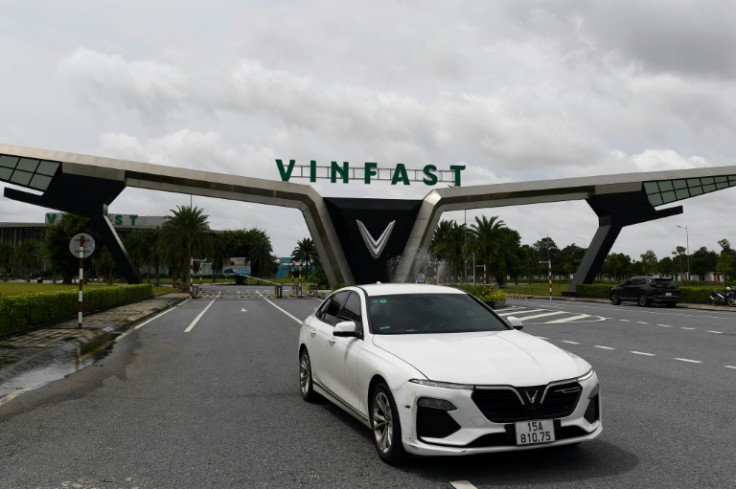 KEY POINTS
BMW and Volkswagen are valued at around $69 billion
VinFast is targeting a 2025 opening for its North Carolina manufacturing plant
The company has yet to make a profit and there have been doubts about its ambitious targets
Vietnamese electric vehicle maker VinFast is now worth more than several established automaker brands after its shares jumped Tuesday following its Nasdaq debut. The EV maker's U.S. expansion efforts and production boost is expected to help drive Vietnam's EV industry growth this year.
VinFast, the automaking arm of Vietnamese conglomerate Vingroup, was listed on Nasdaq Tuesday after it completed its merger with U.S.-listed special purpose acquisition company (SPAC) Black Spade Acquisition. VinFast shares closed at $37.06 during its blockbuster debut – 68% higher than its opening price of $22 and 270% higher than Black Spade's $10 IPO price.
CNBC calculations put VinFast's valuation at $85 billion after the Nasdaq listing. Legacy automakers Ford and GM are valued at $48 billion and $46 billion, respectively. BMW and Volkswagen are both valued at around $69 billion.
Though VinFast's stocks tanked nearly 19% by Wednesday, closing at $30.11, its valuation is still well above other established carmakers.
The company has yet to make a profit as it faced multiple hurdles in its efforts to expand in the United States. Software issues led to delayed deliveries to its first American customers earlier this year.
There have also been concerns about VinFast shares' volatility, as SPAC shares are considered extremely volatile due to their speculative nature.
VinFast CEO Lê Thi Thu Thûy said in a Tuesday interview that the company was "ready" for a traditional IPO, but market challenges pushed back the plan. The SPAC was "just a way for us to get listed in the U.S.," Thûy said, adding that the company "didn't think of the reputation of SPACS."
Last year, Thûy said the company's goal was to "show people who might not have the correct understanding of Vietnam that Vietnam today is quite different to Vietnam during the war, or even to Vietnam 10 years ago."
Some industry experts have cast doubt on whether VinFast can make it in the hugely competitive market dominated by Tesla. Matthew Degen, senior editor at car shopping site Kelley Blue Book, said VinFast may be biting more than it could chew. "It is preposterously hard to build a car and sell it, at least to a global audience, as seems to be the ambitions of VinFast," he said.
On the other hand, VinFast delivered early on as it developed three cars in just around 21 months. Vingroup, led by chairman Pham Nhat Vuong, has historically delivered on its promises, including the two-year completion of a state-of-the-art factory in Haiphong that was once a muddy swampland.
Late last month, VinFast finally broke ground at its EV manufacturing site in Chatham County, North Carolina. At the time, the company said that the factory project would be "the largest economic development initiative in the state's history." North Carolina Gov. Roy Cooper and Vietnam's ambassador to the U.S. Nguyen Quoc Dzung graced the groundbreaking event.
The approximately 1,800-acre plant, which is targeting a 2025 opening, is expected to produce up to 150,000 vehicles per year in the first phase and is also looking to employ around 7,000 people.
VinFast is touted as one of the few EV makers to drive "strong growth" in the Southeast Asian nation's electric car industry this year, as per a BMI Research report last month.
The company is targeting as many as 50,000 EV sales this year, backed by increased exports to North America and the beginning of its shipments to Europe. If things go as planned this year, the company could break even as soon as the end of 2024, Vuong said in May.
VinFast is the first Vietnamese car brand to expand globally. Its EVs are packed with futuristic features such as temperature control, voice-activated windows and a sizeable screen, as showcased in an April 2022 video by Australian social media celebrity Supercar Blondie.
VinFast's growth and the Vietnamese EV industry's potential boom are backed by the government's initiatives to help prop up the sector. In March 2022, Vietnam issued a decree to exempt EVs from registration fees for the first three years of use.
The government also passed a decision in 2021 that allows for the formulation of a national program for developing EVs for public transport from 2022-2024.
© Copyright IBTimes 2023. All rights reserved.